Medline Skintegrity Hydrogel Wound Dressing
TOP Features:
A hydrogel primary wound dressing
Contains moisturizing glycerin and aloe vera
Clear, greaseless, and easy to wash off
Works on wounds of any depth
Works on a wide variety of wound types
Always latex-free
Fast Delivery

Easy Returns
MPN:
Grouped product items
Item#
Description
Size
Price

MSC6102

1 oz Bellows Bottle

Case of 30

List Price:

$93.77

Price:

($2.82 ea)

You Save:

$9.29 (11%)

MSC6102H

1 oz Bellows Bottle

Each

List Price:

$3.55

Price:

You Save:

$0.35 (11%)

MSC6104

4 Ounce Tube

Case of 12

List Price:

$177.50

Price:

($13.33 ea)

You Save:

$17.59 (11%)

MSC6104H

4 Ounce Tube

Each

List Price:

$16.31

Price:

You Save:

$1.62 (11%)
Description
What is Medline Skintegrity Hydrogel Dressing?
Medline Skintegrity Hydrogel Wound Dressing is a primary Wound Dressing that is ideal for low-exudate wounds. As a Hydrogel, Skintegrity gel creates a moist wound bed. This is because a moist wound environment has been shown to aid and speed up the body's natural healing process. This gel contains both glycerin and aloe to accomplish this task. Despite being a great moisturizer, Skintegrity is not greasy and is easily washed and irrigated away from the wound bed when bandage changes are necessary.
This wound filler works well in partial and full-thickness wounds, first and second degree burns, lacerations, leg ulcers, pressure injuries, surgical wounds, and more. Depending on the amount of wound exudate drainage, Medline Skintegrity Hydrogel Wound Dressing can stay in place for up to 3 days. This can mean fewer dressing changes, which can lead to more time for other procedures and patients. Fewer changes will also require less gel, which saves Skintegrity Hydrogel users money and resources. This wound dressing should never be used on wounds with heavy exudate drainage.
This product comes in both one-ounce bellows bottle and four-ounce tube options. The bellows bottle option makes targeted application easier, which may also ultimately reduce waste. The tube option, on the other hand, contains a larger amount of product, so repurchase is not necessary as often. Medline Skintegrity Hydrogel Wound Dressing should be used in tandem with a secondary wound dressing, such as this Eclypse Secondary Dressing. See a full list of Medline-recommended secondary dressings below.
Hydrogel Facts
Promotes Healing
Moisturizes the Wound Bed
Not Greasy
Rinses Off the Wound Easily
May Help Reduce Pain
Ingredients: Water, Glycerin, Sorbitol, Carbomer, Triethanolamine, Aloe Barbadensis Leaf Juice, Allantoin, Methylparaben, Disodium EDTA, Imidazolidinyl Urea
Skintegrity Hydrogel Uses
As a Primary Wound Dressing
Wounds of Any Depth
Wounds with No or Minimal Drainage
Dry Wounds
Pressure Wounds
Leg Ulcers
Skin Lacerations
Skin Abrasions
Surgical Wounds
Minor 1st and 2nd Degree Wounds
Necrotic Wounds
Features and Benefits
A Primary Wound Dressing
Made for Advanced Wound Care
Contains Glycerin and Aloe Moisturizers
Creates a Moist Environment to Promote Healing
Great for a Broad Variety of Wound Types
Works for All Wound Depths
Clear and Greaseless
Easily Rinses Off the Wound
Can Be Left in Place Up to 3 Days
May Help Reduce Pain
Bellows Bottle Option Makes Application Easy
Bellows Bottle Option Reduces Gel Waste
Latex-Free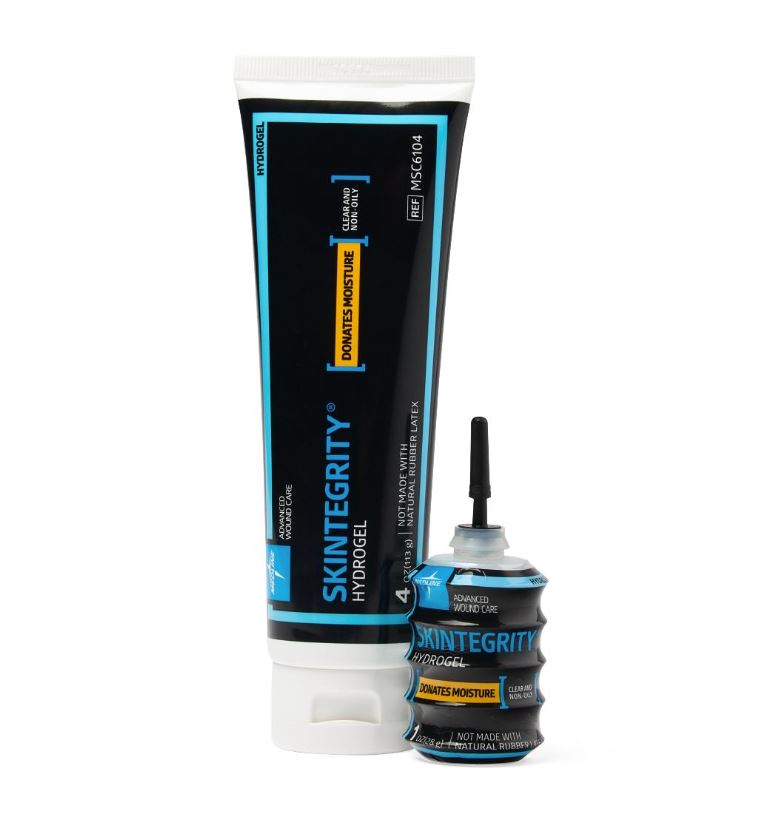 Skintegrity Instructions
General
Dispense Skintegrity to a gloved finger or an appropriate applicator.
Cover the wound liberally and spread evenly.
Cover the wound and gel with a secondary dressing.
Repeat the above process, as necessary.
Change Frequency
Skintegrity can be left in place for a maximum of 3 days.
Frequency of dressing changes will vary and depend on the amount of wound exudate drainage.
Storage
Ensure that the tube lid is screwed on tightly before storing.
Keep locked away and safely out of reach of children.
Keep products in a cool, well-ventilated, and dry place.
Skintegrity Gel Safety Information
Contraindications
Wounds with Heavy Drainage
Users with Allergic Reactions or Sensitivities to Gel Ingredients
Warning
Store in a safe place out of reach of children.
Consult a medical practitioner if the wound does not begin to heal or worsens within 10 to 14 days.
Follow the manufacturer's instructions for use.
Avoid direct contact with skin, eyes and clothing.
First-Aid Measures
Immediately wash off with water and soap if skin contact is made. See your doctor if an allergic reaction occurs.
Immediately rinse eyes with water and get medical attention if eye contact is made.
Clean the mouth out with water immediately. Drink lots of water. Never give anything by mouth to an unconscious person. Do not induce vomiting. Contact a doctor.
Clinical Highlights
Product Specifications
Manufacturer:

Medline

Brand: Hydrogel
Item Numbers: MSC6102, MSC6102H, MSC6104, MSC6104H
Application: Primary Wound Dressing for Low Exudate Wounds
Type: Hydrogel
Wound Condition Type: Shallow or Deep
Material: Water, Glycerine, Aloe
Sizes: 1 oz, 4 oz
Container Types: Bellows Bottle, Tube
Sterile: No
Adhesive Dressing: No
Antimicrobial Gel: No
Latex-Free: Yes
Manuals and Documents
Related Products
Medline Recommended Secondary Dressings
Complementary Products
Alternative Products
Product Videos
Hydrogel Wound Dressings (3:16 minutes)
Additional Information
More Information

| | |
| --- | --- |
| Manufacturer | Medline |