Hearing Amplifiers | Personal Sound Amplifier for Enhanced Hearing
Hearing amplifiers, also known as Personal Sound Amplifier Products (PSAPs), voice amplifiers, or sound enhancers are small, battery-powered, wearable electronic devices that are designed to gather, amplify, and enhance sound before transmitting it to the user for improved hearing. Depending on the model, a hearing amplifier comes in a range of sizes, from about the size of a deck of cards to small enough to wear in the ear canal, similar to a hearing aid. Whereas hearing aids require a doctor's prescription, a personal sound amplifier is available without a prescription. Both types of hearing devices improve the user's hearing and quality of life.
Types of Personal Hearing Amplifiers Explained
Personal sound amplifiers generally fall into one of three categories, determined by how they're worn: pocket-sized, behind-the-ear, and in-ear. Regardless of the type, all voice amplifiers perform the same function, which is to function as a sound amplifier generally and as a voice amplifier specifically.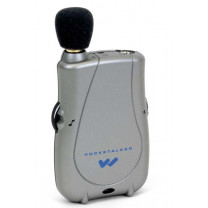 Pocket-Sized Hearing Amplifier
Pocket-sized sound amplifiers are designed to be carried in a shirt pocket, worn around the neck, or clipped to a belt. Once sound is collected, it is transmitted to the user by either wired headphones or earbuds, sometimes through a wireless connection such as Bluetooth.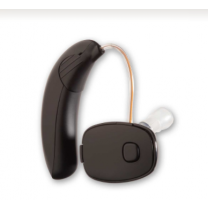 Behind-the-Ear Amplifier
These types of amplifiers are designed to be worn over and behind the ear. Many of them have smartphone or iPhone functionality, allowing them to stream music, take calls, or to be adjusted from the phone. Depending on the specific device, they may be rechargeable or use batteries.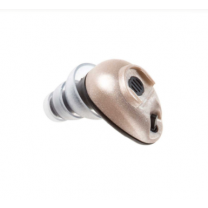 In-Ear Hearing Amplifiers
The most discreet sound enhancer or voice enhancer are those that sit directly in the ear canal in the same manner as hearing aids. Hearing enhancers use rechargeable batteries and are designed to be charged when not in use. Different settings are available according to model and manufacturer.
Hearing Amplifiers vs. Hearing Aids
Sound enhancers can be an ideal solution for those who are experiencing intermittent trouble hearing conversations, television, or phone calls. While hearing aids usually require custom fitting and personalized settings, personal sound amplifiers are available over the counter and are generally more affordable than traditional hearing aids. In some cases, hearing amplifiers for seniors are Bluetooth capable and can be linked to a phone or TV. Voice and hearing enhancers are available in a wide range of styles and configurations, depending on intended use, personal choice, and budget.
You might be interested in...