Elbow & Heel Protectors for Pressure Sores
Heel and Elbow Protectors range from sleeves to pads to protect the skin from shearing or prevent pressure ulcers from developing. Individuals who have limited mobility and are confined to the bed are susceptible to pressure ulcers. Cradling the heel with heel pillows or foot pillows, offloads pressure to eliminate this pressure point and redistribute it throughout the leg. Elbow protectors work in the same way by providing bed sore elbow protection.
Other products include heel pads and elbow pads that slip on like a sleeve to prevent shear and friction against sensitive skin. A reusable sleeve like the Briggs Heelbo is universal to fit the heel or elbow. It is ideal for daily use for wheelchair users. Wheelchair armrests can put pressure on delicate skin and an elbow pad is a quick solution for reducing pressure while protecting vulnerable skin.
Heel and Elbow Protector Applications and Uses
Bed Sore Treatment
Material options for pressure relief include foam and synthetic sheepskin construction to achieve softness with a boot-like fit. Both options offer extra padding and comfort to protect bony prominences. These materials naturally contour to the body for complete protection. Some protector options are universal to apply to either the heel or elbow and fastens with a hook and loop strap. Sheepskin is washable for multiple uses.
Another option for pressure relief is to use a free-standing offloading device like the HeelZup. The patient props up the feet onto a high-density foam platform to relieve pressure from the heels. This product is free-standing and doesn't require direct application to the foot or elbow, which may be helpful to patients with wounds.
Examples: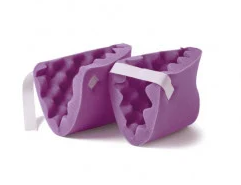 Protection from Shear and Friction
Sitting for a long period can cause skin breakdown. Repositioning the arms or feet adds friction to the vulnerable skin. Protection is simple and easy with heel and elbow pads. The stretchable woven fabric places a barrier to reduce downward pressure and friction.
Examples:
Briggs Heelbo Heel and Elbow Protectors, 12038, are available in a variety of sizes to achieve a snug fit. The viscoelastic material stretches without rolling and there is a foam pad insert at the location of the heel or elbow.
Skil-Care Geri-Sleeves, 503355, protect the limb with either arm or leg sleeves. They protect the skin against friction when in a bed or wheelchair. The arm sleeve has a thumb cut out for keeping it in place with an additional armband at the elbow that won't bind or roll.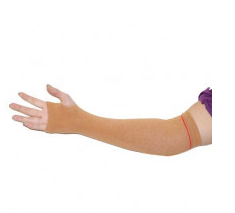 Frequently Asked Questions (FAQs)
Why is wearing a heel protector important?
Pressure relief has been proven to reduce the risk of heel pressure, the cause of ulcers for individuals with limited mobility.
What does it mean to float the heels?
The term floating the heels refers to elevating the lower limbs while being mindful of not putting pressure on the heel or the Achilles tendon.
Who can benefit from a heel boot?A heel boot is useful to patients who are recovering from foot surgery or have foot trauma or injury. The most common use for a heel suspension boot is for preventing diabetic foot ulcers, lymphedema, and edema by properly offloading pressure at the heel.
Inspired by your history...