Breast Pumps
Whether you are a mom who occasionally pumps or you are a working mom needing to pump regularly, Vitality carries a variety of breast pumps to meet your needs. The benefits of breastfeeding are undisputed and working women, as well as women who simply prefer to feed their baby expressed milk, can pump to give their child superior nutrition and brain development.***
Below you will find the advantages and disadvantages of a manual pump, electric pump, and hospital-grade breast pump to help you make an informative decision. Also, read through the Frequently Asked Questions section to familiarize yourself with common inquiries about using a breast pump.
Resource: *** "The Benefits of Breastfeeding" Parents Magazine, by Carole Anderson Lucia and Jessica Harshorn.
Budget Friendly
Most Popular
Find The Best Breast Pump for You
Manual Pumps:
Choose a manual version, if you only express milk on occasion. This design is economical, simplified, and portable to support moms who may be on-the-go from time to time. A manual pump, like the Lansinoh Manual Breast Pump, is simple to use and has an ergonomic handle to make it less taxing on the hand when squeezing. This version is helpful for moms who desire to exclusively breastfeed but would like to have a backup when going out on a date or running an errand. It's also nice to pump to relieve breast pain from engorgement or to maintain breastmilk supply.
Electric Breast Pumps:
Also referred as a hands free breast pump, is powered with an AC adapter with some models also having a battery pack. The nice thing about an electric version is it has variable speeds and suction to stimulate breast-milk letdown and then lower to a comfortable setting. Unlike a manual pump, an electric pump can support single or double pumping when wanting to save time by pumping both breasts at the same time. For this reason, moms who periodically express milk may still want an electric pump. There are specialized bras to attach the flange when moms want a hands-free breast pump experience. Busy moms who like to use technology may like SmartPump that integrates an App to track pumping, give reminders, get tips, and more.
Hospital-Grade Breast Pumps:
This type of pump is strong and durable to support rigorous use. These models are used in rental programs or when a mother wants to own a pump with stronger suction strength and power. An example of this is the Medela Symphony which boasts a powerful motor so mom can pump as long as needed in one session.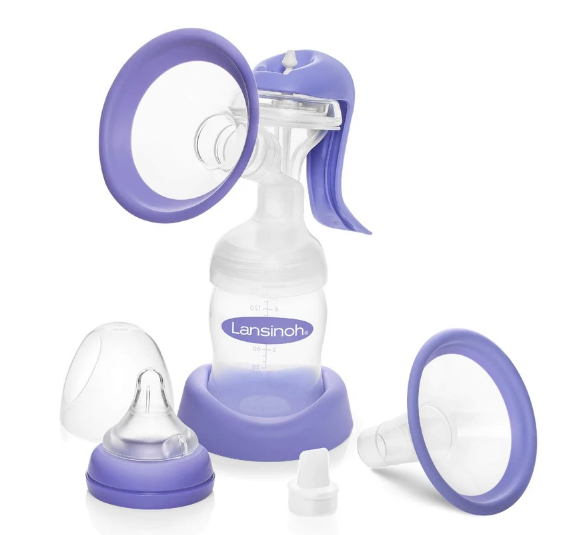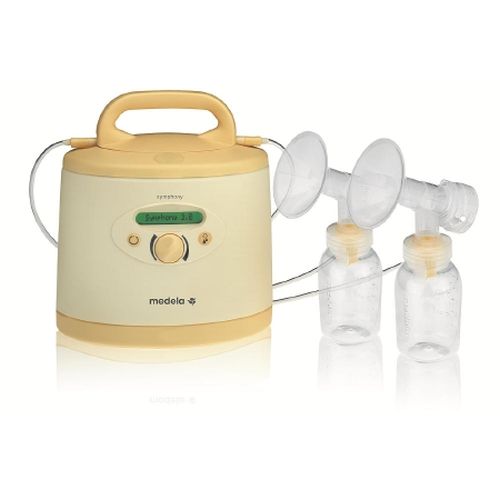 Advantages
Manual Pumps:
Minimal Design
Less Parts to Wash
Quiet Operation
Portable
Economical for Infrequent Use
Electric Pumps:
Single or Double Pump Options
Variable Suction Settings
Customizable Speed Settings
Can Increase Milk Production
High Setting Stimulates Breastmilk Letdown
Faster Pumping for Frequent Use
Hospital Grade Pumps:
Powerful Motor to Support Multi-Users
Hospital Grade May Be Rented and Rental May Be Covered by Insurance
Heavy-Duty Motor Holds Up to Longer Sessions
Customizable Speed Settings
Powerful Suction Modes
More Efficient for Faster Pumping
Ideal for Frequent Use
Disadvantages
Manual Pumps:
Requires Hand Strength
Only Available for Single Breast Pumping
Pumping Taked Longer
Electric Pumps:
More Parts to Wash and/or Sanitize
Requires Power Source, if not Battery-Operated
Produces Noise
Hospital Grade Pumps:
Pricier Investment
Powerful Suction May Be Painful
Requires Power Source
Expensive
Frequently Asked Questions (FAQs)
Is a breast pump safe to use?
Yes, it is safe. Depending on breast tissue and the amount of use, some users experience discomfort and sore nipples.
When should you start using a breast pump?
It is recommended to pump as often as your baby feeds to keep up milk supply. Working moms should start pumping at least two weeks before going back to work to get into a routine.
How do you know when the breast is empty?
The breast continues to produce milk and is never empty. After the feeding, the breast will empty and feel softer and it's best judgment is to go by your baby's cues.
Can you use a breast pump before the baby is born?
It is not recommended to pump before the baby is delivered unless at the request of your practitioner.
Do I need to clean my breast before pumping?
Use your best judgment. Most nipple creams do not need to be removed, but if it is reducing suction, wash off any creams or ointments.
Can breast pumps make your breasts bigger?
The breasts temporarily will get bigger from the breast tissue swelling while pumping.
Inspired by your history...