Compression Stockings | Lymphedma Pumps | Support Stockings - Compression Hose - Garment - Support
Compression Therapy products on Vitality Medical.com covers a vast amount of products that are all aimed to maintain and support healthy circulation. This can include wearable garments like compression stockings and arm sleeves, to hardware like compression pumps, which includes DVT pumps, Lyphedema and Arterial Pumps -- not to mention the sleeves that go along with them. For whatever needs there are to support or regain proper circulation, Vitality Medical has gathered popular brand names in the compression therapy field as a valuable resource for our customers.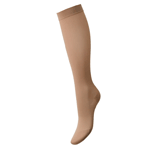 Compression Therapy Patient Applications
Use Compression Pumps for: preventing deep vein thrombosis (DVT) , applying gradient pressure to circulate the blood flow, and reducing the swelling of legs or arms through active pump pressure.
Use Compression Stockings for: wearing on the legs and arms to stimulate circulation, prevent foot and leg swelling, and to protect sensitive skin.