Skin Staplers
Skin Staplers, also known as Wound Staplers or Surgical Staplers are medical tools found in hospitals for surgical procedures. They are used for tissue closure or skin closure and as an alternative to sutures and needles. These devices are easy to use and save considerable time for the surgeon. Medical studies demonstrate the benefits of a surgical skin staplers meet or exceed the results of sutures. These studies show that it took an average of about 5 to 6 minutes less to close wounds using a wound stapler in comparison with sutures. The infection rate of wounds after the procedure was also significantly lower. Skin staplers are continually being improved to provide additional functions and ease of use.
Skin staplers are surgical instruments used to close wounds. These wounds can be on the skin surface or internal. They are mainly used for large wounds. Primary use for surgical staplers is for scalp lacerations and for linear nonfacial lacerations. Much like a paper stapler, this device inserts a stable into the tissue and then bends the ends of the staple towards each other, forming a triangle or a double loop. Depending upon the size or length of the wound, as many staples as necessary may be used to close the wound area. This procedure leaves staples at the wound site to keep adjacent tissue connected to allow healing. After 4 to 14 days, the staples are removed with a staple removal device.
Surgical staplers are available in fixed-head or rotating head designs. Fixed heads are used for routine wound closure while rotaing heads are used for improved visibility and access during routine wound closures. Rotating heads also offer better cosmic results. These devices install titanium or stainless steel staples to hold an incision together to facilitate healing. Titanium staples have less risk with the immune system and do not interfere significantly with MRI scanners. Synthetic absorbable staples are also available made with polyglycolic acid.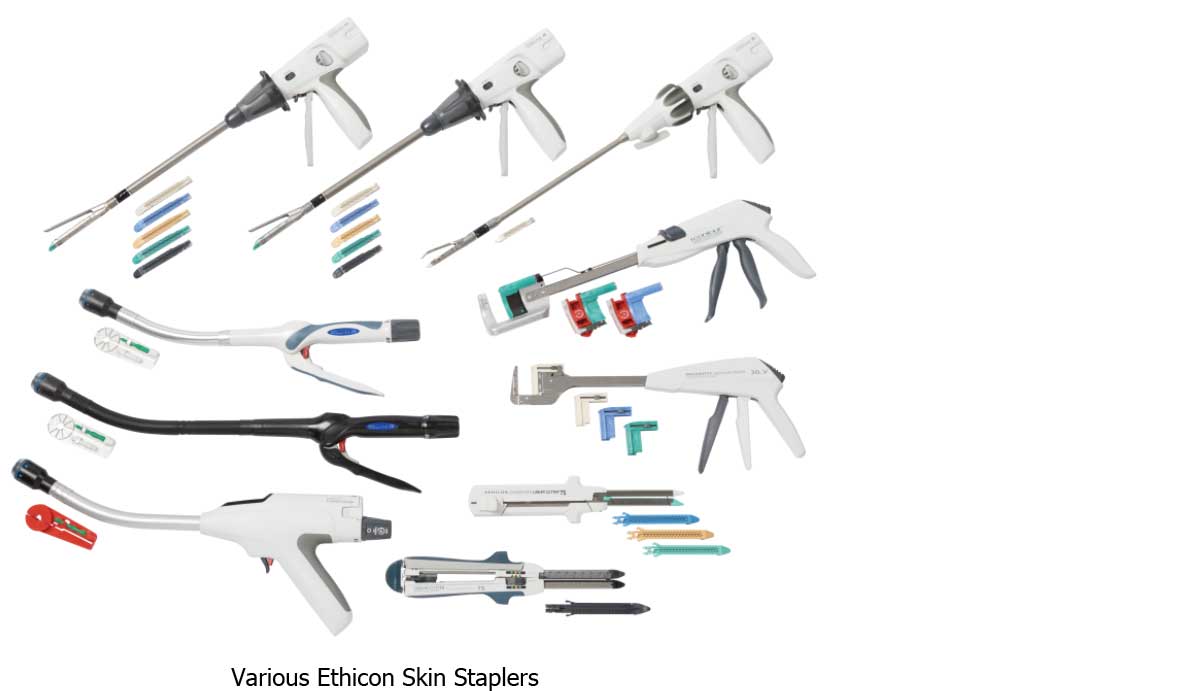 Skin Closure Alternatives
Skin staplers are an alternative to suturing, clips, adhesive tape, skin closure strips, or skin glues (also known as dermal adhesives or topical adhesives). Each of these products have their advantages and disadvantages. Below are the strengths and weakness for skin staplers.
Advantages
High tensile strength.
High resistance to infection.
Ease of use.
Fast application time.
Evenness of wound closure
Cost effectiveness.
Minimal damage to host defenses.
Low risk of skin reactions.
Easy to learn.
Reliable performance.
Faster healing outcomes.
Disadvantages
Intrusive to tissue.
Cosmetic scarring.
Pain during application and removal.
Less meticulous skin approximation.
Types of Medical Staplers
Disposable
Reusable
Circular
Linear
Curved Cutter
Endo Cutter
Skin Stapler Comparison Chart
| | | | |
| --- | --- | --- | --- |
| Image | Type | Design | Use |
| | Disposable | fitted with disposable cartridges | used on a single patient |
| | Reusable | gun-like design | made from stainless steel or alloy and requires sterilization after each use |
| | Circular | long-reach neck | used in general and thoracic surgery, obesity surgical treatments and in colo-rectal surgery; performs end-to-end, side-to-end, and side-to-side anastomoses |
| | Linear Cutter Stapler | straight design with wand type handle | used in abdominal, thoracic, gynaecology, and paediatric surgery; used for resection and transection of organs or tissues |
| | Curved Cutter Stapler | pistol-grip designed with curved stapler end | useful for transection, resection and anastomosis in alimentary canal surgeries |
| | Endo Cutter Stapler | pistol-grip with long shaft | designed for abdominal, gynecologic, pediatric and thoracic surgery for resection, transection and creation of anastomosis; provides triple-staggered rows of staples simultaneously |
Anatomy of Skin Staplers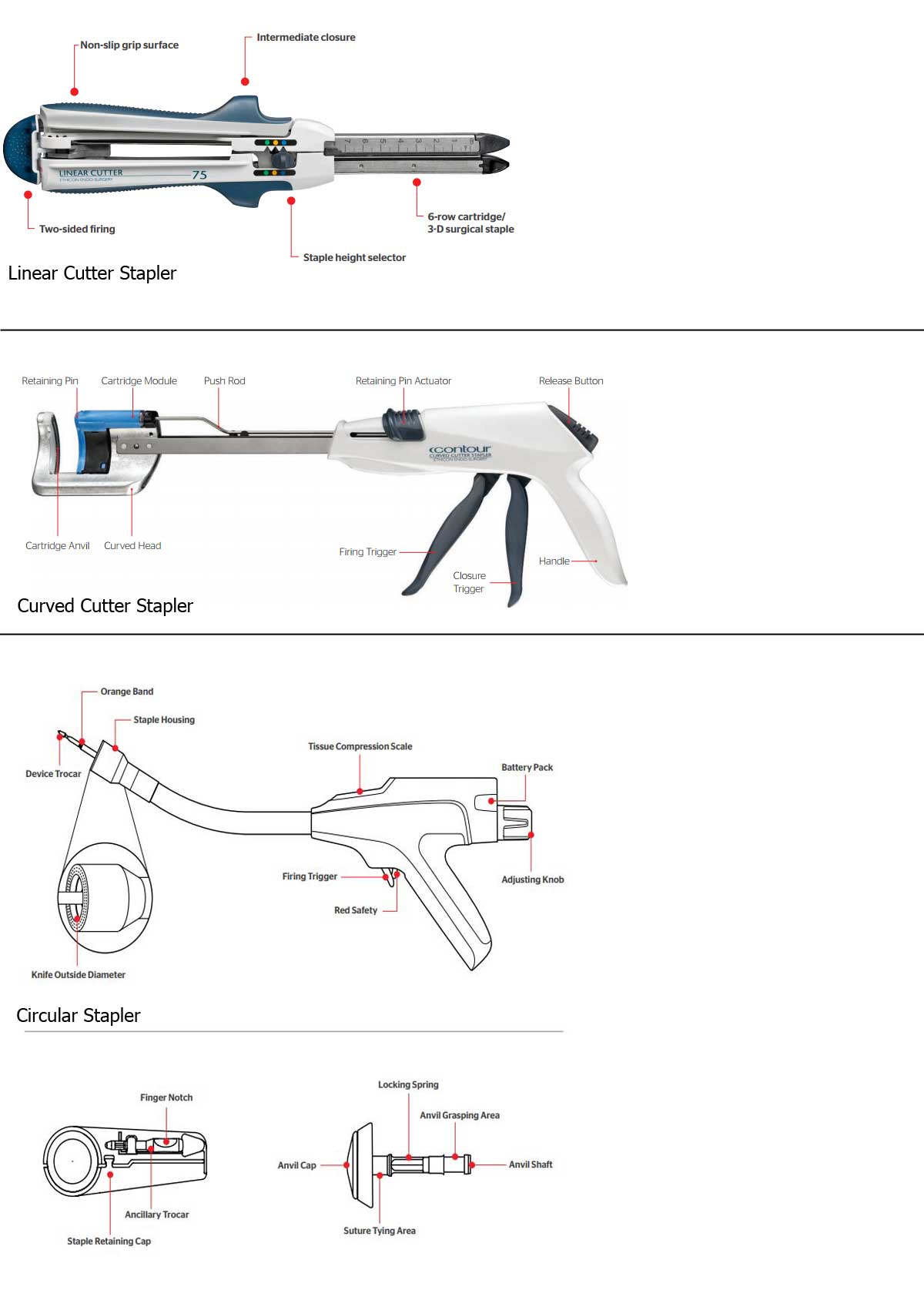 Vitality Medical offers a wide assortment of medical instruments for sale, including medical scissors, surgical staple removers, and scalpels.
Medical Studies of Skin Staplers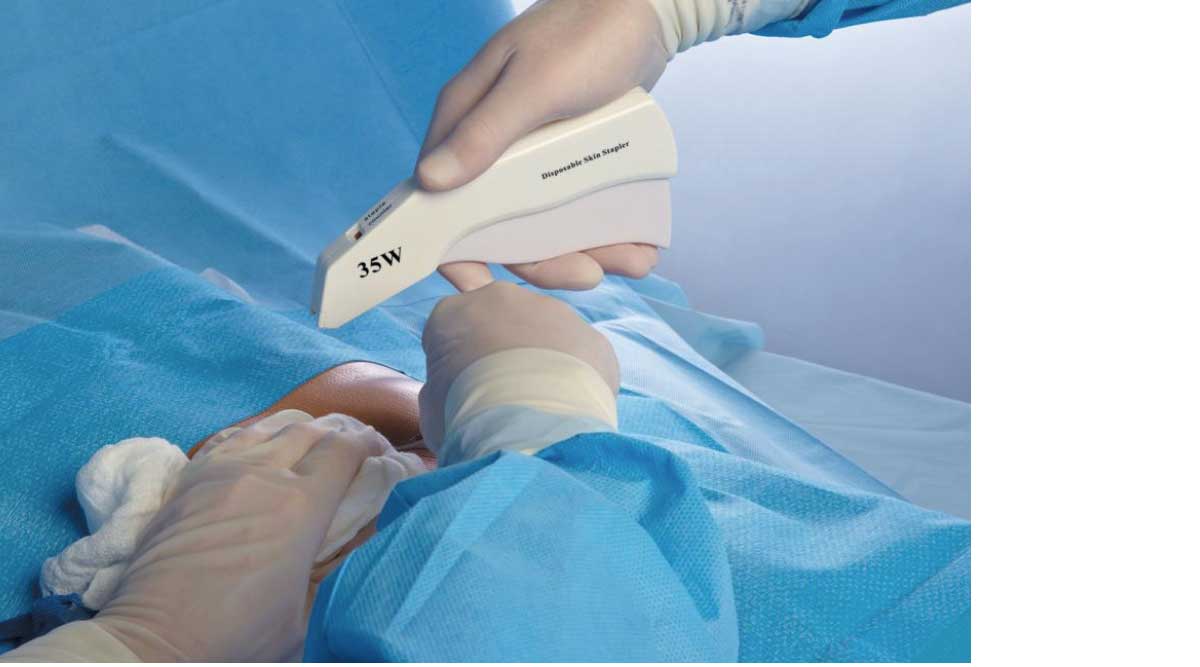 You might be interested in...