Medical & Surgical Forceps - Several Styles / Types
What Are Forceps Used For?
Medical Forceps are grasping-type surgical instruments used during surgeries and other medical procedures. Forceps are used for tweezing, clamping, and applying pressure. They can be used as pincers or extractors. They are used in emergency rooms, exam rooms, operating rooms and to render first aid. Similar to articulating tongs, forceps are often used for holding or removing tissue or for placing or removing gauze, sponges, or wipes. These handheld instruments have been in use for over 3 thousand years. They offer more precise function and technical efficiency than fingers by themselves can provide.
Forceps Anatomy
What Are the Types of Forceps?
Forceps come with a hinge on one end or with the pivot towards the middle. When hinged at the end, forceps look similar to tweezers. When hinged toward the center, they look more like scissors.
Tweezer Style
Tweezer style forceps are also known as pick-ups, thumb forceps, tissue forceps, or dressing forceps. Closure activates by depressing your thumb upon one side of a forcep's shank while a finger is on the opposite shank. By compressing both shanks together, these surgical tweezers grasp and hold tissue or other surgical instruments. The spring tension regulates how wide the device can open and the amount of tissue you can grip. The fixed hinge at the bottom is non-locking and non-pivoting.
"Thumb" forceps come with several different tip options, including flat, serrated, cupped, ringed, grooved, teeth or diamond dusted. The tip shape may be straight, curved, or angled. Serrations or teeth look more menacing for work with tissue, but cause less damage than flat forceps, since they require less pressure to maintain a firm grip. Smooth or cross-hatched forceps remove sutures, dressings, or drapes.
Typical Tweezer Style Forcep Designs

Scissor Style
The scissor type forceps, sometimes called "ring forceps" look similar to scissors because of the rings at one end for the thumb and forefinger. Surgeons sometimes call them hemostats or clamps. These hinged instruments connect two extensions with a hinge near the center of the tool. When one end closes, the other opens. The working end of this instrument grasps and holds while the other is used to open and close the working end of the tool.
Typical Scissor Style Forcep Designs

The scissor style is available in locking or non-locking designs. The locking versions allow the forceps to act as a latching clamp or to apply constant pressure. The most common locking forceps employ a ratchet device for the lock.
Locking Style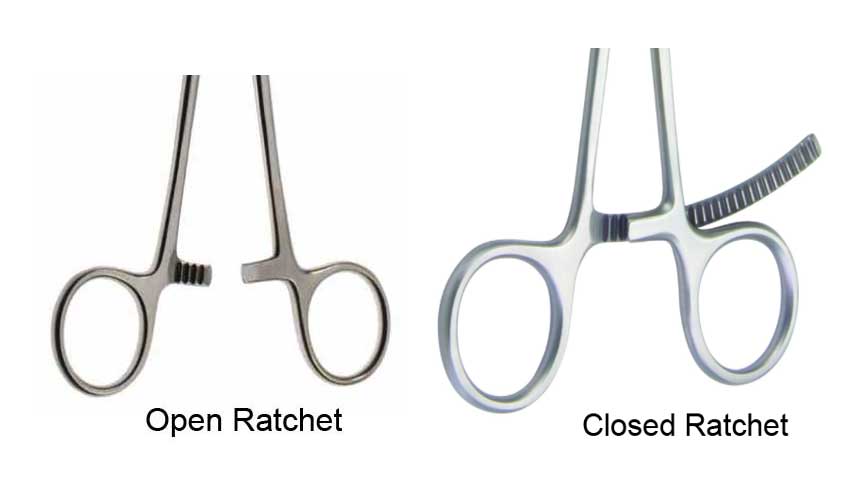 What Are Forceps Made Of?
Manufacturers make medical forceps with durable materials, including stainless steel, high-grade carbon steel, titanium, plastic, polypropylene, or a combination of alloys. The alloy versions can include chromium, nickel or cobalt. The tips of the alloy models have the added advantage of high flexibility and offer superior performance. These materials can withstand the harsh environments of sterilization and autoclaving. The plastic constructed models are disposable, while the steel and alloy models are usually reusable.
List of Popular Forceps Models
Adson – serrated jaws with wide, flat thumb grasp area used for delicate tissue

Alligator – delicate spoon jaws designed for ears

Allis – grasping jaws with ratchet lock for slippery tissue and organs

Atraumatic – thumb style used for grasping delicate tissue

Babcock – grasping jaws for tissue

Biopsy – cutting, grasping jaws for collecting specimens

Bone – pincer design used for bone holding or removal

Bulldog – spring-loaded, fine tipped used for manipulating delicate tissue

Crile – hemostatic design used for clamping blood vessels or tissue before cauterization or ligation

Curettes – scoop design for scraping or debriding tissue or debris for cleaning

Dissecting – dressing/tissue design with serrated or teeth tips

Forester – looping design used for sponge holding or retrieving

Halstead – delicate pattern teeth, hemostatic

Hemostat – arterial clamp design used for controlling bleeding during surgery.

Kelly – arterial clamp used for large blood vessels or dense tissue

Kocher – horizontal serrations along the entire jaw used for aggressively grasping medium to dense tissue

Magill – angled tips used for removal and to guide trach tubes

Mosquito – straight or curved hemostatic clamp for delicate tissue or to compress a bleeding vessel

Obstetric – similar to tongs used for grabbing or maneuvering during childbirth

Overholt – hemostatic design with finger ring and ratchet for grasping blood vessels

Pennington – grasping design for holding tissues for suturing, hemostasis, or body piercing

Punch – angled with narrow extensions used for cutting-out dense or resistant tissue

Slotted – tissue grasping design used for inner ear or body piercings.

Splinter – thumb design used for grasping and removing small foreign objects or for holding bandages or sutures

Sponge – looped tip with serrated opposing faces used for applying and mopping with swab

Suture – pincer tip used for grasping and extracting of stitches

Thumb – tweezer design for grasping and holding tissue

Tissue – tissue grasping design used to hold or manipulate various tissues

Towel – perforating clamp used for securing towels or drapes

Vulsellum – constructed with hooks at the tips used for obstetrics and gynecology procedures

Forceps Comparison Chart
Image

Type

Design

Use

Dressing

tweezer appearance with straight, curved or special angled tips

applying dressings, dressing removal, eye surgery

Hemostats

Variants: Crile, Kelly, Mosquito, Mixter, Splinter

scissor appearance with locking ratchet

grabbing, holding, clamping, prevent blood flow

Needle

scissor appearance with short tip and gold plated rings

needle holder for suturing

Obstetric

large smooth clamping device

assists with natal delivery during vaginal births

Splinter

Variants: Carmalt, Hunter, Stieglitz

scissor or tweezer style with triangular shape tip that has a fine, smooth, and serrated tips, curved or straight tips, with or without locking rachet

remove bone splinters, sutures, surgical procedures in tight, narrow areas

Sponge

scissor style with looped tips

clamping, gripping, holding, twisting tissue, inserting IUD, gynecological procedures, handling sponges, gauzes and wipes

Tissue

Variants: Adson, Allis

tweezer style with jaw teeth tips

grip tissue without causing damage

Towel

scissor style with a claw-like tip

hold or place towels, wipes, or drapes
remove absorbent materials

Tubing

scissor style with clamping tip

tubing inducer
Vitality Medical offers a wide assortment of medical instruments for sale, including medical scissors, surgical staple removers, and scalpels.
Inspired by your history...