Human Skull Models
The classic white Human Skull Model is the quintessential structure for the exploration and study of the skull anatomy. Its removable magnetic segments align with natural fibrous joints for students to study the skull's fissures, foramina, processes, and sutures. A human head model facilitates hands-on instruction, making it a great addition to any class with anatomical study.
Model of Human Skull Features
Spring-Mounted to Mimic the Head's Natural Movement
Magnetic Segments Provide Hands-On Learning
Variety of Skull Options to Teach Anatomy and Musculature Disorders
Durable Plastic Construction Holds Up to Rigorous Use
Access to Smart Anatomy App for Virtual Lectures
Types of Skull Models
Manufacturer 3B Scientific designed a variety of life-size skull anatomy models with varying modalities to explore common skull malformations, musculature, and the skull's relationship to the cervical spine and arteries. Colorful hand-painted skulls further illustrate muscle origins and insertions. To understand joint disorders, the 3B TMJ Skull Model is a classic model with an additional band of muscles connecting the jaw and skull. Students and professionals use this TMJ anatomy model to identify the masticatory muscles, the source of jaw pain.
Human Skull Only
Examples:
3B Classic Skull Model, A20, is a 3-part normally developed human skull. The classic also comes with number and musculature variations for teaching.
Microcephalic Skull Model, A29/1, offers an anatomical replica of a microcephalic human, to study this skull malformation.
Human Skull With Musculature
Examples:
BONElike Skull Model, A282, is half transparent and half bony to view the periodontal pockets and roots. These views with the external masticator muscles are valuable for dental students learning skull anatomy.
TMJ Skull Model, A24, is a 2-part model to illustrate the anatomy of masticatory muscles associated with TMJ, the temporomandibular joint located within the facial muscles.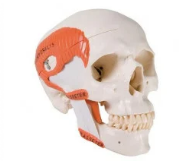 Hand-Painted Skull Model
Example:
Classic Skull Model with Opened Lower Jaw, A22/1, provides skull anatomy with a view of teeth roots. Vivid colors reference teeth, cranial sutures, meningeal vessels, venous sinuses, and detailed muscle origins and insertions.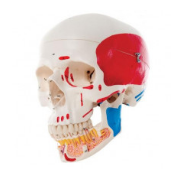 Human Skull With Brain
Example: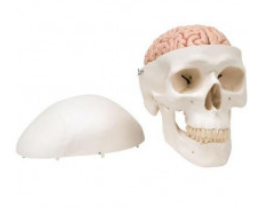 What Is 3D Smart Anatomy?
3B Medical supports learning with the use of its 3B Smart Anatomy app. The app scans the QR code found on the model to open up lectures and virtual demonstrations.
3B Smart Anatomy Video Demonstration (1:30 minutes)
You might be interested in...