3D Anatomical Heart Models
Heart Anatomy Models offer precise detail of the human heart and its structures to facilitate learning. The heart anatomy model is cast from durable elasticated plastic to resemble the natural position and scale of the human heart.
3B Scientific manufacturers a variety of life-size and 2-times life-size multi-dimensional models with dissection views to create an interactive demonstration of the cardiovascular system. The heart model is available with either 2-, 4-, and 5-part magnetic sections to isolate any part of the model during the demonstration. The heart model with labels is hand-painted with vivid colors to illustrate the papillary muscles, heart valves, and adjacent structures.
Key Features of Anatomical Heart Models
Patterned After a Human Heart
Detailed Anatomy Using Labels and Vivid Hand-Painted Colors
Life-Size and 2X Life-Size Models for Easy Identification of Anatomical Structures
Magnetic Segments for In-Depth View of Heart
Access to 3B Smart Anatomy App
Comes With a Removable Stand
Lightweight and Durable Structure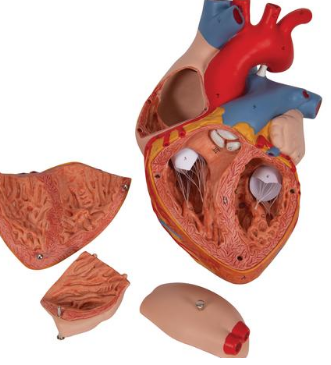 What Is the 3B Smart Anatomy App?
All 3B Medical customers have access to the Smart Anatomy technology app. It scans the model's QR code to quickly access a digital course with lectures and virtual model demonstrations.
Smart Anatomy Video Demonstration (1:30 minutes)
You might be interested in...