How to Choose the Best Hospital Bed Mattress in 2022
Published Date: December 17, 2019
Updated: December 7, 2021
By Burt Cancaster
What Should a Hospital Bed Mattress Do?
According to Arya Nick Shamie, MD, associate professor of orthopedic surgery and neurosurgery at Santa Monica UCLA Medical Center "the mattress needs to support your body in a neutral position, one in which your spine has a nice curvature and your buttocks, heels, shoulders, and head are supported in proper alignment."1
Selection Criteria
What are the criteria for selecting the best mattress for your unique needs? A mattress's "primary function is to comfortably support the patient in an appropriate position."2 There are five basic selection criteria to help people choose the best hospital bed mattress. When shopping, checking the mattress for these five criteria will help ensure to make the best choice.
Five Selection Criteria for Hospital Bed Mattresses
First, a mattress should provide dynamic support, adjusting to your body weight and curves.
Second, it should support your spine in a natural and relaxed position. It should be flexible in letting your shoulders and hips settle, yet resilient to surge and support your lower back.
Third, it should promote blood circulation without any pressure on your circulatory system to allow blood to flow freely.
Fourth, it will allow your muscles to relax completely.
Fifth, it promotes air circulation around your body so that you remain dry and comfortable.
In short, these five selection criteria for choosing the best sleep surface equates to essentially two things--support and comfort.
Support
A good hospital bed mattress should support your body weight and take into account your pressure zones. More pressure is exerted at your head, shoulders, hips, and heels than the other parts of your body. Patients spending long periods of time in bed recovering often find sore points developing in these areas where the pressure is the highest. A good mattress will disperse your body weight over a larger area, relieving much of your body weight from the high-pressure points.
Comfort
If you are not comfortable lying on your sleep surface, it will be difficult to fall asleep and stay asleep. Your bed should be able to adapt to your changing positions throughout the night, whether you are on your back or side.
Types of Hospital Bed Mattresses
The construction of modern medical bed mattresses follows three basic types. Each has different materials used in construction and different cost factors. The types listed below rank from the lowest price (on the left) to highest price (on the right).
Innerspring – employs steel coils.
Foam – uses soft synthetic material.
Air – functions with air cells or baffles.

Innerspring Mattresses
The innerspring type has metal coils that are interconnected or independently wrapped. The coils provide rebound for support and pressure relief. Many manufacturers temper the coils with heat to make them stronger and more durable. Selection criteria for innerspring sleep surfaces include the type of coil, the gauge (thickness), the number of spring coils, and the number of working turns.
Coil Configuration Types
Styles of coil configuration include Bonnell, offset, continuous wire, and encased coils. Bonnell and offset configurations provide classic mattress performance. Sleep surfaces with continuous coils tend to keep their shape longer than mattresses with traditional coil configurations. Encased coils provide body-contouring support and reduce motion transfer.
Bonnell coils are hourglass-shaped springs that are wider on the top and bottom and narrow in the middle portion. They are the oldest, simplest and most commonly used coil support system. They are the least expensive to make and are lower to mid-priced sleep surfaces.
Offset coils have flattened tops and bottoms that give them an hourglass shape. The flattened portions are hinged together with spiral-like helical wires, giving them a hinged effect that allows the sleep surface to conform to the body's natural contours. Sturdy and stable, offset coils are in higher-end innerspring mattresses.
Continuous coils are rows of s-shaped and or loop-shaped springs formed from a single steel wire and hinged together at the mattress edge. These interlinked continuous coils provide a consistent and stable support system.
Pocket coils are barrel-shaped, thin-gauge steel coils individually encased in fabric coverings. Pocket coils make the sleep surface firmer, while still separating motion between sleepers on opposite sides of the bed. Because pocket coil support systems are more costly to produce than other coil system types, they are in higher-end sleep surfaces.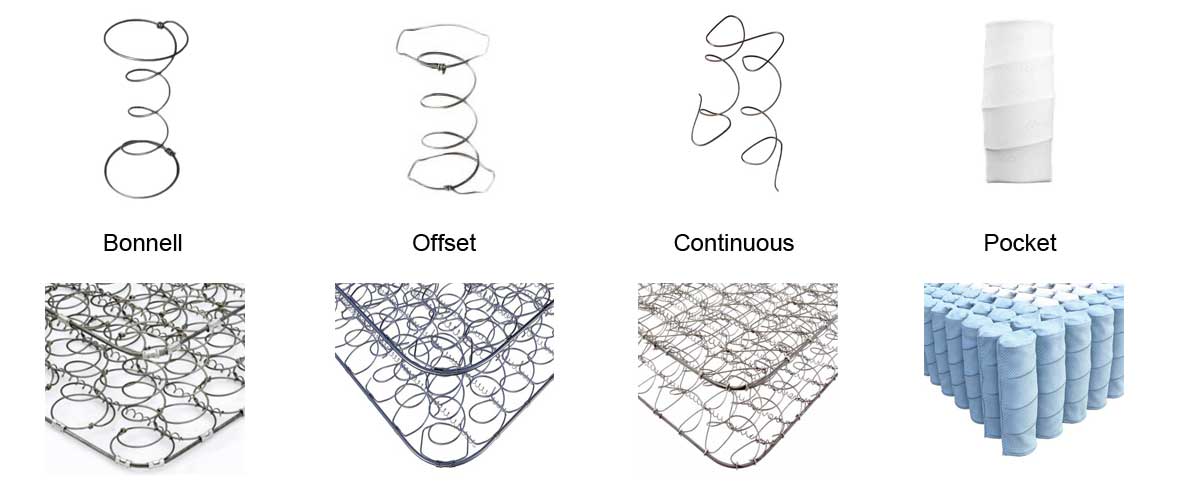 Coil Count
The number of coils placed in the bed mat varies widely. Typically, sleep surfaces contain between 250 to 1,000 spring coils. Generally, the more coils, the more support. Larger size sleep surfaces also contain more coils. Tempered steel coils offer the longest life span. Tempered coils have been reheated to add extra strength to the steel that makes up the coil. The average coil count for hospital innerspring sleep surfaces are below:
Standard Size: 35 to 38 inch wide - 200 coils
Extra Wide Size: 42 to 54 inch wide - 300 coils
Coil Gauge
The lower the gauge number, the thicker the coil. A higher gauge coil provides a softer, springier feel, whereas a low coil gauge offers a more firm pushback. Innerspring sleep surfaces with lower gauge numbers tend to last longer. Higher gauge numbers offer a more soft and luxurious feel.
Average Coil Gauge
12 to 15
Working Turns
The number of working turns in a spring coil refers to the total count of 180 degree turns in the coil. This measures how tightly the coil is wound for Bunnell, offset, and pocket coils. The more turns, the higher the bounce back, softness, and durability.
Tempering
Tempering is a technique in which the steel coils are repeatedly heated and cooled to strengthen their shape and firmness. Tempered coils are more durable and provide better support than non-tempered coils.
Innerspring Advantages
Offers cooling support
Provides good edge support
Pocket coils increase product life and provide less motion transfer
Less expensive than foam or air sleep surfaces
Innerspring Disadvantages
"Cheap" innerspring sleep surfaces with low coil counts, high gauges, and untempered springs do not provide sufficient support or durability.
Over time, "cheap" springs can break free of containment and poke through the mattress.
Top Selling Innerspring Mattresses
A best selling example of an innerspring sleep surface is the Bonnel coil product manufactured by Invacare--the Invacare Deluxe Innerspring Hospital Bed Mattress. This innerspring sleep surface for hospital beds has a coil count of 312, a coil gauge of 13.75 with 3.5 working turns. The coils are doubled tempered for added durability and strength.
Another noteworthy product is the Medline Innerspring Mattress. This sleep surface has a weight capacity of 250 pounds and comes with a vinyl cover that is fluid-resistant, and anti-microbial.
Foam Mattresses
Types of Foam
There are are five types of foam in general use to construct mattresses. These five types of foam are below.
Polyurethane foam – is made from petrochemicals. It is the least expensive and lowest quality foam. This foam is prone to off-gassing and developing body impressions that stay in the foam. The product life span is short—commonly 4 to 6 years.
Memory foam – is made from petrochemicals with additional additives. It achieves a higher density and a softer feel. It offers comfort, pressure relief, and body contouring. It provides a low elastic response that returns slowly to its normal position; hence, it remembers the shape of the weight pressed against it for some time. It also has a high "sink" factor enveloping whoever lays upon it. Most manufacturers add memory foam as a top layer for comfort since it will not support body weight very well. It also reflects body heat more than the other foams. The typical life span of memory foam is around ten years.
Gel memory foam – is made by combining petrochemicals with gel beads. It offers a high density similar to memory foam but disperses heat much better. The typical life span of gel memory foam is around ten years.
High-Resilience (HR) foam – is a combination of polyol and diisocyanate to form a polyurethane foam. Often found in the middle layers of memory foam beds, HR foam offers a responsive bounce-back and less "sink" than memory foam. The typical life span of HR memory foam is around ten years.
Latex foam – is made from natural or synthetic rubber. It offers elastic responsiveness, comfort, and cooling. It is the most durable foam offering the longest life span of up to 12 years.
Foam Density
Foam density is a measurement of the weight per one cubic foot (PCF) of foam. Higher-density foam lasts longer, but its increased viscosity is less flexible in returning to its original shape. Below are typical foam densities:
Low Density: 2 to 4 pounds
Medium Density: 4.1 to 5.5 pounds
High Density: above 5. 5 pounds
Foam Layers
High-quality foam sleep surface construction employs layers of foam to provide the best mix of support and comfort. Support layers usually consist of 2 to 2.5 density foam, while comfort layers consist of 4.5 to 7.5 density foam. Some manufacturers also add gel beads to the top layer of foam to increase air circulation against your body.
Advantages of Foam Mattresses
Spreads your weight evenly over the sleep surface
Provides comfortable sleeping surface
Offers some air circulation to keep you comfortable
Supports body and spine alignment
Offers motion isolation
Less noise
Disadvantages of Foam Mattresses
Not the best choice for individuals who require firm support
Heat build-up possible with high-density foams
Foam gases off some of the chemicals used in construction
Little rebound
Low edge support
Significant resistance to body movement with memory foam
Top Selling Foam Mattresses
The Medline High Performance Fiber Mattress is the low cost leader. This sleep surface comes with a vinyl waterproof cover that is antimicrobial and has inverted side seams. It supports up to 250 pounds and comes with a 1-year warranty.
The Invacare Solace Prevention Mattress features zoned layers of high density foam. The foam is dual-layered with a soft head and foot section. This sleep surface offers pressure relief for patients at risk of developing pressure ulcers. It comes with a 70 Denier nylon cover that is fluid-resistant. The sleep surface supports up to 300 pounds and has a 5-year warranty.
Air Mattresses
There are three characteristics to select from with air mattresses. These three are alternating pressure, low air loss, and lateral rotation. Some mattresses possess only one of these characteristics, while others have all three.
Alternating Pressure
These sleep surfaces have a combination of air cells that inflate and deflate at intervals to alternate the pressure points against your body. Alternating Pressure Therapy stimulates circulation and helps prevent and treat skin maceration or ulcers. This type of sleep surface is particularly important for paralyzed patients or who are at high risk of developing pressure ulcers.
Low Air Loss
This type of sleep surface circulates about 100 liters of air per minute through the mattress to provide pressure relief, maintain normal skin temperature, and reduce excess moisture. The fabric on the surface facing the sleeper is permeable to vapor, allowing moisture to escape to keep the user dry and comfortable. These sleep surfaces serve people who are at high risk of pressure ulcers and who run hot at night during sleep.
Lateral Rotation
Sleep surfaces that offer lateral rotation combine low air loss and pressure relief features. The mattress inflates and deflates a series of air cells that rotate the user at intervals for pressure redistribution. This therapy allows the bed patient to turn on a head-to-foot axis, reducing prolonged exposure to the mattress surface with a particular part of the body for extended periods. These sleep surfaces are essential for patients with the highest risk for pressure wounds.
Alternating Pressure vs. Low Air Loss
Low air loss sleep surfaces provide airflow to help keep your skin dry. They also relieve pressure against your body. Both features help prevent and treat pressure ulcers. Alternating pressure sleep surfaces help treat pressure sores by providing banks of air cells that expand and contract on an alternating basis. This displacement technique alternates or shifts pressure from one part of the body to another to prevent prolonged exposure to any one part of the body. Some sleep surfaces combine both low air loss and alternating pressure to offer improved therapy.
List of the Top Selling Hospital Air Bed Mattresses with links to detailed product information
Top Selling Low Air Loss Mattresses
Top Selling Alternating Pressure Mattresses
Top Combination Low Air Loss and Alternating Pressure Mattresses
Top Selling Lateral Rotation Mattresses
Air Mattress Advantages
Adjustable support
Provides the most comfort for many
Prevents/treats pressure ulcers
Disperses pressure points
Alternates pressure points
Prevents body moisture build-up
Reduces heat build-up
Air Mattress Disadvantages
May be difficult to mount/dismount for some
Dependent upon motorized function
Dependent upon electrical current
Some noise with motor running
Some assembly required
High cost
An extensive list of hospital bed manufacturers and hospital bed options can be viewed at the following link: Hospital Bed Mattresses FOR SALE.
Guidelines for Selecting the Best 2022 Mattress
Firmness – select between soft or firm. Most will tell you that firmness is more important than softness to provide adequate support. Sleep surfaces that are too firm make it difficult to get to sleep and difficult to stay asleep. Mattresses that are too soft, like thick memory foam sleep surfaces, are hard to get out of bed and difficult to turn over in bed. Medium-firm tends to be the most popular.
Motion Transfer – movement by a spouse in bed can transfer to the other person, making it difficult to stay asleep if your partner moves a lot at night. Many sleep surfaces compensate for motion transfer to keep the movement from one person transferring to the other.
Breathability – mattresses that allow air permeability help keep you dry and comfortable. Search for a sleep surface in which its design and materials provide for air circulation.
Edge Support – soft edges make it too easy to fall out of bed when getting close to the edge. Many manufacturers place firm, dense foam on the other edges to prevent the edge of the sleep surface from giving away under the weight of the user.
Lifespan – less durable sleep surfaces lead to a short lifespan and the need to replace your mattress often. Short lifespan products are also the most uncomfortable due to the lack of quality products in sleep surface construction. Below is a chart displaying the typical lifespan for well-constructed hospital bed mattresses:
Size – another important consideration is getting a sleep surface that is wide enough and long enough to accommodate the user. Sleep surfaces that fall short of the user's requirements are not good options. Bariatric often require extra-wide mattresses from 42 to 54 inches. Tall users require 80 to 84 inches to sleep comfortably.
Cost – innerspring mattresses usually have the lowest cost, followed by foam. Air bed mattresses are the most expensive and most comfortable.
Warranty – foam hospital mattresses have the longest lifespans of up to 10 years. Innerspring have an expected lifespan of 8 years. Air sleep surfaces have a lifespan of 8 to 10 years.
Frequently Asked Questions (FAQ's)
What is the best mattress for a hospital bed?
The best hospital mattress is an air bed offering both low air loss and alternating pressure. These mattresses offer the best support and the most comfort. Of course, this option is also the most expensive and has the shortest life span, requiring replacements regularly. Some patients have opted for an air mattress overlay that fits on top of an innerspring or foam mattress. The overlays are less expensive to replace and offer many of the benefits found in a full-sized air mattress. For patients with a high risk of pressure ulcers, a rotational air mattress is the best option.
Do hospital beds require a special mattress?
Yes, hospital beds require flexible mattresses that can adapt to the changing positions of the head and foot of the bed. The raising and lowering of the head and foot of the bed require the mattress to flex with the bed platform.
Does Medicare pay for hospital bed mattresses?
Yes, medically necessary equipment prescribed by a licensed physician falls under Medicare Part B. The equipment must be durable and supplied by an authorized medical equipment retailer.
Does Medicare pay for air mattresses?
Yes, Medicare Part B "…covers air-fluidized beds and other support surfaces as durable medical equipment that your doctor prescribes for use in your home" up to 20%.3
What is a low air loss mattress?
Low air loss mattresses circulate air through mattress chambers. This circulating air offers pressure relief, reduces excess moisture, and helps to maintain normal skin temperature. The user experience is to sleep less hot, drier, and more comfortable.
What is an alternating air pressure mattress?
Alternating air mattresses inflate and deflate air cells within the mattress at intervals to alternate the pressure points upon your body. These mattresses reduce the risk of developing pressure ulcers.
Are firm mattresses better for your back?
A medium-firm mattress is best for someone prone to back pain. Mattresses that are too firm are uncomfortable to the user and are, therefore, more difficult for the user to get to sleep and stay asleep. Mattresses that are not firm enough will not offer the firm support need for your back.
What firmness of mattress is best for lower back pain?
WebMD cites a low back pain study of 300 people over 90 days that found medium-firm mattresses as the most comfortable.4 Please note that this article does not provide any citation for the study.
Which is better—foam or spring mattress?
Foam hospital bed mattresses offer more durability and provide better support for people with back pain. They reduce motion transfer and have a better reputation for user comfort.
Innerspring hospital bed mattresses provide better climate control to keep you drier and more comfortable. They offer better rebound and have a lower price than most foam mattresses.
User support and comfort appear to have little difference between these two types of mattresses when they are both manufactured with quality materials. However, one study comparing the two mattress types and their affects on sleep made the following observation:
The comparative effects of sleep patterns and rates of cyclic alternating patterns (CAP rate) in a high quality innerspring mattress were compared to those on a unique foam support mattress in 10 normal subjects. Results showed no differences in sleep stages, number of wakes, or total sleep time between the two conditions. CAP rates were significantly reduced on the foam surface.5
What are the Parts of a Mattress?
Core – provides the support base
Middle Layers – offers additional support and transition to the comfort layers.
Comfort Layers – are softer layers for comfort and pressure relief.
Do air mattresses prevent bedsores?
Not only do air mattresses help prevent bedsores or pressure ulcers, but they also treat patients who already have these illnesses. Alternating pressure distributes the patient's weight in a rotating fashion so that there is limited exposure to any single area of the body for very long. Low air loss helps circulate air to keep the patient from overheating and feeling sticky. Excessive moisture is a key contributor to developing pressure ulcers.
Are air mattresses better than foam mattresses in preventing and treating pressure ulcers?
Yes, a study published in JAMA found that low-air-loss beds have more than twice the effectiveness of foam mattresses.
Results indicate more than a threefold improvement in median rate of healing for low-air-loss beds compared with foam mattresses … deep and superficial subgroups using low-air-loss beds remained 2.5 times more likely to heal in a given length of time compared with those using foam mattresses.6
10 Best Hospital Bed Mattresses Rankings
The following link offers a summary of each of the Top Ten Hospital Bed Mattresses FOR SALE.
Footnotes
Manuals and Documents
Zamosky, Lisa. How to Pick Your Perfect Mattress. WebMD (last accessed November 22, 2019)
Kenney, S. Rithalia, L. "Hospital bed mattresses: an overview of technical aspects." Journal of medical engineering & technology 24.1 (2000): 32-39. (last accessed December 3, 2019)
Kotowski, Susan E., et al. "Quantification of patient migration in bed: catalyst to improve hospital bed design to reduce shear and friction forces and nurses' injuries." Human factors 55.1 (2013): 36-47. (last accessed December 3, 2019)
Petzäll, Kerstin, B. Berglund, and C. Lundberg. "The staff's satisfaction with the hospital bed." Journal of Nursing Management 9.1 (2001): 51-57. (last accessed December 3, 2019)
Nishisaki, Akira, et al. "Backboards are important when chest compressions are provided on a soft mattress." Resuscitation 83.8 (2012): 1013-1020. (last accessed December 5, 2019)
Schmidt, Richard S. "NASA pressure-relieving foam technology is keeping the leading innerspring mattress firms awake at night." Technovation 29.3 (2009): 181-191. (last accessed December 5, 2019)
Scharf, Martin B., et al. "Comparative effects of sleep on a standard mattress to an experimental foam surface on sleep architecture and CAP rates." Sleep 20.12 (1997): 1197-1200. (last accessed December 5, 2019)
Hawks, Leona K. "Selecting a Comfortable Mattress." (1987): 1. (last accessed December 5, 2019)
Ferrell, Bruce A., Dan Osterweil, and Peter Christenson. "A randomized trial of low-air-loss beds for treatment of pressure ulcers." JAMA 269.4 (1993): 494-497. (last accessed December 9, 2019)

Burt Cancaster, Author