Drive DeVilbiss 10L Compact 10 Liter Oxygen Concentrator - 1025DS
Product Highlights
Ideal for 2 to 10 liter flow requirements
Compatible with cylinder transfilling systems
Lightweight and durable design
Delivers 87 to 96% O2 purity
Bright and easy to read LED display
Recessed humidifier nook prevents damage
Fast Delivery

RX Required
MPN :
Ships Free

- 10 Liter Compact Concentrator - Each - #1025DS
List Price:
$1608.05
You Save:
$209.05 (13%)
Description
DeVilbiss 10L Concentrator with Oxygen Sensor (product ID #1025DS)
Drive DeVilbiss 10L Oxygen Concentrator is a lightweight home concentrator delivering up to 10 liters per minute (LPM). Designed within the same casing as the DeVilbiss Oxygen Concentrator 5 Liter, it offers a compact size while delivering high-volume oxygen. An oxygen sensor called the DeVilbiss Oxygen Sensing Device (OSD) comes standard on each unit. A built-in auxiliary port offers a convenient connection for transfer of oxygen cylinders. This O2 device may be easily used with high-pressure masks and large-volume nebulizers.
Product Components
10 Liter O2 Machine
Oxygen Sensor
Three-Year Warranty
Additional Resources
30 Day Returns - 30 day return policy

- Items must be unopened

For more info view the return policy
Fast Shipping & Handling Most orders are processed and shipped within 24 hours!
3 Year Limited Manufacturer Warranty We will help you obtain the service covered under your manufacturer's warranty.
The unit has bright LED lights and uncomplicated, easily accessible controls.
Monitors the oxygen produced to provide patient safety.
Smaller and lighter than others like it while still delivering high-quality oxygen.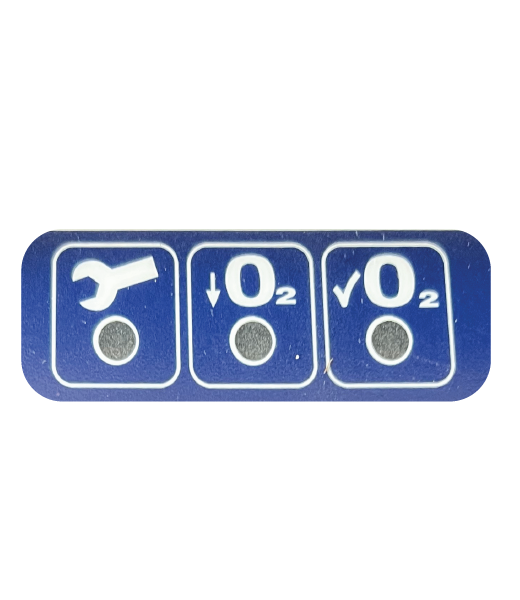 The exclusive DeVilbiss OSD monitors the oxygen produced to provide patient safety.
Product Details
DeVilbiss Oxygen Therapy Features & Benefits
Provides Optimal Oxygen Delivery for Patients With Flow Requirements
From 2 to 10 Liters
Assembled in the USA
Compatible With Cylinder Transfill Systems
Lightweight at 42 Pounds
Smaller and Lighter Than Competitive 10 Liter Devices
Capable Of Delivering 87% to 96% of O2 Purity
Oxygen Sensing Device Standard on Every Unit to Monitor Oxygen
Produced and Ensure Patient Safety
Equipped With Accessible Patient Controls
Bright and Easy to Read LEDs That Can Be Seen From a Distance
Protected Cannula Fitting Reduces the Risk of Breaking
Recessed Humidifier Nook to Prevent Damage
Key Specifications
Manufacturer: Drive Medical
Product Numbers: 1025DS
Length: 12 Inches
Width: 13.5 Inches
Height: 24.5 Inches
Weight: 42 Pounds
Maximum Decibel Level: 69 Decibels
Delivery Rate: 2.0 to 10.0 Liters Per Minute
Outlet Pressure: 20.0 PSI +/- 1.0 PSI
Oxygen Percentage: 87 to 96%
Power Consumption: 120 VAC, 60Hz
Power Input: 639 Watts
Warranty: 3 Years Limited
Respiratory Oxygen Additional Resources
Certified Oxygen Concentrator Specialist - Questions about the DeVilbiss 10 Liter Concentrator or any of the other best-selling oxygen therapy devices can be answered by telephone with one of our certified specialists. These trained specialists are re-evaluated every six months to ensure they are on top of the latest technology and the newest oxygen therapy delivery devices. These certified specialists can help you with questions about pulse flow oxygen, continuous flow oxygen, oxygen concentration levels, high-altitude operation, oxygen therapy while traveling, as well as questions about specific specifications for any O2 machine. Call toll-free to 800-397-5899 to reach one of our specialists.
Easy Warranty Processing - Should your machine require repair while it is under warranty, just give us a call on our toll-free line to set up your warranty repair at 800-397-5899. Warranty processing is only for concentrators purchased from Vitality Medical.
Oxygen Concentrator Rankings and Comparison Charts - If you would like to see a list of the top-ranking oxygen concentrator choices along with detailed reviews, concentrator rankings, and side-by-side comparisons, visit the links to our oxygen comparison studies below for detailed information.
Concentrator Resources and Medical Studies
DeVilbiss 10 Liter Concentrator Review Video (7:45 minutes)
Please note: oxygen concentrators are for supplemental use NOT as a primary source of oxygen. The user may experience periods of inactivity due to an interruption in electrical power or the need to have the device repaired.
The customer is responsible to arrange a backup source of supplementary oxygen in case of device failure. Vitality Medical assumes no liability for failure to provide a backup or the failure to adhere to manufacturer recommendations.
Additional Information
More Information

| | |
| --- | --- |
| Manufacturer | Drive Medical |