Dressing Change & IV Start Kits
Having access to essential IV Start Supplies creates efficiency and improved patient care for administering intravenous therapy. Complete IV start kits and dressing change kits are individually packaged with sterile contents to start and maintain the IV site. The range of single-use kits prepare, dress, and secure the IV catheter. The contents are packaged in sequence of use to support the latest protocols for safety and patient comfort. Choose from a wide selection of IV starter kits and dressing change kits specific to the catheter type, including Central Venous Line, Port, and Peripherally Inserted Central Catheter Line.
The Benefits of Using IV Start and Dressing Kits
Standardizes Best Practices
Adds Convenience
Creates Efficiency and Patient Comfort
Saves Time and Money
Reduces Waste
IV Kit Options
Central Line Dressing Change Kit
A central line catheter is placed in a large vein at the neck, thigh, or shoulder to supply a greater volume of fluids and medication to the patient. A CVC or port is left in place longer than a standard IV catheter requiring the dressing to be changed weekly or sooner. A CVC or port dressing change kit provides the supplies needed to change the dressing and securement device specifically designed to fit a CVC.
Example: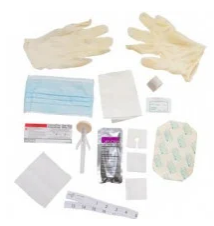 PICC Line Dressing Kit
A Peripherally Inserted Central Catheter (PICC) line is placed in the large vein in the upper arm for longer-term IV therapy. This convenient kit contains the configurations for performing a PICC dressing change and the complementary supplies necessary for infection control.
Example: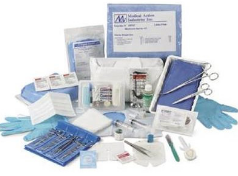 IV Start Kits
The contents range from a kit with a tourniquet and skin prep combination to a complete kit with these items and a securement dressing.
Example:
McKesson IV Start Kit, 100123, is a complete IV starter kit with tourniquet, skin prep pads, and transparent dressing.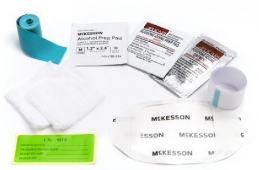 You might be interested in...