Shoulder and Knee Cryotherapy Machines
Cryotherapy Machines are cold therapy machines offering ice compression or just coldness to provide a true game-changer to control pain and inflammation after surgery or injury. These devices are effective pain relievers and offer an alternative to opioids. It is why orthopedic doctors prescribe an ice therapy machine after surgery again and again. What sets a cold therapy unit apart from a traditional cold pack is that the integrated cooler, connector hose, and wrap design maintains even circulation of cold water to minimize swelling and numb pain during the healing process. The multiple wrap configurations provide custom options to work with the back, shoulder, knee, ankle, hip, and foot. Cold Therapy Units come with hook-and-loop closures that are adjustable and stationary, making a cold therapy wrap a superior choice over a cold pack that can easily slip off and doesn't maintain a consistently cold temperature.
Cryotherapy Machines and Recovery
The post-surgery ice machine makes icing the injured limb easy. Ice water is added to the cooler without disturbing the wrap, which is helpful and less intrusive during the recovery process. Combining cold therapy with compression adds an additional benefit for the treatment of recovering muscle tissues. There are several home cryotherapy machines that are similar to a hospital-grade post-surgery ice machine or a cryo ice machine. Select a cryotherapy machine for sale that meets individual patient needs. Below is a summary of cryotherapy applications.
Post-Operative Recovery
Muscle Recovery Following a Workout
Reducing Swelling After Physical Therapy
Healing After an Injury

Anatomical Wrap Options
Choose from anatomical wraps to customize to the body part. For example, a cold therapy unit for knee surgery recovery molds and secures to the contours of the knee to deliver a complete 360-degree cold treatment. Some manufacturers offer universal wrap designs that work with many areas of the body to maximize its use. The wraps secure with a hook-and-loop system so there's no question that the treated area is receiving adequate cryotherapy therapy.
Knee
Foot
Ankle
Shoulder
Back and Hip
Universal
Cyrotherapy Effectiveness
Cryotherapy reduces inflamation resulting from trauma. It reduces edema, hematoma formation, and pain.1 Medical studies find that cryotherapy treats patients with diverse neurologic and musculoskeletal maladies.2 Cryotherapy is therapeutic due to its anti-inflamatory and analgesic properties resulting from reduced blood flow at the site of the injury. The use of cryotherapy also reduces the conductive ability of nerve endings to curb pain.3
Important Features To Consider When Selecting a Cyrotherapy Device
Motor or Gravity Suspension Cold Therapy Units
Motorized versions plug into the wall using the AC adapter to power the motor and circulate the cold water. The gravity option has a cheaper price point over a motorized system, but where it may be used is also limited since it is a gravity-fed system that is suspended.
Examples: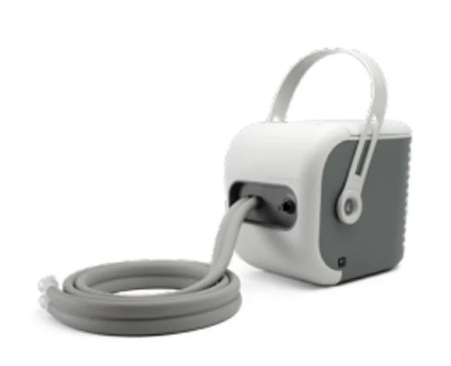 Ice Compression Therapeutic Treatments
Applying hook-and-loop cold therapeutic wraps provides light compression to the injured region. However, there are significant benefits to combining intermittent or alternating compression with cold therapy. Medical studies confirm the benefits of the joint application of ice cold therapy with compression. Ice compression machines remove excess fluid, promotes tissue repair, alleivate pain, and oxygenates the tissue to promote faster healing. When both therapies are prescribed, there are cyrotherapy units with special ice compression wraps to support both compression and cold treatments.4, 5
Examples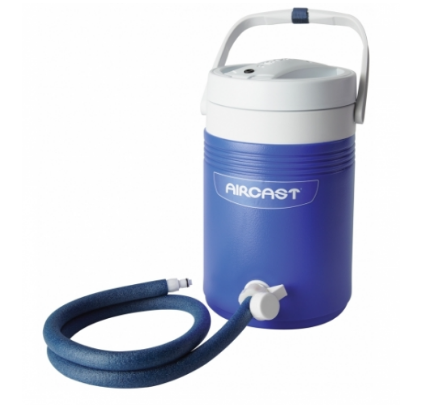 Wrap Sterility & Connector Hose Length
Most wraps are packaged non-sterile, but some manufacturers do offer sterile options when the facility treats multiple patients. A cold remedy machine for shoulder recovery may use a longer hose so the unit may be placed farther away to reduce noise.
Examples:
DonJoy IceMan CLASSIC3 Cold Therapeutic System offers sterile and non-sterile wraps with a regular or extended hose. Additionally, the IceMan Classic stands out with its lightweight design and the IceMan's dual pump recirculation technology to continually mix warmed water with cooler ice water.
DonJoy IceMan CLEAR3 Cold Therapeutic System also has regular and extended hose options that connect with sterile or non-sterile wrap-on pads. It comes with the IceMan pump circulation system but it features a simple see-through cooler to know at a glance when it's time to refill the ice.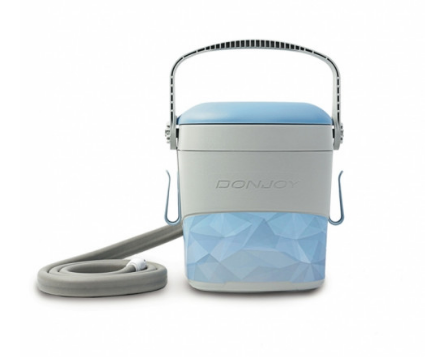 Frequently Asked Questions (FAQs)
How long should cryotherapy be administered?
The prescribed cryotherapy treatment is based on the physician's recommendations. Depending on the unit, cycles last up to eight hours.
Can the cold therapeutic wrap be applied directly to the skin?
No, it is critical to place a barrier cloth on the skin to protect the skin and receive compression treatment. It is also recommended to check on the skin condition every hour.
Are cryotherapy machines covered by insurance?
Contact the insurance provider to determine if the unit is covered. In order to keep prices low, Vitality Medical does not bill insurance companies or Medicare.
Is cryotherapy better than heat to treat an injury?
Both types of therapy have their place but when it comes to a new injury with damaged tissue, cold rehab sessions slow inflammation and bleeding at the damaged tissue and relieves pain. Heat therapy is optimally applied when muscles are sore and achy after an intense workout or when experiencing muscle spasms.6
Can an ice machine for shoulder surgery substitute for an ice machine for knee surgery?
Yes, if compression is not a part of the treatment, a shoulder ice machine does essentially the same function as a knee ice machine. However, the wraps will likely be different in order to get a good fit.
Top Cold Therapy Products From Vitality Medical (Based On Sales)
Deroyal Jetstream T700 Hot/Cold Therapeutic Unit

is popular for its dual-purpose capability of providing hot and cold therapy with wraps to fit the knee, hip, arm, and knee.

Breg Polar Care Cube Cold Therapy System

includes the cube cooler with WrapOn pad of choice to support therapy for eight-hour cycles.

Breg Polar Care Wave

allows for cold treatments and intermittent compression. The therapies can be used in conjunction with each other or independently.

Footnotes
You might be interested in...