Hydrocollator Heating Units | Moist Heat Pack Machine
Hydrocollator Heating Units are used by health professionals to augment bodywork practices such as massage therapy, physical and sports therapy, and chiropractic treatments. These devices heat multiple moist heat packs at once to efficiently provide moist heat therapy in clinical settings. Because water is a better conductor of heat than air, moist heat therapy more accurately targets and directs heat to the treatment area.
Hydrocollators are designed to thoroughly heat reusable clay-filled packs. Once completely heated, the packs provide constant, long-lasting gentle heat. Vitality Medical features an array of different heating units, from larger capacity, moveable equipment to smaller, stationary desktop models.
Hydrocollator Heating Units: How They Work
Using a standard hydrocollator heating system involves two steps. First, the hydrocollator heating packs are heated in a thermostat-controlled heated water bath that maintains a consistent temperature up to 175 degrees Fahrenheit, depending on the unit. The actual temperature range will depend upon the specific model. Once heated, the heat packs are placed in a terrycloth wrap to be applied to the body.
Because the bentonite clay heat packs can be kept in the heating unit throughout the day, they are always ready for use. Tabs on the pack coverings make them easier to retrieve safely with tongs. The hot temperatures effectively kill any microorganisms that may be present on the packs after use.
How To Choose the Right Hydrocollator Pack Machine
Hydrocollator Heating Units come in a variety of types, with the biggest differences being size, transportability, and heat pack capacity. In the clinical setting, one primary unit may be used in combination with a smaller, secondary unit to make sure there is always a steady supply of heated packs.
Some of these heating devices, such as the Chattanooga Hydrocollators, are available in stationary, tabletop, and mobile models, some with capacity for up to 12 heat packs. Vitality Medical also offers a variety of smaller stationary units like the Relief Pak 4-Pack Heating Unit. These smaller units are portable and heat up faster than larger units, allowing the healthcare professional to take the hydrocollator virtually anywhere.
Why Do Professionals Use Hydrocollators for Heat Therapy?
Water Baths Feature Adjustable Thermostat for Custom Heat Levels
Heated Packs Provide All-Natural Pain Relief
Heat Therapy Assists With Range of Motion Before Treatments
Multipack Units Ensure That Ready-To-Use Hot Packs Are Always On-Hand
Bentonite Clay Packs Radiate Consistent Heat for Up to 30 Minutes
Moist Heat Penetrates Deeper Into the Muscles and Joints
Hot Temperatures Help To Inhibit Bacterial Growth on Packs
Hydrocollator Heating Packs
Hydrocollator heating units use special hydrocollator heating pads that are designed to sit in the unit's hot water for extended periods of time. Once the packs are heated, they are wrapped in a cover and applied to strained and sore muscles. These packs contain bentonite clay and provide moist heat, allowing them to conduct heat more effectively. Because bentonite clay is extremely dense, the heat is maintained and radiated at a consistent temperature for up to 30 minutes. Bentonite clay is naturally occurring, safe, and nontoxic.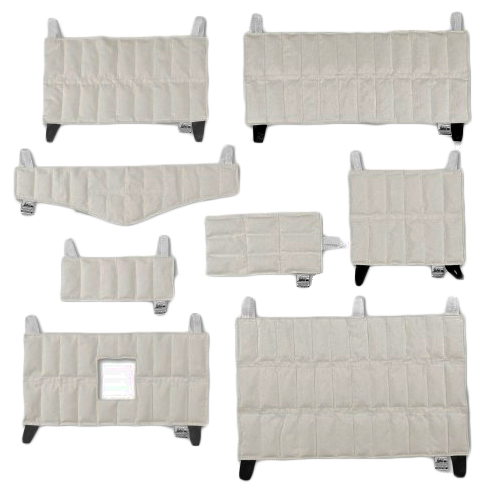 Frequently Asked Questions (FAQs)
At what temperature are hydrocollators usually set?
Generally, the heated water baths are set at roughly 160 to 170 degrees Fahrenheit.
How long does it take to heat the hydrocollator packs?
The amount of time it takes the unit to come to temperature depends on the model and size of the unit. Some units take as little as 3 hours, while others take as long as 8 hours.
How do hydrocollator bentonite clay packs work?
For the purposes of heat therapy, bentonite clay is extremely dense. This makes it perfect for holding and radiating heat over a long period of time at a steady temperature. Bentonite clay remains at a stable temperature for up to 30 minutes.
How often should the water holding tank be cleaned?
Depending on how hard or soft the water is, the unit may need to be cleaned every week or every two weeks at the minimum. Make sure the unit is always unplugged during cleaning.
Can the hydrocollator heating packs be heated on a stove or microwave?
The hydrocollator heating packs are designed to be heated to between 140 to 170 degrees in a hot water bath. In addition to heating in a hydrocollator heating unit, some types of packs, such as the Moist Heat Therapy Relief Packs, can also be heated in water in a microwave or stovetop. However, be sure to confirm that the specific pack is indicated for other methods of heating before trying them.
Lumbar Hot Pack For Back Pain - Hydrocollator Heating Packs (1:39 minutes)
You might be interested in...