Hot and Cold Packs
The application of heat or cold is one of the most frequently used treatments in physical therapy, sports medicine, and home remedies. Cold and hot pack therapy is used to treat pain and inflammation associated with bruises, sprains, strains, and chronic pain, just to name a few. Alternating hot and cold has been shown to be beneficial for a variety of muscle and joint issues, such as delayed onset muscle soreness (DOMS)1. Because cold & warm compresses are noninvasive and nonmedicinal and have a simple, straightforward design, these packs are an accessible therapy for virtually anyone. Vitality Medical offers a wide range of hot and cold packs in a variety of sizes and styles for convenient, drug-free pain relief.
Hot and Cold Compress Features To Consider
Vitality Medical carries many hot and cold packs that require no electricity and are shelf-stable for years, making them an ideal addition to any first aid kit, hiking backpack, or sports medicine treatment bag. Other options are reusable and either warmed up or frozen prior to use.
Anatomically Specific
Due to their location, some areas of the body are difficult to apply hot and cold packs long enough to obtain all the benefits from the therapy. For these instances, Vitality Medical features a line of products designed for specific parts of the body, such as the Champion Compress cold and heat pack for back or the Ankle & Foot Ice and Heat Wrap.
Chemically Activated
Chemically activated cold packs, like the Performance Instant Cold Pack, are an excellent choice for first aid and sports medicine kits due to their instant use and portability. These packs contain a chemical such as ammonium nitrate that is activated by squeezing the bag and shaking. They are single-use and remain cold for approximately 30 minutes, depending upon the brand.
Much like their cold pack counterparts, chemically activated hot packs will remain shelf-stable provided they remain airtight in their package, making them a perfect component for emergency and sports medicine kits. Instant heat pack usually contain the active ingredient magnesium sulfate, which generates heat for about 20 minutes. These packs are also great to have in cold weather.
Reusable
Reusable cold packs come in two varieties. Reusable packs like the Fabrication Enterprises Reusable Neck Cold Pack use water and some other chemical, usually propylene glycol, in order to dramatically reduce the freezing point. They are stored in the freezer until needed. Ice bags are durable, waterproof bags designed to be filled with ice, which is replaced as it melts. A cold compress has the benefit of being environmentally friendly and simple to use.
Reusable hot packs come in a wide variety, ranging from a standard hot water bottle to versatile cold and heat gel pack and compresses containing grain, beads, or other substances that can hold hot or cold.
Who Can Benefit From Heat and Cold Therapy?
Use hot and cold therapy or cold compress to relieve pain associated with a variety of conditions, including:
Chronic pain conditions
Muscle soreness as a result of overuse
Muscle sprains and strains
Impact injuries
Post-surgery recovery
Sports-related injuries
Old injuries that occasionally flare up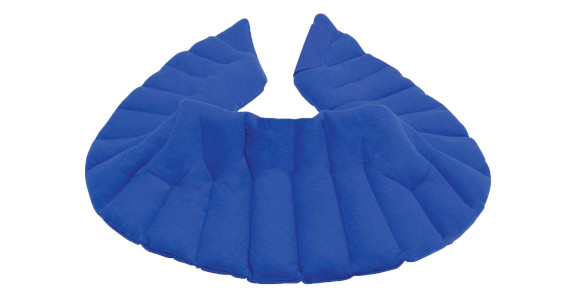 Footnotes
You might be interested in...