Diabetic Lancets
Lancets are medical devices that employ a sharp needle or blade to prick the skin. Used to retrieve a blood sample, lancets are useful for blood sugar monitoring. These devices are in wide use in diagnostic centers, laboratories, hospitals, clinics, and homecare. Their simple design and ease of use make them ideal for self-diagnostics and diabetes monitoring. Visit the links below for additional information.

What Are the Types of Lancets, How to Select the Best Lancet, Selecting the Right Lancet Size, Top Ten Lancet Brands, General Characteristics, FAQ's
General Characteristics of a Diabetic Lancet
Below is a summary of the typical characteristics of these devices.
Sharp needle or blade
Limited stick exposure
Safety device protects from unwanted sticks
Spring activated puncture
Disposable
Self-testing
Single-use
What Are the Different Types of Lancets?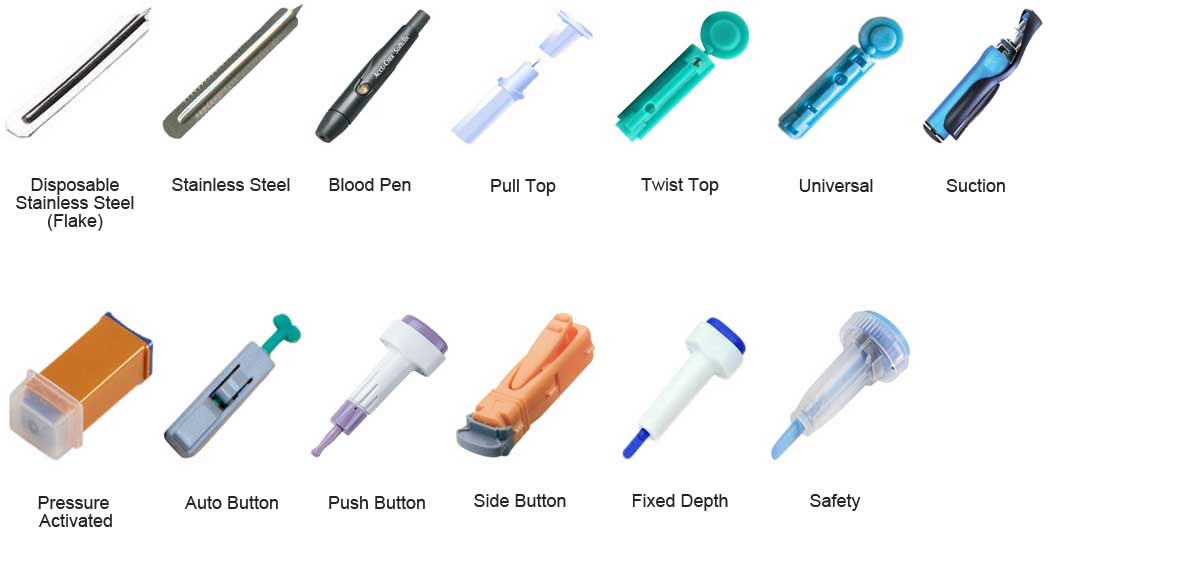 There are many types of lancets for sale on the market. Below is a list of the most popular types used for home monitoring.
Disposable – single-use
Flake – simply designed needle with a handle
Stainless Steel – steel shaft with needle
Blood Lancet Pen – ink pen design
Pull Top – top pulls off to expose the needle
Twist – the top twist off to expose the needle
Universal – general purpose use
Suction – puncture device with suction
Pressure Activated – spring activated by pressing against the skin
Push Button – spring activated by push button
Side Button – spring activated by side button
Fixed Depth – needle or blade penetrates to a fixed depth
Safety Lancet – retractable needle or blade. Most are safety designed except for the stainless steel versions
There are three major categories of lancets--standard, safety and speciality. Standard models consist of a handle and blade. The safety versions have a shield or a retractable needle or blade. They are currently in wide use and help prevent accidental sticks and reduce exposure to infections. The last category are speciality lancets. The most popular of this group is a vacuum device which is essenially a hybrid safety lancet.
While the standard models are the least expensive and employ a simple design, the safety versions are more popular. The safety versions are the first choice for in-home diabetic monitoring. Most hospitals and clinics also use the safety version to protect patients and caregivers from accidental sticks. These devices cover the needle or blade until use.
Safety lancets divide into two groups--manual or passive (fully automatic). Manual devices require removing the shield and stabbing the patient or pushing a button to deploy a spring-activated needle. The spring activates by a top or side button. Passive devices activate the needle by pressure or contact with the sample area. A French multicenter study found that needle stick injuries are lower for auto or pressure activated lancet devices. This study also confirmed an eariler study that found this device type to be effective in drawing a sufficient blood sample.1 The earlier study also concluded that patients using contact-activated lancets perceived less pain with sampling.2
An additional bennefit of the safety lancets is their portability. Because of their unexposed needles, these devices are transportable in a purse or backpack, and are small enough for a pocket.
How to Select the Best Lancet Device?
There are numerous different types of lancing devices designed to meet individual needs. This helpful self-diagnostic tool allows you to take a blood sample safely for testing and screening. The continuum below displays the different types of blood lancets and glucometer lancets. The left of the continuum displays devicess that are budget-priced while the more expensive types are to the right. The devices on the far right offer the least amount of patient discomfort when drawing blood. Select the best lancet for your needs.
Product Selection Continuum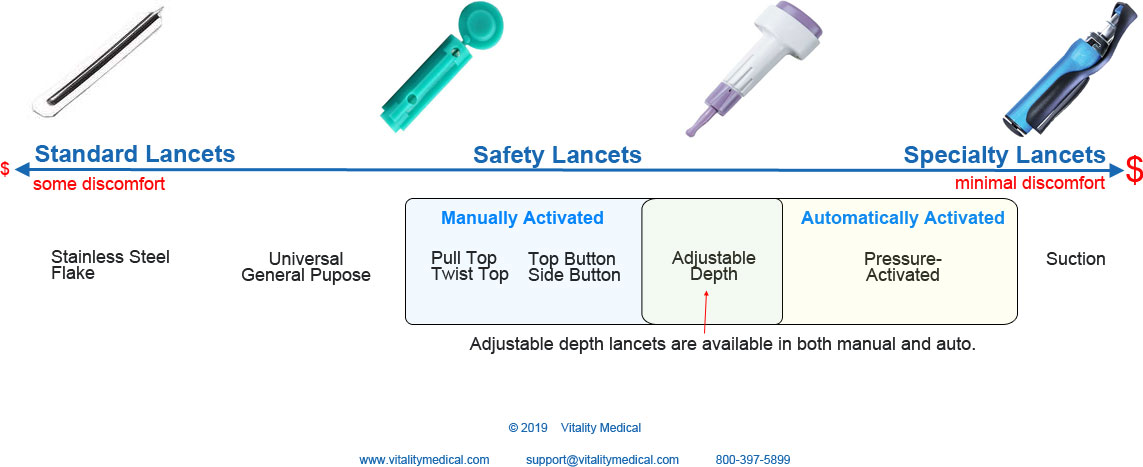 Ranking the Top-Selling Lancets

Top Ten Lancets
Fastclix - pen style, adjustable depth, manual activation, top button, Accu-Chek
Softclix - pen style, adjustable depth, manual activation, top button, twist-off cap, Accu-Chek
One Touch Delica - twist top, adjustable depth, LifeScan
Microlet - pen style, twist cap, adjustable depth, Ascensia Bayer
Freestyle - twist top, adjustable depth, Abbott
True Plus - universal style, twist top, Trividia
One Touch Ultra - universal style, twist top, LifeScan
Keto Mojo - twist top, adjustable depth, Keto Mojo
Unistik - safety type, manual activation, side button, Owen Mumford
Easy Touch - universal style, twist top,
Product Sizes
Lancets are available in different sizes according to diameter and length. Most often, the diameter is a gauge (G) size, but sometimes it is millimeter (mm) measurement. The measurement of the length of the needle is in mm and affects the puncture depth. "A typical stainless steel lancet has a diameter of 0.3–0.8 mm and penetrates 0.7–1.3 mm, with a depth of penetration directly related to pain."3 "Although the extent of tissue injury and pain are less from the puncture by a thinner and shorter needle, the puncture by the very small size needle yields less blood volume which may not be sufficient for the glucose measurement."4 Larger size needles produce bigger blood samples, while smaller sizes result in limited samples.
Diameter
For thickness, the higher the gauge number, the smaller the diameter of the needle. The lower the gauge number, the larger the diameter. A gauge of 18 is much larger than a gauge of 30. Lower gauged lancets produce a larger skin puncture and more patient discomfort. Since patients have many skin types, it is best to select a lancet that produces the perforation size needed to collect the blood sample required. A puncture that does not create enough of a blood sample suggests switching to a lower gauge number. On the other hand, a puncture that creates a larger sample size than needed indicates switching to a higher gauge number. Gauge sizes currently range from 12 to 38.
Length
The length of the needle that penetrates the skin is also an important factor. A needle too short may not produce enough blood sample, while a needle too long may produce more blood than needed and of course, more pain. Typical length sizes range from 1 to 3 mm.
Size Selection Continuum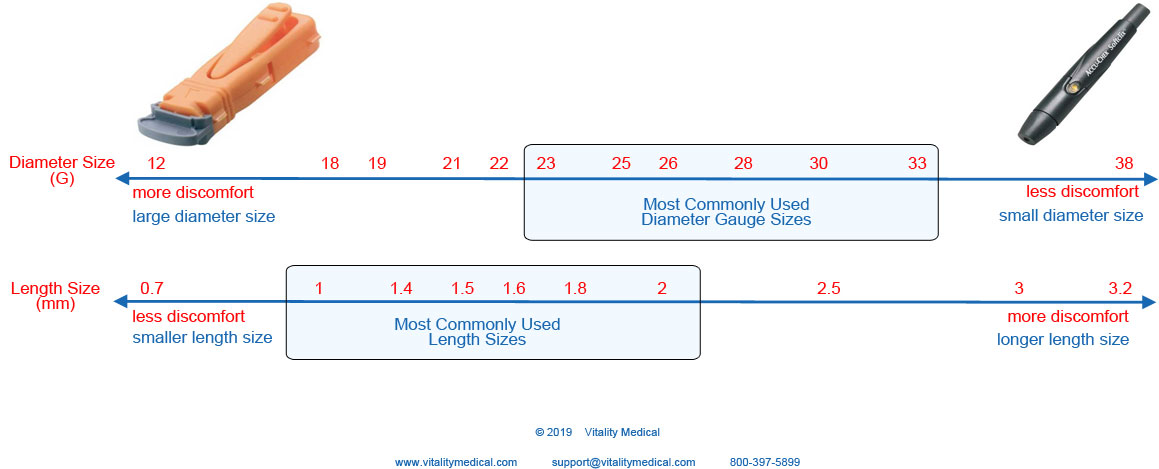 FAQ's
What are lancets used for?
Lancing devices prick below your skin to allow a blood sample.
Are lancets and test strips the same?
A lancet device disrupts tissue to provide a blood sample. Test strips use the blood sample to determine blood glucose levels.
Are all lancets the same?
No, there are many different types, but there are two basic categories—a standard device and a safety lancet. A lancet without a safety mechanism is simply a handle with an attached needle or blade. On the other hand, a safety device offers shielding for the needle until ready to extract a blood sample.
Do lancets require a prescription?
No, lancets are available without an Rx.
Does the level of pain associated with blood glucose sampling affect compliance?
Yes. "According to a survey of some 6,600 type 1 diabetic patients, to which 1,895 replied, actual testing frequency was less than that recommended, mainly because of soreness, pain, and inconvenience."5 In another study, "pain increased with penetration depth, and thicker lancets were slightly more painful than thin ones. However, blood volumes increased with the lancet penetration and depth."6 Having the right size can make a significant difference in patient compliance and in retrieving adequate blood samples.
Footnotes
1Tosini, William, et al. "Needlestick injury rates according to different types of safety-engineered devices: results of a French multicenter study." Infection Control & Hospital Epidemiology 31.4 (2010): 407.
2Warunek, David, and Ana K. Stankovic. "Evaluation of lancets for pain perception and capillary blood volume for glucose monitoring." Clinical Laboratory Science 21.4 (2008): 215.
3Bloomgarden, Zachary T. "Treatment issues in type 1 diabetes." Diabetes care 25.1 (2002): 230.
4Kim, Stanley. "A pain-free Lancet with a small needle for Glucose Measurement." Clinical Medicine Insights: Endocrinology and Diabetes 3 (2010): CMED-S3775.
5Bloomgarden, p. 230.
6Fruhstorfer H, Schmelzeisen-Redeker G, Weiss T. Capillary blood sampling: relation between lancet diameter, lancing pain and blood volume. European Journal of Pain. 1999;3(3):283–286.
Medical Studies
Vitality Medical carries other diabetes supplies, including Insulin Pumps and Carry Cases.
You might be interested in...