Swipe to the right
Nasal Cannula for Oxygen Therapy
Medically Edited and Reviewed by Dr. Erin Zinkhan MD, BSBE
Updated: 05/15/2019
Do you know what is a nasal cannula? Do you know what they are used for? Even if you and your loved ones have been blessed with good health, you must surely have seen it in movies and television soaps. It is a thin transparent tube that is attached to the nose of a patient who is shown to be in serious condition. One of the wonders of medical science, this tube provides oxygen to a patient who finds it difficult to breathe by themselves, due to the severity of their medical condition.
What Are Nasal Cannula?
Nasal Cannulas and oxygen masks are commonly used in healthcare facilities to deliver oxygen to patients who have low oxygen levels. Patients with low oxygen levels
are given supplemental oxygen from an oxygen tank through a nasal cannula or oxygen mask.
A nasal cannula is a thin plastic tube that connects to an oxygen tank and has two small prongs that insert into the patient's nose. Nasal cannulas may have flared prongs or straight prongs.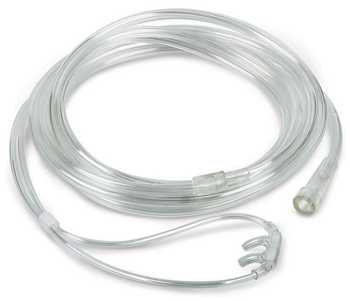 UNasal cannula oxygen can delivery various amounts of oxygen to a patient.
Benefits of Nasal Cannula
Nasal cannulas are used for patients with low levels of oxygen in their bodies, including those with respiratory disorders and trauma. Chronic obstructive pulmonary disease (COPD) is an example of a respiratory disorder for which oxygen via nasal cannula is used.
.
How Are Nasal Cannula Used?
The end of the nasal cannula with the nasal prongs is placed at the base of the nose, and the other end is attached to an oxygen tank or oxygen compressor. A nasal cannula also may be attached to an oxygen tubing connector that allows for longer tubing, and thus greater mobility, from an oxygen tank or oxygen compressor.
Oxygen can be delivered to a patient through a nasal cannula while in the hospital or at home. At home and while traveling, oxygen can be administered via a portable oxygen tank or compressor through a nasal cannula
.
In summary…
Nasal cannulas are effective tools for delivering oxygen to patients. Patients can continue to eat and speak while wearing a nasal cannula. Nasal cannulas are available in a variety of sizes and styles. The Softech Plus Oxygen Nasal Cannula, the AirLife Nasal Cannula, the Salter Labs Adult Oxygen Cannula, and the Vyaire Medical Cushion Nasal Cannula are some of the nasal cannula options available for home use. Teleflex offers free nasal cannula samples of their nasal cannulas at the following link: Free Samples Teleflex Oxygen Nasal Cannula
Vitality Medical
7910 South 3500 East, Suite C
Salt Lake City, UT 84121
(801) 733-4449
[email protected]
VitalityMedical