Zen-O Lite Portable Oxygen Concentrator, RS-00608
TOP Features:
✓

Lightweight for ultimate portability

✓

87% to 96% oxygen concentration

✓

Rugged construction for oxygen on the go

✓

Includes carry bag and AC and DC power adapters

✓

Low maintenance

✓

Quiet operation

✓

FAA approved
Fast Delivery

RX Required
MPN:
Grouped product items

| Item# | Description | Size | Price | |
| --- | --- | --- | --- | --- |
| RS-00608-G-S | Concentrator with ONE BATTERY | Each | | |
| RS-00608-G-D | Concentrator with TWO BATTERIES | Each | | Sign up for stock alerts |
Description
Zen-O Lite Portable Oxygen Concentrator is a compact and lightweight pulse flow concentrator designed to be easily carried where ever you need to go. An LCD screen panel with intuitive buttons are positioned on the top of the machine for easy access even when the concentrator is placed in the carry bag. An optional rucksack is available for hands-free portability. Manufactured by GCE Healthcare, the Zen-O lite is designed for people with an independent and active lifestyle. Its robust and rugged construction allows you to press ahead with your everyday life confident that it will continue to perform.
Zen-O lite Concentrator automatically responds to your breath rate. Whether you are climbing stairs, golfing or shopping this O2 device adjusts to your specific needs at any given moment to ensure you have the o2 saturation you require. Oxygen output can reach 1050 ml per minute. A single battery can power the concentrator for up to 4 hours. Replacing the sieve beds is user-friendly and can be completed in under 5 minutes.
GCE also manufactures a portable oxygen concentrator with continuous flow oxygen called the Zen-O. The Zen-O offers continuous flow oxygen as well as pulse flow. Below is a photo that compares the size of the new Zen-O Lite with the Zen-O.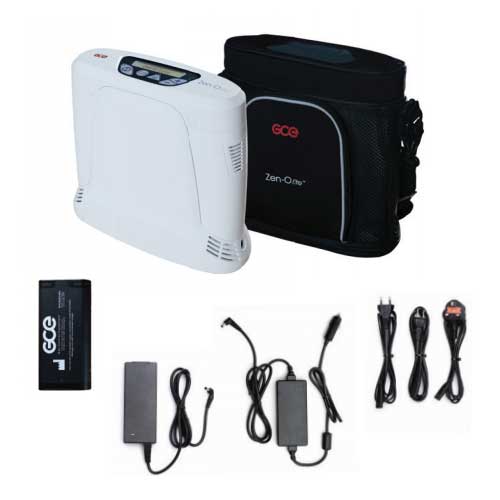 Components
Concentrator
Battery
DC Power Supply Cable
AC Power Power Cable
Carry Bag
User Manual
Quick Reference Guide
Features & Benefits
Minimal maintenance requirements.
Reliable and durable design.
Lightweight for easier mobility.
Attractive carry case and optional rucksack for easy portability.
Easy to operate.
Product Specifications
Size
Width: 9.8 Inch.
Height: 9.1 Inch.
Depth: 3.8 Inch.
Concentrator Weight: 4.6 lbs. (5.5 lbs w/ Single Battery).
Battery Weight: @ 0.9 lbs.
Carry Bag Weight: @ 0.4 lbs.
Performance
Maximum Pulse Flow Minute Volume: 1050ml at 32 BPM.
Oxygen Concentration: 87 to 96%.
Maximum Outlet Pressure: 20.5 psi.
Inspiratory Trigger Sensitivity: -012cm/H2O.
Pulse Flow Settings: 1 to 5 with 0.5 incremental adjustments.
Operating Altitude: 0 to 13,000 feet above sea level.
Operating Factors
Noise: 38 dBA.
Power Requirements:
AC Input: 100-240V AC(+/- 10%) 50-60 Hz.
AC Output: 24 VDC, 5.0A.
DC Input: 11.5 - 16 VDC.
DC Output: 24V, 5.0A.
Battery: Lithium Ion 8 Cell.
Battery Duration: 4 hours at setting 2.
Battery Recharge Time: Not Available.
FAA approval.
Dependability
Product Numbers: RS-00608-G-S, RS-00608-G-D.
Manufacturer: GCE Healthcare.
Brand: Zen-O.
Made in the USA and United Kingdom.
HCPCS Code: E1390.
Expected Service Life: 5 years.
Warranty for Machine: 3 years.
Warranty for Accessories: 1 year sieve tubes, battery and bag.
Medical Grade Product - requires a physician's prescription.
Please note: oxygen concentrators are for supplemental use NOT as a primary source of oxygen. The user may experience periods of inactivity due to interruption in electrical power or the need to have the device repaired.
The customer is responsible to arrange a backup source of supplementary oxygen in case of device failure. Vitality Medical assumes no liability for failure to provide a backup or the failure to adhere to manufacturer recommendations.
Vitality Medical - A Better Place to Buy
Certified Oxygen Concentrator Specialist - Call us with any questions you have about GCE concentrators or any of the other concentrator brands. We have specialist standing by to answer your telephone call. These trained and tested specialist are re-evaluated every six months to be certified on the latest technologies and oxygen therapy devices. A certified specialist can help you determine which options can best meet your prescription and individual requirements. Call toll free to 800-397-5899 to talk with one of our specialist.
Easy Warranty Processing - If something goes wrong with your oxygen device while it is under warranty, just give us a call on our toll free number 800-397-5899 to set up your repair.

Product Videos
Product Review Video (2:30 minutes)
A Better Quality of Life Video (2:40 minutes)
Basic Service and Maintenance Video (4:05 minutes)
How to Peplace the Sieve Modules (3:22 minutes)
How to Choose the Preferred Language (1:01 minutes)
Additional Information
More Information

| | |
| --- | --- |
| Manufacturer | GCE Group |