Handheld Pulse Oximeters (O2 Sensors)
Handheld Pulse Oximeters combine the benefits of tabletop oximeters and fingertip oximeters to provide medical-grade and user-friendly devices. These medical devices use a range of non-invasive probe sensors to provide blood oxygen saturaton (SpO2) and pulse rate readings for patient diagnostics and routine checkups. With the ability to source power from the battery or the power docking station, these handheld oximeters are ideal for both in-clinic use and on-the-go readings. Browse each of these oximeters to find which unique set of features and benefits is best suited for the home or clinic. You can also visit Vitality Medical's full line up of Pulse Oximeters
Hand held Oximeter Key Benefits
Compact and Portable Design - They deliver the benefits of tabletop oximeters in a small, compact design that makes on-the-go use easy.
Expansive Reading Memory - With the ability to record oxygen and heart rate information for future reference, handheld oximeters provide user convenience.
Pediatric and Adult Options - We carry a range of hand held devices, including pediatric and adult options.
Wide Range of Probe Sensors - Unlike fingertip oximeters, the hand held variant allows the user to customize the probe sensor type.
Fast and Easy Readings - These oximeters provide accurate, medical-grade readings within a matter of seconds.
Multiple Power Options - They can source their power from the battery used in the device or from the power docking station.
User-Friendly, Easy-to-Read Screen - Each oximeter is different, but a key benefit of the design is in the large and easy-to-read screen.
Why Use a Hand held Oximeter
The greatest benefit of a handheld pulse ox is in its compact design that is still large enough for an easy-to-read, user-friendly display. These devices take the best aspects of finger pulse oximeters and tabletop pulse oximeters and combine them into one ideal device. Pulse oximetry is a common and necessary medical practice that often takes place during routine checkups and various surgeries. Keeping pulse rate and blood oxygen saturation (SpO2) monitored is an essential practice in clinics, hospitals, and homes. Some users require consistent monitoring due to certain conditions like asthma, pneumonia, chronic obstructive pulmonary disease (COPD), lung cancer, anemia, and many more. Handheld oximeters have the benefit of being accurate and effective enough for hospital use while being compact and user-friendly enough for home use.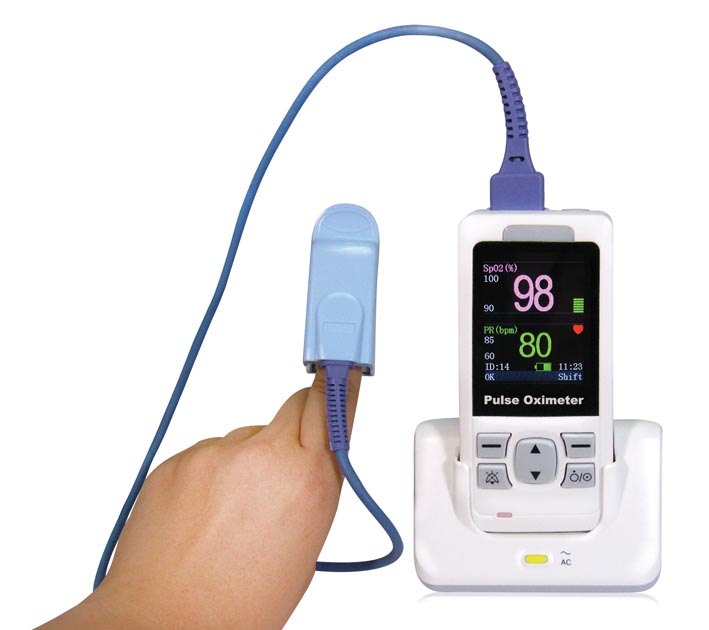 Frequently Asked Questions (FAQ)
Q: What is a pulse oximeter?

Pulse oximeters are medical devices that measure blood oxygen levels (SpO2) and heart rate through a non-invasive and painless method.
Q: How do pulse oximeters work?

Pulse oximeters use a handheld oxygen sensor that sends small beams of light through the blood to measure the amount of oxygen. This method measures the changes in light absorption in oxygenated or deoxygenated blood.
Q: What is the difference between a handheld and tabletop oximeter?

Tabletop pulse oximeters are a great choice for medical clinics and hospitals. They provide all of the benefits of a tabletop oximeter while having a compact and portable design that's perfect for on-the-go use.
Q: How does one use a hand held oximeter?

To use a hand held O2 sensor, put the probe on the patient's finger. Some oximeters also use an earlobe, forehead, toe, or nose probe. For each option, position the probe so it is not loose or pinching the patient. The oximeter should now be ready to gather its reading. Wait until the screen provides all information before removing it in the case of a spot check. If the oximeter is being used for continual scanning during surgery or otherwise, be sure to position the probe to ensure consistent and accurate readings.
Q: What causes false readings on an oximeter?

Pulse oximeters use light to scan the blood for SpO2 and PR. Because of this method, various things can cause inaccurate readings by obscuring the light. This includes nail varnish or pigment on the finger, bright light, patient movement, poor perfusion, and carbon monoxide poisoning.
Other Pulse Oximeter Options
You might be interested in...