Attends Premier Briefs Review
Date: December 9, 2019
By Burt Cancaster
Attends Premier Briefs are part of the Attends Premier incontinence product line. These products are a premium brand, offering adult bladder and bowel protection. Attends Premier features disposable, soft material that is highly absorbent and contains heavy urinary or fecal incontinence. It prevents leaks with its body-conforming design. It draws urine into its containment core to keep you dry and comfortable. The core wicks moisture away from your skin, locking that moisture behind a barrier layer that will keep you dry. These products offer heavy absorption for all-night protection. Attends Premier offers full coverage protection with breathable materials that help to prevent rashes and skin breakdown. Attends Premier is available in three separate product lines—incontinence briefs, protective underwear, and mattress underpads. Below is a summary of the advantages Attends Premier has to offer.
Product Advantages
Constructed with ultra-soft materials
Provides high-performance absorption
Disposable after use
Manages heavy urinary incontinence
Manages fecal incontinence
Incontinence protection for men and women with urinary bladder problems
Bladder leak protection for urinary health
Provides odor control
Women's protective briefs - men's absorbent briefs
Overnight heavy absorbency briefs for adult bladder control
Offers full coverage incontinence protection
Trademarked design and construction
Up to 50.7 ounces of absorption capacity
Wicks moisture away from your skin within one minute
Protective incontinence wear for adults and seniors
ConfidenceCuff™ offers security from leaks
Dry-Lock® Containment Core provides all day or all night protection
SmartCool Breathability™ allows air to circulate to keep you dry and comfortable
Product Features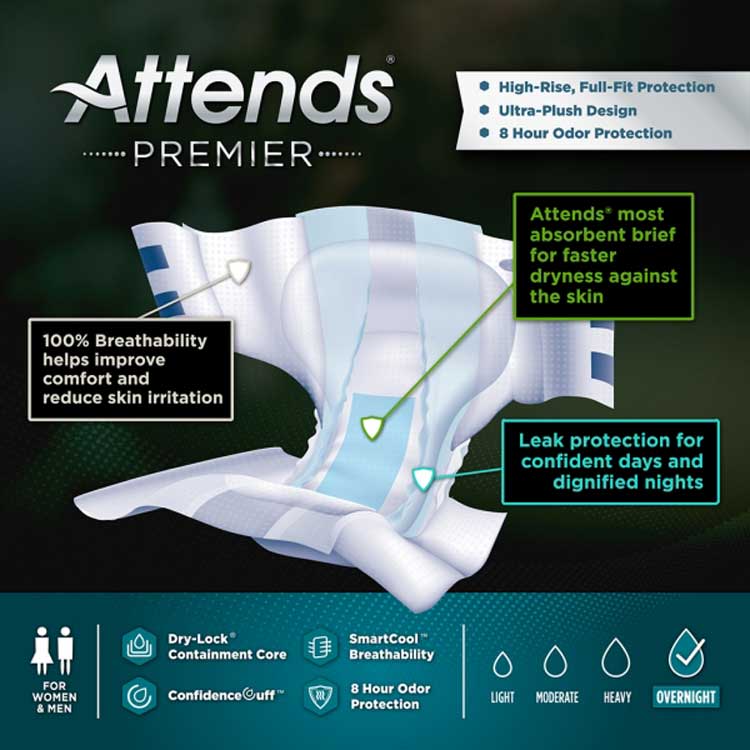 Attends Premier Incontinence Products FREE Samples
Attends Healthcare Products is the manufacturer of the Attends Premier products. This manufacturer is confident in its products, offering FREE Samples of Attends Premier Briefs product line on their toll-free hotline number at 1-833-269-4347. Not only can you get a free product sample, Attends stands behind its product with an offer of a 100% satisfaction guarantee on the entire Attends Premier product line!
Product Sizing
Links to Product Information and Where to Buy
Product Videos
Attends Premier Incontinence Products Video (0:25 minutes)
Attends Premier Briefs Review Video (2:24 minutes)


Burt Cancaster, Author
Vitality Medical
7910 South 3500 East, Suite C
Salt Lake City, UT 84121
(801) 733-4449
[email protected]
VitalityMedical
You might be interested in...