Massage Tables
Massage Tables come in differing sizes, heights, and quality. You can select from low-end tables - better suited for home use or therapists who are just starting out or on a budget, up to high-end tables - built to stand up to heavy use over extended periods.
Modern tables often include thicker, high-density foam, durable aluminum frames, and luxurious polyurethane coverings. Hinges allow for easy folding of the massage bed for easy portability. Heating, deluxe face cradles, and armrests increase client comfort, while adjustable height increases therapist comfort.
Types of Message Tables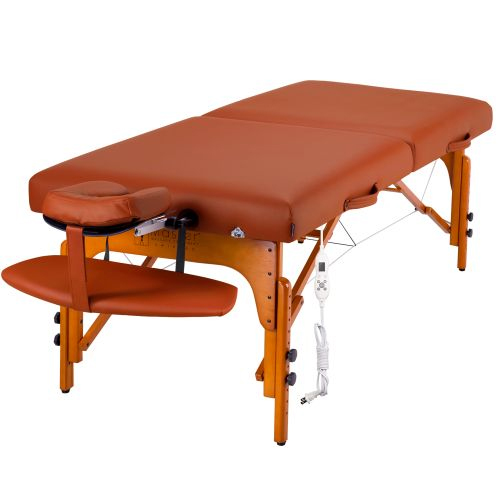 Portable Massage Tables – you can collapse these tables so that they can fit into a double-handled carrying case. They fit into almost any size of car or truck, making them ideal for mobile sessions. A good portable table weighs less than 30 pounds.
Specialty Treatment Tables -

Sport Massage Tables - designed specifically for use at sporting events. They have a basic design, with no frills. Large feet grasp the floor or ground to keep them from moving about as an athlete receives treatment. The feet also adjust so the table works on uneven ground.
Mat Platform Tables - built to help give superior stretches to patients, clients, and athletes.

Example of a stationary massage table

Stationary Massage Tables – have self-contained storage cabinets. Can use a thicker cushion. It can come with a tilt-top and a more deluxe face cradle.
Table Frame Styles
Wood can hold more weight than aluminum composite. Wooden frames offer a traditional 'classy' look.
Aluminum Composite is lightweight, more portable, but cannot bear as much weight as the other materials used to build the frames.
Aircraft-Grade Aluminum is strong, durable, yet lighter than wood. It holds the same amount of weight or more than wood.
Foam
High-Density is thicker, doesn't compress as much, and has better cushioning than lower grades of foam.
Standard foam weighs less and is, therefore, more portable than high-density foam.
Available Pad Coverings
PVC costs a lot less than PU, can hold up for a long time with proper care, and is easy to clean. It is less breathable but more stain-resistant than PU. So you may be trading comfort for durability.
Polyurethane (PU) Vinyl looks and feels virtually like real leather. It is soft, pliable, and smooth. Like PVC, it is durable, but it can be harder to clean.
Choosing the Best Massage Therapy Table
Before you begin shopping for a massage bed for sale, you can save yourself a lot of time, frustration, and wasted expense. That is because you have many options when it comes to choosing a massage table. By thinking through how you will use your massage bed, you can select the best choice for you.
Questions to ask yourself to help in this process include:

Where will the massages occur (in one location, such as a room in your home, or will you travel)?
Will you need an electric lifting backrest most of the time?
What is the size of the largest man/woman who will be using the bed?
What is the maximum weight that the table will hold (weight of the one receiving the massage, plus the amount of pressure used)?
How much time will each session last?
Will you use the table for personal or professional use?
Do you need a built-in heating option?
What to Buy with your Table
How to Clean and Disinfect
Cleaning between sessions

Method 1

Dampen the table cushion using a mixture of mild soap and water using a spray bottle. Wipe the mixture off using a moistened paper towel. Dry the pad with another paper towel.
*Do not use cleaners that contain any harsh chemicals, as these can damage your table. Avoid using products with alcohol, chlorine, or citrus ingredients.

Method 2

Use a massage table wipe. They remove lotions, sweat, and oils, leaving your bed free from dirt and streaks. You can use scented wipes to make your table smell relaxing.
*No matter which method you choose, deep clean your table at least once a week, concentrating on those areas that you may not have time for in between sessions.

If the vinyl begins to crack, you can use a vinyl restoration solution.
You might be interested in...