Back Inversion Tables
Are you looking for an inversion table for sale? Vitality Medical carries inversion tables for back traction, exercise, and a variety of other intended uses. Standard Inversion Therapy Tables, such as the Pro Max Inversion Table, are tables that help their users invert their entire bodies for spinal decompression and back pain relief. The person using the table lays upright on the table, straps themselves in, and then slowly lowers the table backward until their body is tipped back at an angle that takes pressure off the spine (as long as it is comfortable and safe for that user). These back inverters are a great option for those who seek spinal decompression but who don't wish to hang completely upside down, as hanging upside down can be both uncomfortable and dangerous. Many of these traditionally designed tables can also be used for exercise purposes and some are designed specifically for use as exercise devices. For instance, the Core Inversion Chair is an especially great option for abdominal workouts. Its chair shape makes it perfect for crunches and v-ups.
Inversion therapy might be suggested for use to assist with the following disorders:
Kidney stone pain
Kyphosis
Low back pain
Muscle spasms
Obesity pain
Pinched spinal column nerves
Poor posture
Sciatica
Scoliosis
Spinal compression
Spinal cord compression
Spinal stenosis
Tension headaches
Weak core muscles
Which Inversion Table Should I Buy?
How to Choose an Inversion Table
Device Construction and Intended Use
Shoppers will want to consider the purposes for which they intend to use their inversion table before making a selection. The construction and shapes of these tables vary depending on their purpose. Some users may want to use one of these devices simply for inversion and back traction, in which case a standard, flat inversion table is often the best bet. Other users may have specific back issues they want to address, such as a forward curvature of the spine, also known as kyphosis. If such a curvature exists, the user may want an arch-shaped inversion table, such as the Deluxe Backwave.

Other users may want a multipurpose inversion table that is designed for specific exercise routines. For instance, yoga lovers will love the Yogacise Back Inversion Table, a compact bench that enhances headstand and seated yoga positions.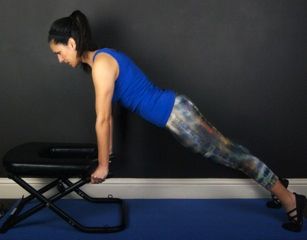 Size and Weight Capacities
Dimension and weight limitations vary from product to product. Shoppers should always check the specifications of these items for safety. Vitality Medical typically provides a list of these specifications along with user manuals and other product information guides near the bottom of each product page.
Budget
Prices of these devices can vary widely. They range between $100 and $1,000, while most cost between about $200 and $500. Extra perks such as internal massagers or heating mechanisms will add to the cost, while more basic tables tend to be more affordable.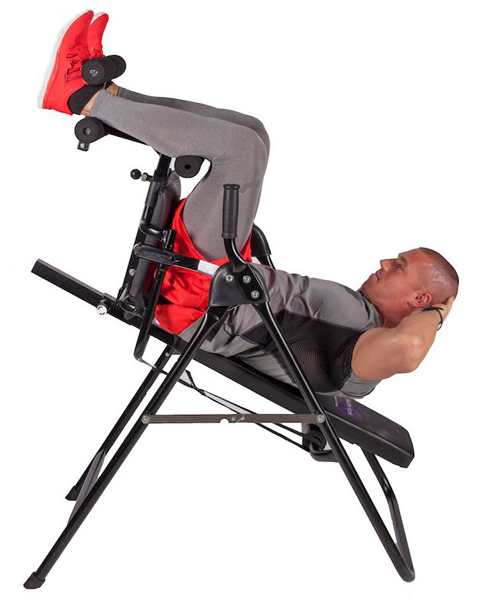 Inversion Table Benefits
Proponents of inversion therapy state that back inverters have many benefits for spinal health, including the following:
Back pain relief
May be used for exercise
Improved circulation
Increased flexibility
Kidney stone pain relief
Posture improvement
Sciatica pain relief
Spinal compression release
Reduced need for back surgery
Increased abdominal strength (if used for exercise)
Frequently Asked Questions
Can inversion tables help sciatica and bulging disks?
Some studies have supported this claim. Inversion tables may help with sciatic pain caused by a compressed or herniated disk in some cases. It may even make back surgery less necessary. However, back problems can be complex, so inversion therapy is not a guaranteed solution and in some cases may do more harm than good. Ask your doctor to see if this treatment is right for you.
Can inversion tables help scoliosis?
Studies have been inconclusive, but inversion therapy may help improve the spinal health, scoliosis, and other spinal conditions for some.
Do Inversion Tables Work?
Inversion tables are not an effective long-term solution on their own. However, they can provide temporary relief and many find them to be a great tool to use in tandem with other forms of therapy.
Can inversion tables cause a stroke?
Inversion puts added stress on the vascular system, so it is possible for inversion to cause a stroke. The use of these items can be risky for those with a history of strokes and other cardiovascular problems.
Are These Devices Safe?
Generally, these devices are safe when used properly. However, back inversion tables put a strain on the vascular system. Inversion causes a person's blood pressure to increase and their heart rate to slow down. It also increases pressure within the eyes. For these reasons, people who have a history of cardiovascular disease, high blood pressure, stroke, glaucoma, and other related diseases should not use inversion therapy. Other risk factors include osteoporosis, hernia, leg or back fracture, and pregnancy.
How do I use an inversion table?
Typically, owners will strap themselves into the table according to the table's manufacturer's directions and then tilt themselves back at a comfortable angle. Each inversion table comes with user manuals and many instructional videos are available online. Be sure to follow instructions closely for safety.
Sources
You might be interested in...