Medical Recliner Chairs - Sleepers, Rockers, Gliders
Which Medical Recliners are Right for Your Facility?
Medical Recliner Chairs help make treatment easier for your staff and patients. It is important for patients to start their visit on the right note with a comfortable seat in a peaceful environment. Recliners provide maximum comfort to individuals during procedures, such as blood tests, kidney dialysis, and chemotherapy treatment. Hospital Recliner Chairs provide patient comfort to those who are recovering from injury, illness, or surgical procedures. They are available in a wide variety of styles, which allows you to choose the right chairs for your medical facility.
Medical Recliners and Their Unique Differences
lift recliner chairs
, they also make it easier for senior citizens to get up and out of the chair with ease.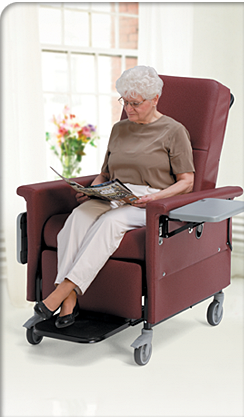 Trendelenburg Recliners - this type of chair is designed to accommodate patients who need to be moved quickly into a negative reclining position. For example, this trendelenburg chair is commonly found in blood and plasma donating clinics where patients may be inclined to pass out and need their feet swiftly raised higher than the head.
Treatment Recliners and Geri Chairs - these chairs have a functional design that makes them ideal for short periods of time use, such as for quick exams and clinical use. This type of recliner is ideal for situations where the patient will only be required to sit for less than a couple of hours at a time. This is the most basic form of healthcare recliner.
Pediatric Recliners - these hospital recliners feature a smaller build to easily accommodate small children and provide maximum comfort. Many are equipped to support gaming systems to keep the child occupied and prevent uncomfortable or fidgety visits.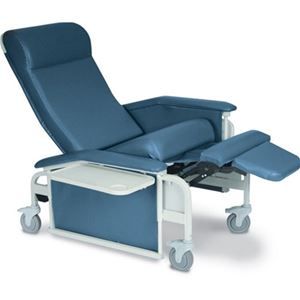 Bariatric Recliners - ideal for larger patients and are typically designed to support 750 lbs or more. They feature wide accommodating seats and limited reclining capabilities for patient and care giver safety.
Additional Recliner Features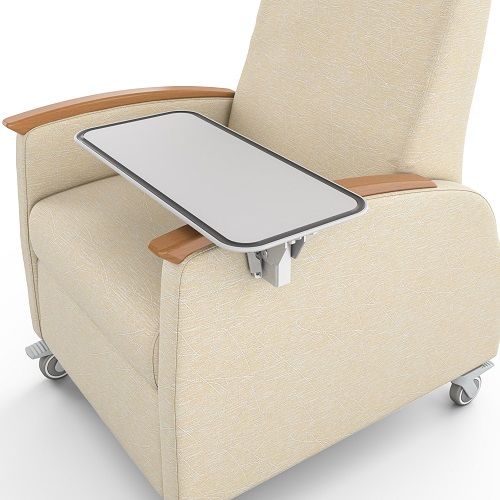 Additional recliner features may include caster wheels, padded headrests, footrests, swing-away armrests for easy patient transfer, rocking, and gliding features, and 360° swivel capability. They may also feature a side or middle tray that is ideal for meals, reading, or playing games with loved ones. Hospital Recliners are available in a wide variety of colors, which allows you to easily match them with your facilities' aesthetics. They are typically covered with anti-microbial vinyl, which makes them easy to clean.
Inspired by your history...