How to Choose a Hospital Bed
Hospital beds are designed to have multiple benefits for those who are in bed for extended hours. For example, they have adjustable head and foot sections and can raise and lower for convenience. There are also several specialized features that only a hospital bed has. Continue reading to find out which hospital bed is right for you. Below are several questions you should ask yourself when making this purchase.
How Long Will You Need the Bed?
The difference between longer and shorter-term beds is typically the bed frame. If you only need the bed for a short-period of time, you would want to consider an economical purchase. Beds that use springs are just fine for short term, but will wear over time. However, some beds use metal slats, or even a solid deck and those will last much longer. The Invacare 5410IVC is a good, economical option for short term use. Some good, long-term options are the Invacare G-Series or the Carroll beds.
Will the Patient Need Much Adjusting?
Patients who will be staying in one place all night could benefit from a manual bed. Since they are typically less expensive than a semi-electric or full-electric bed, it is wise to first consider this option. The Drive Medical Multi-Height Manual Bed 15003 is a good choice. It has more settings than its competition for height and bed angle; making things easier on the caregiver.
However, manual beds do require strength to adjust. Adjustments are made using a manual crank. Therefore, if the patient either does not have much strength or someone to adjust the bed for them, than a semi-electric or electric bed would be better. Full-Electric beds are ideal for a patient who needs frequent adjustments, or who doesn't have assistance in making those adjustments. With a full-electric bed, adjustments are made using a pendant that can be controlled from a laying position. One popular option for a full-electric bed is the Invacare Full-Electric Hospital Bed.
Will the Patient Require Caregiver Support?
several features make a bed easier for a caregiver. Some of these are full-electric control and hi-lo features.
Full-Electric Beds
Full-electric beds will not require any physically demanding intervention in raising, lowering or adjusting the head and foot area. These beds make it easier for a patient to make some adjustments on their own, so that they require less support. Also, full-electric beds are designed with a cable and pulley system, so they will last longer than the traditional spring system found in other beds. Semi-electric beds are more economical than full-electric beds; however, they are will require a manual adjustment for the height of the bed.
Hi-Lo beds
Hi-Lo beds are designed to raise higher and lower more than traditional hospital beds. The higher rise feature is ideal for caregivers because they don't need to bend as low to access the patient for transfers, etc. The high rise is also ideal for independent patients who can change their bedding. The low feature is ideal for getting in and out of bed. Simply lower the bed before exiting and entering the bed; this makes it easier to stand up easily.
The Carroll CS3 and CS7 beds have a 36 Inch rise and 8.5 Inch low height, which is well beyond industry standard.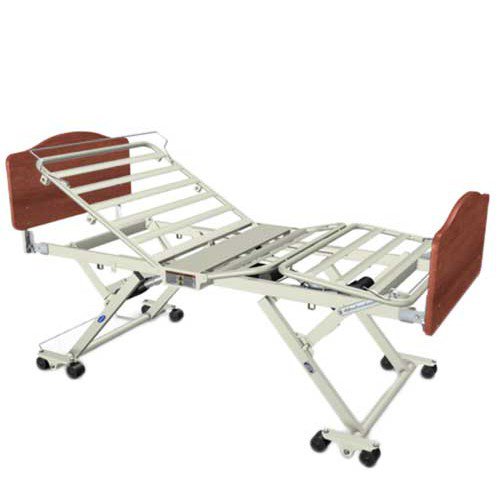 Fall Risk
In addition to the low feature helping a patient stand, it is also ideal for anyone who is at risk for falling out of bed. With the bed adjusted to the lowest setting, a fall would be much less dangerous to the patient. See below for more fall risk accessory options.
How Much Does the Patient Weigh?
The weight of a patient is an important factor in purchasing a hospital bed. Standard beds are ideal for anyone who is under 300 lbs, the Carroll mentioned above can support up to 500 lbs. However, for anyone over 300 lbs, a heavy-duty bed is ideal because they are larger, for comfort, and they will not wear as quickly, making them economical as well.
Heavy-Duty Beds
Heavy-duty beds come in standard and bariatric sizes. If you do not need a larger than standard bed, just a heavy-duty one, the Invacare G-Series is an affordable option for those up to 350 lbs. If you need something that has a higher capacity, the most popular option is the Drive Full-Electric Bariatric Hospital Bed. This bed features metal slats and a weight capacity of up to 1000 lbs.
What Else Do I Need?
There are a few optional bed accessories that could improve the experience that you have with your new hospital bed. Choose from fall protection and skin protection options to help support yourself or your loved ones.
Fall protection
Bed rails, roll guards and fall mats are great options to support a patient who is at risk for falling. Bed safety rails are typically specific to the bed you purchase. Choose bedrail options that bundle with your bed on the product page.
Roll Guards are a little different from a bed rail. They are soft and do not fully block the patient in bed, rather just support them in case of an unintentional roll-over. The most popular roll-guard is from Posey.
Fall mats are a great product for reducing any injury that could occur in the event of the patient falling out of bed. These are soft, cushioned floor mats. The most popular fall protection mat is the Posey Floor Cushion.
Bed Sores
Individuals who are in bed for extended periods of time, longer than ten hours per day, are at risk for developing bedsores. There are a few products on the market designed to prevent or isolate bed sores and promote healing. A few of these are sheepskin pads and heel floats.
Sheepskin and decubitus pads are designed to promote airflow for healthier skin. Use these pads under the patient while sleeping. Both synthetic and classic sheepskin are available.
Heel floats are designed to isolate the heel; which is an area of the body that is highly prone to bedsores. Heel floats are for individuals who already possess a sore. The design prevents the sore from getting worse due to friction. The most popular one is made by Skil-Care.
Mattresses
The mattress you choose will also vary depending on the needs of the patient. See our hospital mattress section for further information.
You might be interested in...