Acapella Vibratory PEP Mucus Clearance Device, 15 Liters by Smiths Medical
TOP Features:
Performs multiple breathing repetitions without removal
Accommodates virtually any lung capacity
Can be used in any position
Ideal for use with masks or mouthpiece nebulizers
Cuts therapy time down to 15-20 minutes
Controlled respiratory rate provides optimal particle deposition
MPN:
Grouped product items
Item#
Description
Size
Price

21-1015

Acapella BLUE DM < 15 L/min Expiratory Flow | LOW FLOW

Each

List Price:

$37.26

Price:

You Save:

$4.29 (13%)

21-1530

Acapella GREEN DH > 15 L/min Expiratory Flow | HIGH FLOW

Each

List Price:

$37.18

Price:

You Save:

$4.28 (13%)
Description
Smiths Medical Portex Acapella Vibratory PEP Therapy System is a Respiratory Therapy used for Breathing Therapy that combines the benefits of PEP therapy and airway vibrates to mobilize pulmonary secretions. Manufactured by Smiths Medical, the Acapella Device can be used sitting down, standing or reclined. Another benefit to PEP therapy and a vibratory valve is that it is much easier to tolerate than Chest Physical Therapy (CPT) and takes half the time of a conventional CPT session. Technically speaking, the valve facilitates the opening of airways in patients with lung disease who have secretory problems such as Chronic Obstructive Pulmonary Disease (COPD), Asthma, or Cystic Fibrosis. The vibratory valve comes with instructions as well on how to operate the unit and optimally use it to your benefit.
Two Options:
There are two color-coded options when using the Acapella mucus clearance apparatus: blue and green. The blue model is low-flow, working less than 15 liters per minute (LPM) for three seconds, and the green model is high flow, working more than 15 LPM for three seconds. If you are unsure which model you are best suited for, we suggest consulting your doctor. Each therapy model is designed based on clinical needs. You can, however, adjust the Acapella valve frequency and flow resistance by adjusting a dial.
Smiths Medical also manufactures a unit that disassembles for cleaning called the Acapella Choice. The Acapella breathing device can be easily cleaned by removing the mouth piece, rinsing with warm soapy water and letting it air dry.
User Instructions for First Time Users
Set the Frequency-Adjusting Dial to its Minimal Setting (Turning Counterclockwise)
Relax and then Breathe from Your Diaphragm
Take in a Large Amount of Air - Do Not Fill Your Lungs to Capacity
Blow out Through the Device without Forcing Your Air
Make Sure Your Breath Lasts for 3 to 4 Seconds
If You Cannot Blow for That Long, Turn the Resistance up by Rotating the Dial Clockwise
Your Outward Breath Should Last Three to Four Times Longer than an Inward Breath
You May Need to Use the Device Several Times Before You Find the Proper Setting
Daily Use Instructions
Verify That the Dial is Set to Where it Should Be
Place Your Elbows on a Table, Making Sure That You are Sitting Comfortably
Put the End of the Mouthpiece into Your Mouth
Close Your Lips to Form a Tight Seal
You May Need to Use a Nose Clip to Achieve the Seal
If You are Using a Mask, Make Sure That the Mask Fits Firmly Over Your Nose and Mouth (The Mask Should be Comfortable)
Draw a Large Breath in with Your Diaphram (Do Not Fill Your Lungs)
Hold Your Air for a Couple of Seconds
Breathe Out, Pushing Air Through the Device without Forcing Your Air (This Should Take Three to Four Times Longer Than Breathing in Did)
Take 10 - 20 Breaths Through Your Device (The Number Your Healthcare Provider Prescribed)
Take the Mouthpiece out
Draw in a Deep Breath of Air and Force it Out in Two or Three Quick "Huffs" as if You Were Blowing a Candle Out with Your Mouth Wide Open
Repeat the Entire Procedure According to Your Provider's Directions
Sterilizing Your Unit
Soak Your Device in One of the Following Three Solutions
70% Isopropyl Alcohol. Soaking Time - Five Minutes, Two Times per Day. Rinse Thoroughly in Sterile Water
3% Hydrogen Peroxide. Soaking Time - Thirty Minutes. Rinse Thoroughly in Sterile Water
Glutaraldehydes. Use This Solution Cold
Warnings
Do Not Use a Lot of Pressure When Using This Device
Users With Heightened Lung Pressure Sensitivity May Experience Adverse Reactions
A Knowledge Healthcare Provider Needs to Set the Level of Resistance to Avoid Complications
Complications Can Include
Difficulty of Breath That Could Result in Hypoventilation or Hypercarbia
Greater Pressure in the Head Cavity
Circulatory Problems
Partial Blockage of Blood Flow to the Heart (Myocardial Ischemia)
Blood Flow to the Right Atrium (Venous Return)
Swallowing Air Accompanied by a Greater Tendency to Regurgitate and Choke
Fear of Tight or Crowded Spaces
Skin Damage
Irritation from the Mask
Lung Damage from Too Frequent Changes in Pressure
Indications for Use
COPD
Asthma
Atelectasis
Chronic Bronchitis
Emphysema
Bronchiectasis
CNS/Neuromuscular Disease
Cystic Fibrosis
Mucociliary Clearance Disorders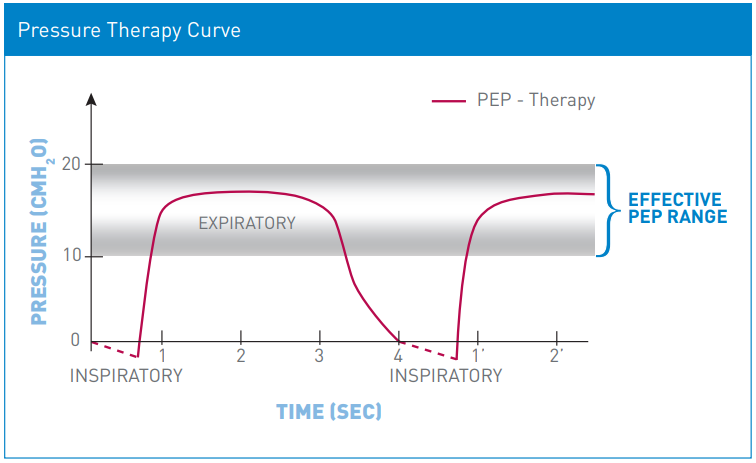 Contraindications
Exercise Caution Before Using This Device with Any of the Following Conditions:
Low Capacity for Labored Breathing
Perfusion Failure
Interior Head Pressure
Intense Sinus Infection
Any Recent Surgery or Injury of the Face, Mouth, or Head
Acute Hemorrhaging from the nostril or nose
Operation on the Esophagus
Coughing up Blood
Collapsed Lung
Queasiness
Damaged Ear Drum
Problems in the Middle Ear
Precautions
Bleach can Damage Interior Parts
Microwave Ovens May Cause the Device to Catch Fire
Sterilize Frequently
Look for Damage, Dirt, and Outside Objects
Make Sure all Connections Are Tight
Product Features & Benefits
Combines the benefits of both PEP therapy and airway vibrations to mobilize pulmonary secretions and can be used in virtually any spatial orientation.
Can accommodate virtually any lung capacity and therefore any patient.
When in use, the valve makes a percussing sound
May be used with mask or mouthpiece Nebulizer.
Allows inhalation and exhalation without removal from mouth.
Expiratory resistance dial.
Incorporates PEP therapy and vibratory valve
Product Specifications
Product Numbers: 21-1015, 21-1530.
Blue model: <15 LPM for three seconds.
Green model: >15 LPM for three seconds.
Patented rocker mechanism.
22 mm OD ambient end.
22 mm OD patient end.
Manufacturer: Smiths Medical.
HCPCS code: E0484.
Manuals and Documents
Introduction Video
Additional Information
More Information

| | |
| --- | --- |
| Manufacturer | Smiths Medical |
| Brand | Portex |