Southmedic OxyMask Oxygen Mask
PRODUCT HIGHLIGHTS
Open and lightweight design
Delivers 1 to 15+ liters per minute, 24 to 90% FiO2
Reduces risk of CO2 rebreathing
No heat or humidity buildup
For nose or mouth breather
Free of latex and phthalates
Fast Delivery

Easy Returns
MPN :
Adult Mask with 7-Foot Tubing - Case of 25 - #OM-1125-8 - 2 - 4 Weeks Lead Time
List Price:
$345.63
You Save:
$34.56 (10%)
Description
Who Uses This Product? Medical professionals and patients who require supplemental oxygen or oxygen therapy.
Why They Love This Product: The mask features an open design that allows the patient to receive oxygen and reduces the risk of CO2 rebreathing and emesis aspiration. It doesn't hinder communication and offers unrestricted access to fluids or medication. It can deliver the entire range of oxygen therapy while improving patient comfort.
OxyMask by Southmedic Overview
The Southmedic OxyMask Oxygen Mask features an open design that incorporates a pin and diffuser technology that redirects the flow of oxygen toward the patient's nose and mouth. The open design allows room air to mix with the oxygen flow, drawn in through the mask's large holes. Carbon dioxide can be exhaled safely the same way. The Southmedic OxyMask design reduces the chance of CO2 rebreathing and emesis aspiration.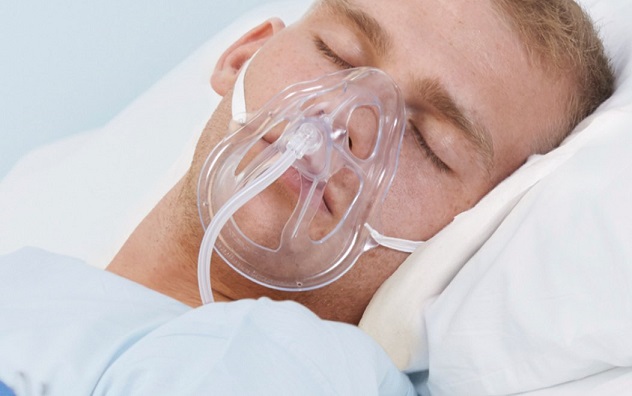 Features and Benefits
Offers Uninterrupted Oxygen Therapy
Open Design Reduces Feelings of Claustrophobia
Lowers Risk of CO2 Rebreathing and Emesis Aspiration
Delivers 1 to 15+ Liters per Minute and 24 to 90% FiO2
Unrestricted Communication
For Nose- or Mouth-Breathing Patients
Allows Access for Fluids and Oral Medication
Needs No Valves or Reservoirs To Achieve Peak Efficiency
Additional Comfort May Improve Patient Compliance
Mask Is Easy To Adjust
For Single Patient Use
Lightweight and Open
Unlike other oxygen masks, the Southmedic OxyMask has an open-mask design. The design will not restrict communication and reduces the feelings of claustrophobia associated with traditional oxygen masks. Large holes in the mask allow room air to be mixed with oxygen upon inhalation, and the carbon dioxide to be exhaled safely during exhalation. The design reduces the risk of CO2 rebreathing and emesis (vomit) aspiration.
The Southmedic OxyMask adult mask is available with both 7-foot and 14-foot tubing lengths. The adult mask with the sampling line can be used to deliver gas samples to a monitoring device for respiratory measurement.
How Does the OxyMask Open Design Work?
Southmedic OxyMask uses a pin and diffuser technology that concentrates and redirects oxygen flow. During inhalation, the oxygen is mixed with regular room air through the mask's openings. Respiratory mechanics and breathing patterns determine how the room air and oxygen mix, allowing the prescribed amount of oxygen to reach the patient.
Frequently Asked Questions (FAQs)
Is a high flow meter needed to use an OxyMask?
No, the OxyMask reaches its maximum performance at approximately 15 liters. If additional flows are required, a normal flow meter will work fine.
Can the OxyMask be used with a humidifier?
Yes, it can be used with a bubble humidifier. However, it usually isn't necessary since the mask does not cannulate an orifice. In addition, the room air humidity is drawn in through the mask's openings.
Can the OxyMask be cleaned?
If the outside shell is dirty, it can be cleaned with a damp cloth. No cleaning agents should be used. If the interior is dirty, discontinue use.
Is the OxyMask free of latex and phthalates?
Yes, all OxyMasks are free of natural rubber latex and phthalates.
Does this mask contain PVC?
Yes.
Does extension tubing alter FIO2 output?
Yes, it can. To avoid this, a back pressure compensated flow meter is recommended.
How often should the mask be replaced?
Approximately every 10 days if used continuously. If used occasionally, approximately every 30 days. If the interior becomes dirty, discontinue use at once.
Other Respiratory Oxygen Therapy Products

Specifications
Manufacturer: CareFusion
Product Numbers: OM-1125-14, OM-1125-8, OM-2125-8
Tubing Lengths: 7 Feet, 14 Feet
Elastic: Single
Size: Adult, One Size Fits All
Application: Oxygen Mask
Manuals and Documents
Product Videos
OxyMask Technology (3:57 minutes)
OxyMask Explainer Video (3:18 minutes)
Additional Information
More Information

| | |
| --- | --- |
| Manufacturer | CareFusion |