ProBasics Shower Chair with Optional Back Support
Product Highlights
Height-adjustable legs
Anti-corrosion aluminum frame
Easy tool-free assembly and height adjustments
Contoured and textured bench
Holes allow water to escape
Optional back support model
Fast Delivery

Easy Returns
MPN :
Grouped product items
Item#
Description
Size
Price

BSC

Shower Chair w/o Back

Each

List Price:

$34.63

Price:

You Save:

$3.46 (10%)

BSC

Shower Chair w/o Back

Case of 4

List Price:

$132.29

Price:

You Save:

$13.23 (10%)

BSCWB

Shower Chair with Back

Each

List Price:

$46.36

Price:

You Save:

$4.64 (10%)

BSCWB

Shower Chair with Back

Case of 4

List Price:

$155.34

Price:

You Save:

$15.53 (10%)
Description
Who Uses This Product? Anyone who needs to sit down while showering for increased stability and safety.
Why They Love This Product: The ProBasics Bath Bench is designed for safety and longevity. The anti-rust aluminum frame and the molded plastic seat keep the chair looking new. Rubber feet and a textured bench surface with drainage holes ensure the chair stays firmly planted and reduce the chance of the user slipping off and hurting themselves.
ProBasics Shower Chair with Optional Back Support Overview
The ProBasics Shower Chair by Compass Health is designed to keep the user safely seated when limited mobility increases the risk of falling, especially on a wet surface. Whether the user can shower independently or not, the chair offers support and comfort to help with bathing and showering. The shower bench features a contoured and textured platform with water drainage holes and built-in handles, allowing the water to escape and preventing the user from slipping. The rubber tips and wide angled legs keep the chair firmly planted and distribute the user's weight for increased stability.
Features and Benefits
Creates Stable Seat for Showering
Back Support Option
Tool-Free Assembly
Snap Buttons for Easy Height Adjustments
Anti-Slip Rubber Feet
Textured Seat With Handles
Limited Lifetime Frame Warranty
What Comes in the Box?
ProBasics Bathing Chair
Back support (BSCWB Only)
Height adjustable legs
Rubber leg tips
Thumb screw
Important Information (BSC Case/4)
Shipping Weight: 19 Pounds
Shipping Length: 23.5 Inches
Shipping Width: 19 Inches
Shipping Height: 17 Inches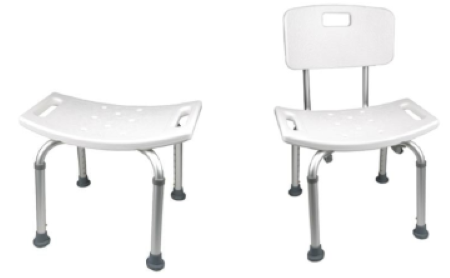 Bench With or Without Back Support
Choose from the bench-style or the ProBasics Shower Chair with Back. The backrest allows the user to comfortably lean back and provides greater trunk support. The backrest is made of the same blow-molded plastic that is curved for comfort and strength.
Tool-Free Assembly and Height Adjustments
The shower chair is set up in four steps using thumb screws and push pin snaps. This push pin mechanism makes for easy tool-free assembly and its audible snap ensures the pin is in place. The easy-button feature also expands the chair's height without requiring a lot of hand strength. The holes are placed every inch, allowing the legs to adjust from 14.25 to 20.5 inches in height. Before using, make sure all four legs are the same height so that all legs are touching the floor.
Built to Last and Easy To Maintain
Compass Health backs this product with a limited lifetime frame warranty. All other parts have a one-year warranty. The aluminum frame is corrosion-proof and the molded plastic is easy to clean and maintain. Use only mild soap and water solution to wipe down the chair.
Frequently Asked Questions (FAQ)
Is there a weight limit for shower chairs?
Yes. This model supports up to 300 pounds.
Are the rubber tips replaceable?
Yes. The wide base crutch tips are removable to be replaced as they wear out.
Can this shower chair be used as a transfer device or pool chair?
No. This is not a transfer bench or any type of seating system used outside of the bathroom.
What height should a shower chair be?
A common shower chair height recommendation is 17 to 19 inches. This chair offers a greater height range to make it customizable to the user.
How is the chair height determined?
Measure the user barefoot starting from the back of the knee to the floor. Place the push pin to this corresponding measurement.
Product Specifications
Manufacturer: Compass Health
Brand: ProBasics
Product Numbers: BSC, BSCWB
Seat Depth: 11.5 Inches
Seat Width: 19.5 Inches
Seat Height: 14.25 to 20.5 Inches
Color: White
Material: Aluminum Frame, Plastic
Weight Capacity: 300 Pounds
Warranty: Limited Lifetime (Frame), One Year (All Other Parts)
HCPCS Code: E0240
Manuals and Documents

User Manual includes assembly, maintenance, and warranty information.
Additional Information
More Information

| | |
| --- | --- |
| Manufacturer | Compass Health |
| Brand | ProBasics |