Derma Sciences Medihoney Gel Wound and Burn Dressing
PRODUCT HIGHLIGHTS
All natural wound care dressing
Contains active Leptospermum honey
Perfect for superficial to full-thickness wounds
Treats hard to heal and chronic wounds
Antibiotic, anti-inflammatory, anti-oxident
Cleanses and debrides the wound for quick healing
Fast Delivery

Easy Returns
MPN :
Grouped product items
Item#
Description
Size
Price

31805

0.5 Ounce Tube

Each

List Price:

$7.55

Price:

You Save:

$0.98 (13%)

31805

0.5 Ounce Tube

Box of 10

List Price:

$74.45

Price:

($6.48 ea)

You Save:

$9.68 (13%)

31805

0.5 Ounce Tube

Case of 40

List Price:

$297.76

Price:

($6.48 ea)

You Save:

$38.71 (13%)

31815

1.5 Ounce Tube

Each

List Price:

$21.25

Price:

You Save:

$2.76 (13%)

31815

1.5 Ounce Tube

Case of 12

List Price:

$249.74

Price:

($18.11 ea)

You Save:

$32.47 (13%)

31840

400 Gram Tub/14.1 oz.

Each

List Price:

$175.86

Price:

You Save:

$22.86 (13%)
Description
MediHoney Wound & Burn Dressing Gel Overview
Medihoney Wound and Burn Dressing Gel by Integra Lifesciences (formerly Derma Sciences) is a honey-based gel wound dressing that is made from a blend of Leptospermum honey (also known as manuka honey) along with natural vegetable esters. This combination creates a honey gel that is thicker than traditional MediHoney Paste, which means it sticks to the wound bed more easily making it easier to apply. This Wound Dressing is made to treat superficial to full-thickness wounds, including ulcers, partial-thickness first and second degree burns, traumatic wounds, surgical wounds, necrotic tissue, and skin graft sites. It is also an effective choice for hard to heal wounds, such as tunneling, undermined, chronic, or stalled wounds. In addition, it is medical-grade as it is completely sterilized to reduce the risk of infection. The wound and burn dressing is also all-natural while non-toxic, which makes it safe to use for patients of any age. Finally, it may be used from the start of advanced wound care treatment through to wound closure, which keeps wound management an uncomplicated, no sweat process.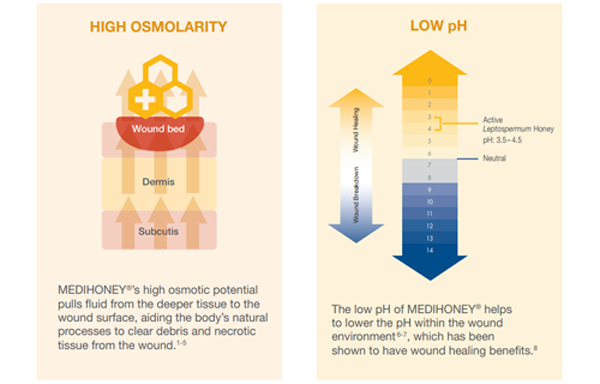 What Does MediHoney Do for a Wound?
Due to its Leptospermum honey dressing content, MediHoney has many wound healing benefits. It has antibacterial, antibiotic, anti-inflammatory, and antioxidant properties. Its acidic properties lower the pH levels in the wound and in doing so lowers protease levels and encourages healing. It also assists the body-repairing peptides and proteins that help us heal by blocking damaging enzymes. In addition, it is low in moisture and high in sugar. Due to this fact (and unlike antibiotics), it draws moisture, toxins, and debris out of the wound and dehydrates bacteria to kill it. A balanced moisture level is still provided at the wound bed for moist healing followed by a speedy recovery. It also helps debride the wound, which means that it helps remove dead tissue from the wound to help revitalize the wounded area to allow new tissue to develope. In comparison to other similar products, Leptospermum honey has been shown to speed up the healing process significantly during patient recovery.
What is Active Leptospermum Honey?
Honey has been used in places like Egypt for centuries due to its healing properties. It was only recently that researchers have backed up this medicinal folk knowledge with scientific research. Leptospermum honey (also known as Manuka honey) is a specific kind of nectar that is derived from the Leptospermum tea tree found in New Zealand and Australia. Due to a high concentration of germ and virus-combating hydrogen peroxide and methylglyoxal (MGO), this honey is more potent than typical honey found in Europe and the Americas. As a result, the antibiotic properties found in honey and that are conducive to the healing of wounds are increased in Leptospermum honey. In some cases, Leptospermum was found to attack bacterial colonies that form unhealthy biofilm and infection. Once biofilm appears, it is typically considered untreatable, so this is of particular interest to scientists studying the effects of this kind of honey. As a bonus, it also appears to be bacteria resistant, which means bacteria doesn't appear to build a tolerance against Leptospermum honey's antibacterial nature as it does with antibiotics.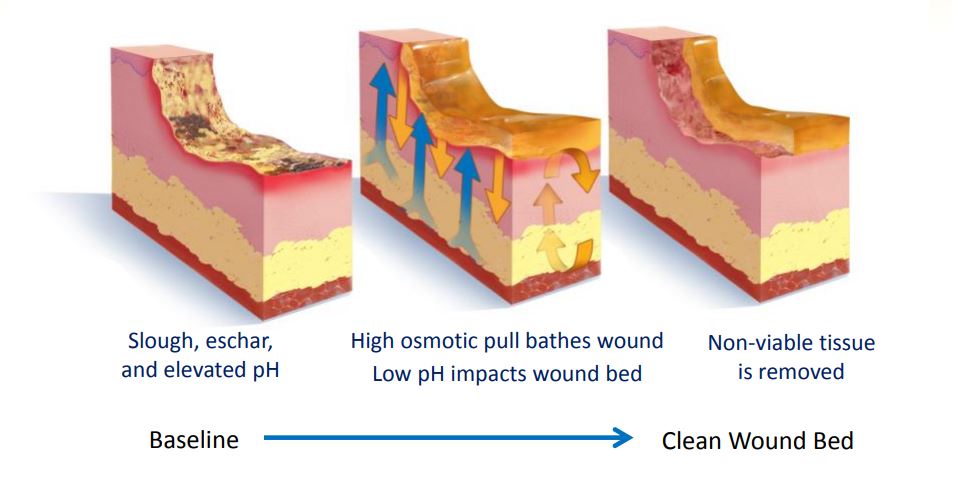 Features & Benefits
All-Natural
Made with Active Leptospermum Honey
Thickened Honey for Better Adhesion
Ideal for Superficial to Full-Thickness Wounds
Great Option for Stalled or Chronic Wounds
Anti-Inflammatory
Antibacterial
Antioxidant Agent
High Osmotic Potential
Easy Dressing Changes that Don't Harm the Wound
Cleanses the Wound Bed
Lowers Wound pH Levels
Provides Pain-Free Autolytic Debridement
Pulls Fluids Out of the Wound
Removes Wound Debris
Removes Unhealthy, Dying Tissue
Heals Wounds Significantly Faster than Conventional Dressings
Reduces Odor
Helps Balance Moisture
Helps Maintain a Moist Wound Environment
Can Be Used From Beginning to End of the Healing Process
Antibiotic/Pesticide-Free
Sterile
Non-Toxic
Can Be Used for Soreness or Cracking Caused by Breast-Feeding
Can Be Used by Patients of Any Age
Who Will Find This Product Useful?
Users looking for the following may find this product beneficial:
An all-natural wound care option
For superficial to full-thickness wounds
Is effective for hard to heal wounds such as undermined, tunneling, stalled, or chronic wounds
Can be used throughout the entire care process
Is free of latex and other allergy-causing materials commonly used in wound care
Why Use MediHoney (2:31 minutes)
Product Guide

How to Use this Product
How Is the Dressing Applied?
Use soap and warm water to wash hands before each use.
Put on protective gloves, such as these Clear Vinyl Exam Gloves.
Appraise the wound. Check for signs of regression or healing. Take note of heat, redness, swelling, or pain.
Use a wound cleanser, such as sterile water or sterile saline, to clean the wound bed and surrounding area.
Use gauze to dry the area surrounding the wound.
Apply a barrier cream or ointment to the area surrounding the wound. This will help prevent epidermis maceration and breakdown.
Apply the gel to the wound.
Wrap with an absorbent secondary dressing that is appropriate for the amount of exudate. Do so according to the secondary dressing's manufacturer's instructions.
MediHoney Wound Gel Leptospermum Application (1:41 minutes)
How to Properly Remove?
Gently rinse with sterile water or a sterile saline solution.
How Long Can I Leave It on a Wound?
This will depend on the wound. Your doctor will assess the wound's condition and it's amount of exudate to determine length between dressing changes. This may also change as wound care progresses. Always follow a doctor's instruction throughout the wound care process. Dressings should always be changed immediately if the secondary dressing has reached its exudate capacity.
Safety Information
Perfect for dry to moderately exuding wounds. These include, but are not limited to, the following:
Indications
Burns (Partial Thickness, First and Second Degree)
Diabetic Foot Ulcers
Donor Sites
Leg Ulcers
Pressure Ulcers (Partial- and Full-Thickness)
Surgical and/or Traumatic Wounds
Contraindications
Never use under the following circumstances:
Heavy bleeding
The burns are third degree
The user is sensitive or allergic to honey, seaweed, or algae.
Frequently Asked Questions
Can MediHoney be used on open wounds?
It is indicated for dry to moderately exuding wounds.
Does MediHoney kill bacteria?
It is not an antiseptic, but it has antibacterial properties. It reduces bacteria by drawing moisture up and out of the wound, which dehydrates the bacteria. It also lowers pH levels, which aids and speeds up the healing process.
Can MediHoney be used on infected wounds?
Yes, it can be used on infected wounds.
What is the difference between MediHoney paste and gel?
MediHoney paste consists of 100% active Leptospermum honey, while the gel version contains 80% active Leptospermum honey with 20% natural gelling agents. Due to this fact, the gel version is thickened and clings better to the wound bed. The paste is preferred for use on undermined or deep tunneled wounds, while the gel version is considered the best option for superficial to full-thickness wounds.
What is the shelf life?
Each tube will have its expiration date on it. Be sure to check the date on your tube to find its exact date of expiration. The use-by date is typically labeled as about a year out from purchase.
Why can't I use just any honey for wound care?
MediHoney is sterilized to remove any bacteria and spores, which makes it safe for wound care. Honey also sometimes contains antibiotics and pesticides, which are not ideal for wound care. Store-bought honey may cause infection if used for wound care.
Informational Video
MediHoney Review (2:30 minutes)
Product Specifications
Manufacturer: Derma Sciences
Item Number: 31805, 31815, 31840
Application: Wound & Burn Care
Type: Leptospermum Honey Gel
Volume: 0.5 oz, 1.5 oz, 400 g
Container Type: Tube, Tub
Sterile: Yes
Latex-Free: Yes
Manuals & Documents
Sources
Additional Information
More Information

| | |
| --- | --- |
| Manufacturer | Derma Sciences |