TOP Features:
✓

Multi-purpose, treats many skin conditions

✓

Gentle enough for even sensitive skin

✓

Multiple sizes and containers available

✓

Contains, natural anti-bacteria and anti-fungal properties
Fast Delivery

Easy Returns
MPN:
Grouped product items

| Item# | Description | Size | Price | |
| --- | --- | --- | --- | --- |
| 000102 | 2.5 Ounce Tube | Each | | |
| 000102 | 2.5 Ounce Tube | Case of 12 | $7.14 ea | |
| 000103 | 2.5 Ounce Jar | Each | | |
| 000103 | 2.5 Ounce Jar | Case of 12 | $10.88 ea | |
| 000104 | 4 Ounce Tube | Each | | |
| 000104 | 4 Ounce Tube | Pack of 3 | $6.92 ea | |
| 000104 | 4 Ounce Tube | Case of 12 | $6.82 ea | |
| 000105 | 1/8 Ounce 3.5 Gram Foil Packets | Each | | |
| 000105 | 1/8 Ounce 3.5 Gram Foil Packets | Case of 144 | $0.57 ea | |
Description
Experience the healing relief of Calmoseptine Ointment. This cream calms skin discomfort and itching. Developed by a pharmacist for diaper rash, it protects and heals skin damage due to rashes, burns, and minor wounds. Its blend of ingredients creates a moisture barrier while both nourishing and soothing the skin.
Calmoseptine cream contains zinc oxide, which protects damaged skin by keeping fluids, solids, air, and toxins away. Wounded cells absorb some of the zinc, using it to repair themselves. The cream also has menthol, which acts as a calming agent, bringing relief to irritated cells. Glycerin in the cream helps drain extra fluid from inflamed tissues and membranes. Three components have antiseptic properties that keep germs and bacteria out. Two are antifungal, preventing growth. Two calm itches, while one acts as a deodorizer.
A study done in the Philippine General Hospital found that patients treated with Calmoseptine Barrier Cream healed at a faster rate than those treated with another product. Case studies show that this ointment helps treat conditions such as:
Diaper Rash
Hemorrhoids
Yeast Infections
Eczema
Bed Sores
Burns
Acne
Fissures
Shingles
Itching Rashes
Insect Bites.
This moisture barrier ointment also protects skin from incontinence, feeding tube site leakage, and wound drainage.
Additional Information About Calmoseptine
Calmoseptine Ointment Lotion usually does not cause allergic reactions and is generally considered safe. However, you should not use it if you have allergies to the following:
Active Ingredients -
Zinc Oxide (20%)
Menthol
Inactive Ingredients -
Calamine
Cholorthymol
Glycerin
Lanolin
Sodium Bicarbonate
Phenol
Thymol.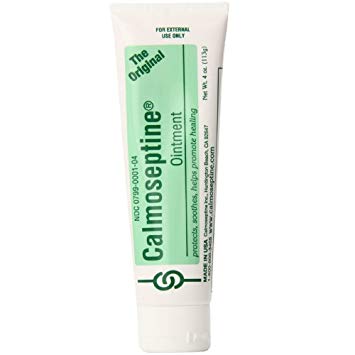 How does The Ointment work?
Zinc oxide forms a barrier that keeps moisture and other materials off your skin. When the protected area gets soiled, wipe it clean. You do not need to remove the Calmoseptine ointment. Just make sure that no material remains. In cases where more cream is needed, apply enough to provide good coverage.
How to Use The Cream
Gently Wash or Rinse Skin (You Can Use This Wound Cleanser Spray if You Would Like)
Dry by Patting with a Clean Towel or Allow to Dry in the Air
Cover with a Thin Layer of Ointment 2 -4 Times per Day
When Used with a Dressing, Extend Dressing Beyond the Cream
(Tape and Adherents Do Not Stick to the Cream.)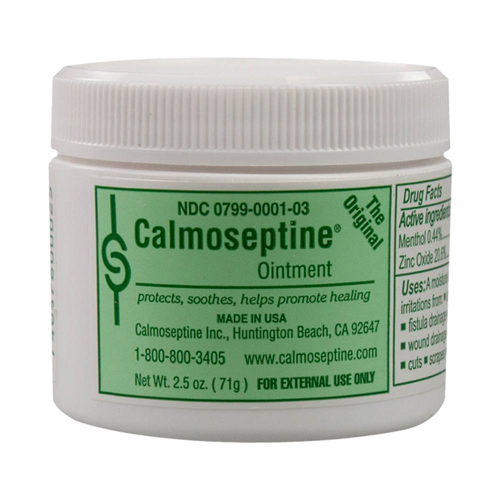 Recommended Usages for Calmoseptine Lotion
Use as a barrier to keep moisture from bodily fluids like urine, diarrhea, or drainage from a fistula, or perspiration, leakage from a feeding tube site, or drainage from a wound off of the skin, peri-wound skin, minor burns, cuts, and scrapes. This barrier helps prevent itching and speeds up the healing process.
Contraindications/Warnings for Calmoseptine
For external use only. Avoid using this product on open wounds, in the mouth, or around the eyes. If a new rash develops, or an existing one gets worse, discontinue use. In case of ingestion, call poison control immediately. If the cream gets in the eyes, flush with water. Keep away from children. If the condition does not get better within seven days or becomes worse at any point, call your doctor.
How to Remove Calmoseptine
Pour mineral or vegetable oil on the ointment. Gently rub with a clean cloth. Repeat as necessary. You can also use a skin cleanser that has a surfactant such as this one from Healthpoint in place of either oil.
Product Features and Benefits
Water Solubility: Insoluble
Solubility: Mineral Oil
Long Shelf-Life: Stable for 3 Years
Flash Point: None
Evaporation Rate: None
Flammability: None
Boiling Point: None
Zinc Oxide: 20% Forms Moisture Barrier
Menthol: Cools and Calms
Product Specifications
Manufacturer: Calmoseptine
Product Number(s) 0799-0001-02, 0799-0001-03, 0799-0001-04, 0799-0001-05, 0799-0001-06
Sizes: 2.5 Ounces (71g) Tube, 2.5 Ounces (71g) Jar, 4.0 Ounces (113g) Tube, 1/8 Ounce (3.5g) Packet, 0.7 Ounce (20g) Tube
Product Color: Pink
Dosage: None
Physical State: Thick Ointment
Odor: Mild Menthol
Manuals and Documents
Additional Information
More Information

| | |
| --- | --- |
| Manufacturer | Calmoseptine |