ActiveAid 285 Tilt-In-Space Commode Shower Chair
PRODUCT HIGHLIGHTS
Shower chairs and accessories available in
Provides up to 30 degree tilt
Use in shower
Comfortable and convenient
Versatile and mobile
Frame made from stainless steel
Fast Delivery

Easy Returns
Description
ActiveAid Tilt-In-Space Shower Chair
The ActiveAid Model 285 Chair offers up to a 30-degree tilt as a gravity assist chair to assist with patient care and to add versatility, comfort, and convenience. The stainless steel frame comes in either a black or white finish to add durability for years of use. Customize this rolling shower chair by adding an attachable pail to convert it into a commode chair on wheels for bedside toileting. The attachable pail is an anti-spill bucket, making the ActiveAid Model 285 Chair ideal for home care or nursing home care use.
Please note: Product is made to order. There is a two-week lead time before the product ships.
Utilizing tilt-in-space technology, this commode shower chair is designed with "Gravity Assist Tilt" or "GAT" function that offers easy-tilt operation for patients weighing 75 to 350 pounds.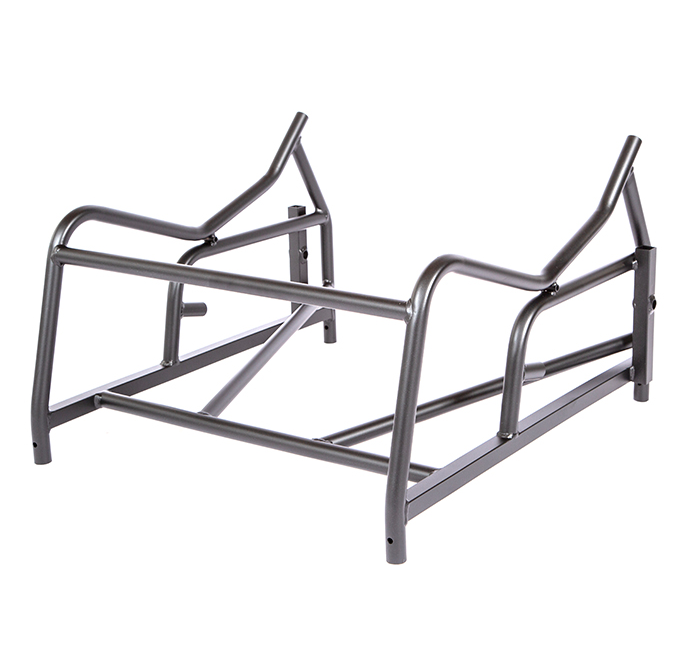 The ActiveAid 285 Tilt-In-Space Shower Chair comes with five-inch front casters with dual locking options for both front and rear or opt for the 24-inch rear wheel option. Armrests come standard with three choices; legrests are optional but recommended for increased patient comfort. Make sure to add belts, positioning aids, and head support to be set up to care for patients with limited strength.
Seating is also customizable, including padded seat choices in solid, race track, or front/rear open seat. All seat covers are seamless to provide ultimate comfort and pressure relief for the patient.
ActiveAid manufactures many mobility chairs and devices, including the 600 Series Rehab Shower Commode Chair.
285 Standard Components

Tilt Frame
Rear Casters or Wheels With Axle
Front Casters
Seat Option
Armrests
Adjustable Sling Back or Solid Back
Optional: Legrests, Belts, Positioning Aids, Pan, Head Support
Features & Benefits
Multiple Features for Better Patient Support
Comfortable Mobility Chair for Both Showering and Toileting
Seamless Seat Provides Pressure Relief for Patients With Sensitive Skin
Tilt-in-Space Technology Aids Caregiver
Can Be Postitioned for Over-Toilet Use
Bedside Commode Option
Versatile Commode Shower Chair for Home or Institutional Use
Gravity Assist Tilting System
Removable Height-Adjustable Footrests
Cervix Support With Vertical and Horizontal Adjustments
Cushioned Seat Options
Rear Wheel or Caster Options
Regular Front or Dual Front Locking Casters
Product Specifications
Manufacturer: ActiveAid
Product Number: 285
Overall Width: 24.5 Inches
Seat Depth: 18 or 20 Inches
Seat Width Options: 16, 18, 20, 22 Inches
Under Seat Clearance: 17.5 Inches
Maximum Tilt: 30 Degrees
Top of Seat to Top of Back: 22 Inches
Top of Seat to Top of Armrest Pads: 7.5 Inches
Floor to Top of Seat: 25 Inches
Floor to Bottom of Seat Frame (w/o Pan): 19.75 Inches
Seat Width Between Arm Pads: 20.25 Inches
Weight Capacity: 350 Pounds
Maximum Back Slack: 3.5 Inches
Headrest Height from Seat to Bottom of Cervical Support: 20.25 to 28.25 Inches
Minimum Overall Length Footrests at No Tilt: 47 Inches
Maximum Overall Length Footrest at Full Tilt: 61 Inches
Legrest Range: 15.5 to 21.5 Inches
HCPCS Code: E1399
Manuals and Documents
Additional Information
More Information

| | |
| --- | --- |
| Manufacturer | Activeaid |
| Leaves Warehouse | Product is made to order. Please allow 2-weeks before product ships. |