Servox Digital XL Electronic Speech Device - Atos Medical
TOP Features:
Allows increased speech function
Has both pitch and volume controls
Comes in a durable titanium shell
Works twice as long as previous versions
Lightweight and ultra-portable
Comes with batteries and a carrying case
Fast Delivery

Easy Returns
MPN:
Electronic Speech Device - Each - #SI-SERVOX
List Price:
$909.47
You Save:
$82.68 (10%)
Description
What is the Servox Digital XL Electro Larynx Speech Aid?
The Servox Digital XL Electro Larynx Speech Aid is an electrolarynx voice prosthesis device and speech amplifier that mimics the function of the voice box. This item may be used by people who have lost their speech due to illness, injury, or removal of the larynx. The Servox Digital XL device can also be used by individuals who have had a tracheotomy procedure recently performed to be able to speak. The Servox Digital Speech Aid may be used for phone calls, business conferences, emergencies, or situations in areas to raise their voice. This Servox digital electronic speech device is currently the only speech aid on the market with both volume and frequency settings.
What Comes in the Box?
1 Electrolarynx Device
8 Rechargeable NiMH Batteries (2 Complete Sets)
1 110v Charger
1 Carrying Case
1 Detachable Lanyard
Features and Benefits
Mimics Larynx Function
Increases Speech Capability
Multiple Modes of Control
Vocal Volume Controls
Vocal Pitch Controls
Sleep Mode
Durable Titanium Encasement
Compact Lightweight
Super Portable
Carrying Bag Included
Rechargeable Batteries Included
Servox Battery Charger Included
Double the Working Time
A 2-Day Charge Average
Can Be Connected to PC via USB Interface Kit (Not Included)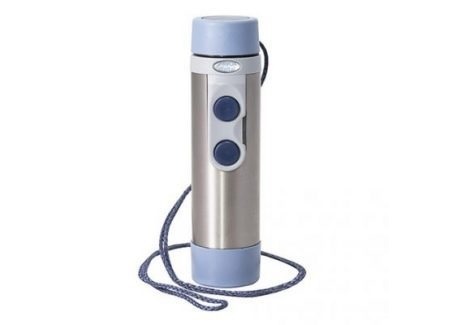 Who Will Find the Electrolarynx Useful?
Users with the following conditions may find this product useful:
Larynx Cancer
Larynx Removal
Patients Who Have Had a Laryngectomy
Patients Who Have Had a Tracheostomy
Patients Who Have Had a Tracheostomy
Patients Attached to a Respiration Device
Smoking
Vocal Abuse
Other Voice Box-Related Conditions
How Does the Sevox XL Compare to the Original Inton Electro Larynx Speech Aid?
The new Servox Digital XL comes with extra batteries and has a battery life that lasts twice as long as the original Servox Inton. This means twice the talking time before each recharge or two days of use instead of one. Replacement batteries can be charged while the other four batteries are in use, so users can have a charged set continuously on hand. In addition, this new version also makes travel extra easy with a new travel case.
How Does this Product Work?
This Servox speech device mimics larynx function and thereby simulates regular speech. When users place this device against their throat, it conducts ultrasonic vibrations that are imparted to the parts of the throat that create speech sounds. As the user speaks, digitally produced speech is emitted from the electrolarynx.
Product Specifications
Manufacturer: Atos
Brand: Servox
Model: 37575
Application: Speech Aid
Type: Digital Electrolarynx Device
Language: English
Power: 4 AAA Batteries (Alkaline or NiMH Rechargeable)
Battery Charger Voltage: 110v
Device Length: 4.6 Inch
Device Diameter: 1.4 Inch
Charger Length: 5.8 Inch
Charger Width: 3.3 Inch
Charger Height: 1.8 Inch
Device Weight (w/out Batteries): 0.25 lbs
Charger Weight (w/out Batteries): 0.8 lbs
Warranty Information
The Servox Digital XL Electro Larynx Speech Aid comes with a 2-year limited warranty. This warranty covers the speech aid device and its charger. It does not include the carrying case or the rechargeable batteries.
Manuals and Documents
Product Videos
Speaking with an ElectroLarynx - Mr. Albert Brooks (1:30 minutes)
Atos Medical- Who We Are & What We Do (2:23 minutes)
Additional Information
More Information

| | |
| --- | --- |
| Manufacturer | Atos Medical |