Covidien Kangaroo ePump Enteral Feeding Pump Device
Product Highlights
Use anywhere without a drip chamber
Saves programming settings up to 72 hours
Intuitive user interface with large LCD display
Monitors the presence of fluid
Audible alarm indicates mistakes or pump set conditions
Rechargeable NIMH battery pack provides 15 hours of power
Fast Delivery

Easy Returns
MPN :
Kangaroo ePump, Battery, Pole Clamp, Power Cord, One Year Warranty - Each - #382400
List Price:
$597.95
You Save:
$77.73 (13%)
Description
Covidien Kangaroo ePump Enteral Feeding Pump, formally under the Kendall brand, is for people who require nutrition through continuous feeding, intermittent feeding or feeding and flushing. The Covidien ePump delivers it all in one compact, simple-to-use, precision enteral feeding pump. Easy to program, this Feeding Pump can also be used with Enteral Feed Flush Sets to provide automatic flushing. A five button interface walks the user through the programming process while an alarm identification system quickly resolves any problems that may arise, resulting in a smooth and stress-free user experience. The Kangaroo ePump Enteral Feeding Pump is the latest innovation in enteral feeding. The Covidien ePump gives you the ability to accurately track the amount of formula and fluid delivered to a patient ensuring the prescribed formula and fluid is received by the patient. When patients require nutrition through continuous feeding, intermittent feeding or feeding and flushing, this feeding pump delivers in one compact, easy-to-use device.
Kangaroo ePump Enteral Feeding Pump functions on a straightforward ATM-Style interface that makes it remarkably easy to use and offers the opportunity to program hydration for both mobile and hospitalized patients alike. With the ability to program flushing intervals, this enteral feeding pump eliminates the need to manually flush tubes and sets. There is no drip chamber on this pump, allowing it to be used anywhere on anyone.
ePump Anti Free-Flow is an integral component of every Kangaroo ePump Delivery Set. This feature prevents the bag from allowing the free flow of solution into the patient (similar to a gravity feed set) if the set becomes disconnected from the pump. This is safer for the patient because it prevents a possible overfeed situation that could lead to patient aspiration or other complications. In addition, it provides for easier set-up and minimizes the potential for solution spill due to an open roller-clamp.
Kangaroo has feeding sets for the ePump, including the ePump Enteral Feeding Sets, Kangaroo Enteral Feeding Gravity Sets, and Kangaroo Pump Sets. Kangaroo also provides other enteral feeding pump options, like the Joey and the Connect. Below is a comparison chart of the top three Kangaroo Feeding Pumps.
Kangaroo Feeding Pump Comparison Chart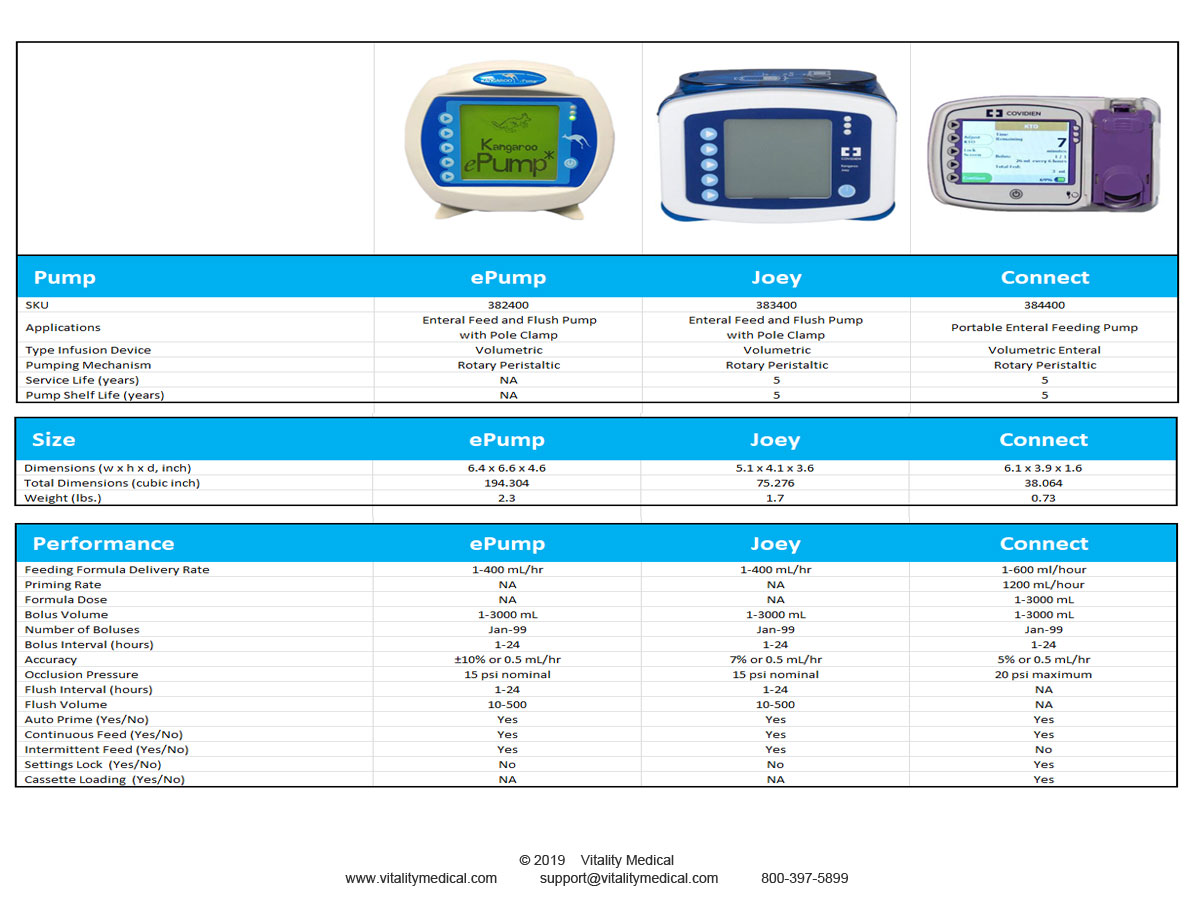 Click on the following link for a more detailed feeding pump comparison:
Review of the Top Three Kangaroo Feeding Pumps
Product Features and Benefits
Uses the MISTIC (Magnetic Intelligent Set Type Identification Connector) Identification System to recognize the pump set type and offers appropriate programming options as well as programmed flushing intervals to eliminate the need to manually flush tubes and sets. This allows for hydration and nutrition-programmed delivery.
Since there is no drip chamber, the pump can be used anywhere on anyone.
Prior programming settings can be saved for up to 72 hours.
Monitors the presence or absence of fluid to determine the flow condition of the feeding set in order to determine if the pump is experiencing either an upstream occlusion or an empty bag.
Attitude-independent design eliminates need for drip chamber on pump set.
Audible alarm to indicate errors or pump set loading conditions.
Designed with a hold feature with programmable restart and integrated handle for easy transport.
Equipped with intuitive user interface and large, backlit LCD display
With removable pole clamp and detachable power cord.
Serial I/O port for data retrieval and software updates
Replaceable, rechargeable NiMH battery pack for 15 hours of backup power
Product Specifications
Product Number: 382400.
Size: 6.6 Inches by 6.4 Inches by 4.6 Inches.
Weight: 2.3 pounds.
Flush Rate: 1960 ml/hr (maximum).
Flow Rate: 1-400 ml/hr (1 ml increments).
Flush Interval: 1-24 hr(s) in 1 hr increments.
Voltage: Operates on 9V DC, 1.5 Amps. Uses AC adapter for wall outlet usage.
Battery Life: 15 hours.
Battery Recharge Time: 8 hours.
Manufacturer: Medtronics.
Brand: Covidien
Sub Brand: Kangaroo.
Product Videos
Kangaroo ePump Pump Video (14:27 minutes)
Additional Information
More Information

| | |
| --- | --- |
| Manufacturer | Medtronic |
| Brand | Kangaroo ePump |
| Proposition 65 warning for Californians | WARNING: Cancer and Reproductive Harm - www.p65warnings.ca.gov |