Button Aids & Zipper Pulls
Zipper Pulls are designed to help simplify the task of dressing and undressing for individuals who experience limited mobility. Zippers and buttons can become a dressing obstacle for those with restricted joint motion or arthritis. A button aid and zipper pulls require less hand coordination and dexterity to put on clothing.

Everyone gets dressed and undressed on a daily basis; it is a natural part of our daily routine. This includes the activity of zipping and unbuttoning pants around five times a day. A dressing assistance device, such as a sock aid or shoe horn, can restore independence and give patients dignity and confidence. With an assistance aid, you can easily button jeans or a jacket before you go out.
How Do Zipper Aids Work?
Zipper helpers can provide users who have arthritis or experience stiffness in their fingers with a convenient way to fasten the zippers on their clothing. This is an ideal dressing aid for users who have difficulty gripping or reaching a standard zipper. They are also ideal for clothing that contains hard-to-reach zippers, such as dresses that zip up in the back.
Zipper assistance aids are generally constructed with a hook at one end and a tab on the opposite end. The hook can be easily engaged in the zip tab then pulled up or down to dress or undress. It is designed to manipulate a slide fastener having a slider body with a pull tab.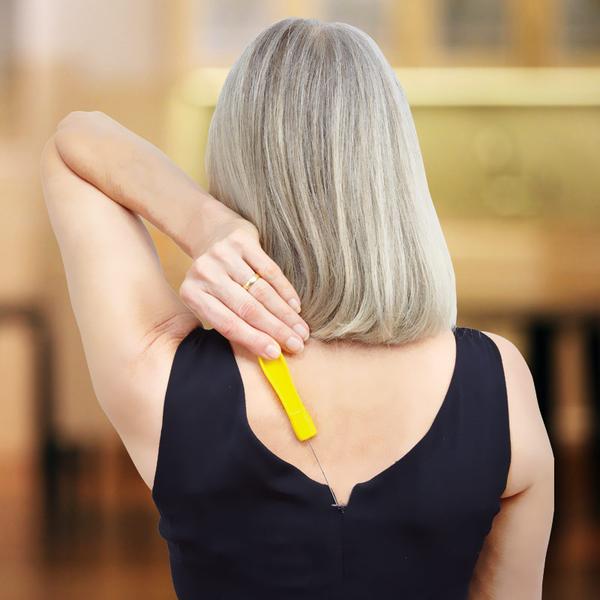 How do Button Aids Work?
Individuals who experience challenges associated with tremors, arthritic fingers, or loss of hand dexterity can make the simple task of buttoning a shirt into a frustrating situation. A button helper is generally constructed from a plastic handle and a metal loop that can be used with either the right or left hand. It slides through the buttonhole and loops over the button, then is simply pulled through the hole and secured. With practice, a button aid can become an easy and effective tool for daily assistance. If you experience limited mobility on one side more than the other, it can be helpful if the buttonhole is on the dominant side of the user so the edges of the garment can be held steady.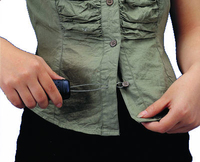 Additional Information

Clothing and Textiles Research Journal, First Published June 1, 1991 "Problems with dressing in the frail elderly - William C. Mann, Christine Kimball

The American Journal of Occupational Therapy, 2005 "Clothing and Dressing Needs of People with Arthritis - William C. Mann, Christine Kimble

US National Library of Medicine National Institutes of Health, January 19, 1991 "Dressing Aids - S C M Mitchell
Product Videos
Unbuttoning with Button Aid Video (0:44 minutes)
Inspired by your history...