Convatec Aquacel Extra Hydrofiber Dressing w/ Strengthening Fiber
TOP Features:
Four-layer compression bandage system
Highly absorbent
Provides a high level of compression
For the treatment of venous ulcer and edema
Made from a soft, comfortable material
Can be worn for up to 7 days
Fast Delivery

Easy Returns
MPN:
Grouped product items
Item#
Description
Size
Price

420671

2 x 2 Inch

Each

List Price:

$15.37

Price:

You Save:

$1.77 (13%)

420671

2 x 2 Inch

Box of 10

List Price:

$65.82

Price:

($5.83 ea)

You Save:

$7.57 (13%)

420674

4 x 5 Inch

Each

List Price:

$13.22

Price:

You Save:

$1.52 (13%)

420674

4 x 5 Inch

Box of 10

List Price:

$113.98

Price:

($10.09 ea)

You Save:

$13.11 (13%)

420673

6 x 6 Inch

Each

List Price:

$24.62

Price:

You Save:

$2.83 (13%)

420673

6 x 6 Inch

Box of 5

List Price:

$118.49

Price:

($20.97 ea)

You Save:

$13.63 (13%)
Description
AQUACEL Extra Hydrofiber Dressing is a hydrofiber-powered Wound Dressing that can be used as-is or in a cut-to-fit fashion to fit a specific wound shape. This item is an ultra-strong, highly absorbent gelling dressing that conforms to the wound bed for comfort and safety. It simultaneously draws detrimental microorganisms out of wounded areas and shields them from future contamination. This wound dressing can be used under compression and can be worn for a maximum of seven days, which means fewer dressing changes and less money spent. This product is effortless to apply, comfortable to wear, and easy to remove.
What is Hydrofiber Technology?
Hydrofiber is a soft, hydrophilic, super-absorbent material. This fleecy material draws in wound fluid, which turns the bandage into a gel-like substance. Because this item absorbs and holds wound exudate, it both draws harmful bacteria and debris out of the wound and keeps the wound bed slightly moistened to help speed up the healing process. This also helps prevent unhealthy maceration (indicated by whitening of the skin). This resulting gel conforms to the wound bed instead of just covering it, which helps prevent the entrance of new bacteria. It also soothes and cools the wound bed for patient comfort. Finally, this material is ultra-strong, stays in one piece, and does not stick to wound surfaces. This makes removal painless and easy.
What is the Dressing Used For?
This product was created for a variety of purposes and wound types. It can be used for surgical wounds, traumatic wounds, several types of ulcers, burns, and more.
Features and Benefits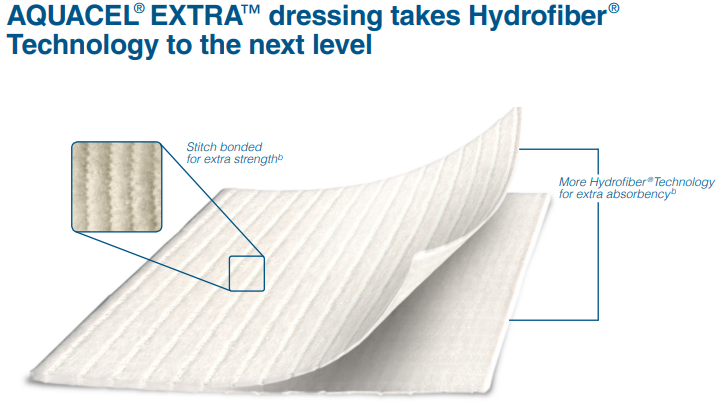 Highly Absorbent, Even Under Pressure
Gelling Action
Strengthening Fiber
Extra-Strong Build
Harmful Bacterial Reduction
Wound Surface Conforming
Wound Bed Protection
Helps Maintain a Moist Environment
Wound Fluid Absorption
Controls Exudate Levels
Helps Prevent Maceration
Gentle Removal
Patient Pain Minimization During Removal
Comfortable to Wear
Can Be Cut-to-Fit
Stays in Tact When Saturated
Usable on Infected Wounds (if Instructed by a Doctor)
Usable in Conjunction with Compression
Can Be Worn for Up to 7 Days
AQUACEL Extra Dressing (1:52 minutes)
How do you use AQUACEL Extra Dressing?
Note: Always follow a health care professional's instruction and the product's packaged guidelines when preparing and bandaging a wound.
Wound Preparation
Use a sterile saline solution to irrigate and clean the wound.
Dry peri-wound skin
How to Apply
If packing the wound, first apply

AQUACEL Ribbon Dressing

according to directions included in its packaging.
Remove AQUACEL Extra from its packaging.
Apply the product directly to the wound bed. The bandage gels and will conform to the wound bed.
This product can be layered over wounds with high amounts of discharge. Whether cut-to-fit or left in tact, dressing should overlap by one centimeter when multiple sheets are used.
How to Remove
In the event of difficult removal, first saturate the bandage with a sterile
Saline Solution to loosen it before removal.
The bandage will have gelled to the wound. Use forceps to remove the bandage in one piece.
Clean the wound bed with sterile saline to remove any leftover bandage and debris.
Storage
Always keep this product in a dry, cool environment.
Safety Information
Caution
Never use this product more than once. Re-using single-use bandages could result in infection.
Do not use this product if packaging is damaged as this product is packaged as sterile.
Do not use this product on infected wounds unless instructed to do so by a physician.
If allergic reaction, hypergranulation, maceration, signs of infection, or irritation occurs, contact a doctor.
Bloody wound fluid might be produced by this product due to the formation of new blood vessels during the healing process.
Only use in conjunction with other Wound Care Products when approved by a doctor.
Indication
Dermatological Incision
Diabetic Ulcers
Donor Site Incision
Leg Ulcers
Mechanically Debrided Wounds
Orthopedic Incision
Post-Operative Wounds
Pressure Ulcers (Stages 2 - 4)
Primary Intent Healing Surgical Wounds
Secondary Degree Burns
Surgically Debrided Wounds
Surgical Incision
Traumatic Wounds
Vascular Incision
Wounds that Are Painful
Wounds that Tend to Bleed
Contraindications
Sodium Carboxymethlycellulose Allergy
Sodium Sensitivity
Allergic Reaction
Sensitivity to the Dressing
Frequently Asked Questions
How long can you leave AQUACEL hydrofiber dressing on?
This product can be left on for a maximum of seven days. The length of time it can be left on will depend on the amount of wound discharge and the overseeing physician's advice.
Does AQUACEL Extra have silver?
This product does not contain silver. However, ConvaTec AQUACEL Ag Advantage Dressing is a closely related alternative that does contain silver.
Does AQUACEL dissolve?
This product does not completely dissolve. It does turn into a gel-like substance, but it should still be able to be removed in one piece.
Is AQUACEL the same as alginate?
No. This product is made from sodium carboxymethylcellulose, whereas alginates are made from seaweed.
When should I stop using AQUACEL?
Users should stop using AQUACEL whenever the bandage is full of exudate, whenever a doctor instructs, when sensitivity or allergic reaction occurs. The maximum time this bandage can be worn is seven days.
Related Products
Complementary Products

Perfect Partners: AQUACEL Ag Advantage and AQUACEL Foam (1:53 minutes)
Alternative Products
AQUACEL EXTRA absorbency demo compared to Durafiber and Melgisorb (1:56 minutes)
Product Specifications
Manufacturer: ConvaTec
Brand: AQUACEL
Product Numbers: 420671, 420674, 420673
Application: Wound Care
Type: Gelling Dressing
Material: Hydrofiber
Color: White
Manuals and Documents
Product Videos
Hydrofiber Technology Key Features - Locks in (1/3) (0:49 minutes)
Hydrofiber Technology Key Features - Contours (2/3) (0:47 minutes)
Hydrofiber Technology Key Features - Responds (3/3) (1:34 minutes)
Sources