3M Kind Removal Silicone Tape
3M
- Authorized Distributor
TOP Features:
Skin Friendly
Hypoallergenic
Easy Removal
Gentle Wearing
Repositions
Secures Tubing and Instruments
Secures Bandages
Breathable
Fast Delivery

Easy Returns
MPN :
Grouped product items
Item#
Description
Size
Price

2770-1

1 Inch x 5.5 Yards

Each

List Price:

$6.37

Price:

You Save:

$0.51 (8%)

2770-1

1 Inch x 5.5 Yards

Box of 12

List Price:

$62.27

Price:

($4.77 ea)

You Save:

$4.98 (8%)

2770-1

1 Inch x 5.5 Yards

Case of 120

List Price:

$664.03

Price:

($5.09 ea)

You Save:

$53.12 (8%)

2770-2

2 Inch x 5.5 Yards

Each

List Price:

$12.04

Price:

You Save:

$0.96 (8%)

2770-2

2 Inch x 5.5 Yards -

Ships Free!

Box of 6

List Price:

$59.27

Price:

($9.09 ea)

You Save:

$4.74 (8%)

2770-2

2 Inch x 5.5 Yards

Case of 60

List Price:

$615.85

Price:

($9.44 ea)

You Save:

$49.27 (8%)

2770S-1

1 Inch x 1.5 Yards

Each

List Price:

$1.82

Price:

You Save:

$0.15 (8%)

2770S-1

1 Inch x 1.5 Yards

Box of 100

List Price:

$148.86

Price:

($1.37 ea)

You Save:

$11.91 (8%)

2770S-1

1 Inch x 1.5 Yards

Case of 500

List Price:

$784.18

Price:

($1.44 ea)

You Save:

$62.73 (8%)

2770S-2

2 Inch x 1.5 Yards

Each

List Price:

$3.59

Price:

You Save:

$0.29 (8%)

2770S-2

2 Inch x 1.5 Yards

Box of 6

List Price:

$19.96

Price:

($3.06 ea)

You Save:

$1.60 (8%)

2770S-2

2 Inch x 1.5 Yards

Case of 250

List Price:

$703.21

Price:

($2.59 ea)

You Save:

$56.26 (8%)
Description
3M Kind Removal Silicone Tape, is a hypoallergenic blended adhesive. This skin-friendly tape does not harm the skin when it removed. Most adhesives pull the skin and hair, causing unnecessary pain and damage. This adhesive has a patented paper blended backing that allows a gentle, but strong adhesion to the skin that remains constant. Most adhesives increase their strength over time, which increases the damage when removed.
The Kind Removal Tape can be repositioned without loosing any of its tacky qualities. The gentle adhesion does not lower the quality of the hold. The adhesive roll is sticky enough that it can be worn in the shower without loosing effectiveness. This adhesive is perfect for using on patients with skin allergies, because it is Hypoallergenic and less likely to cause any skin irritations.
Product Profile

Medical Studies
Several medical studies of adhesive strips for people with sensitive skin find that silicone adhesive is more skin-friendly. A study published in Anesthesiology Research and Practice found that more injuries resulted with standard acrylate adhesive versus silicone in a ratio of 11 to 1. There was a decreased incidence of skin injury with silicone versus the standard acrylate adhesives. Anesthesiologists and an independent blind assessor came to the same conclusion. Patients also reported a higher satisfaction score in the silicone adhesive compared to standard adhesives due to the presence of skin injuries in the standard adhesive group.1
Another study published in the Journal of Wound Ostomy & Continence Nursing comparing silcone to medical paper adhesives found that gentleness evaluations favored the silicone version compared to a paper adhesive.2 In another study published by Advances in Skin & Wound Care, where physicians, nurses, and assistants evaluated silicone tape found that silicone "fills a performance-expectation gap" of current acrylic adhesives among patients with fragile or at-risk skin.3 A Canadian study found that anesthesiologiests and patients have more acceptance of silicone adhesives over other standard options. "Patients were more likely (37% vs 3%) to have skin denudation with standard acrylate" vs silicone as evaluated by the anesthesiologist.2 Furthermore, patient satisfaction with the condition of the skin over the eyelids on postoperative day 1 was significantly higher with silicone.4
A Brazilian study comparing silicone with microporous adhesives for medical applications with newborns, children, seniors, and people at risk of medical adhesive-related skin injury (MARSI), found that the silicone adhesives may be gentler to patients' skin than microporous adhesives.5
Highly Recommended
Advantages
Instrument Fixation - Securely keeps tubing and instruments in place. It offers reliable yet pliable fixation.
Easy Removal - removes cleanly, without disrupting fragile skin layers. More comfortable and less pain for patients.
Easy Repositioning - pulls up and refixes where needed.
Easy Application - Neatly tears by hand and applies to skin.
Product Options
3M 2770-1 is 1-inch wide with a length of 5.5 yards designed for multipurpose use.
3M 2770-2 is a 2-inch wide that is 5.5 yards long, offering a greater adhesion area to fix bandages, IV tubing, and other medical appliances.
3M 2770S-1 is a 1-inch wide that is 1.5 yards in length, a shorter length designed for single patient use.
Delicate Skin Protection
When to Use
Silicone offers a viable alternative to other medical adhesive for patients with compromised, sensitive, or at-risk skin. This adhesive is a blend of properties that serve patients with fragile skin. It replaces acrylic, paper, and other medical tapes for delicate skin that standard medical adhesives would be risky to use. It is also a good alternative for when frequent taping is necessary. This mild adhesive avoids the risk of patient skin trauma and pain. It reduces skin injuries and maceration. Kind Removal is hypoallergenic to product prevents contact dermatitis, rashes, allergic reactions, and is less irritating.
Below is a categorized list of product uses.
Securing
Dressings
Lightweight tube and device securement
CVC Dialysis
CVC PICC
PIV
Skin Care
Peri-tube skin irritation
Radiation dermatitis
Trauma from adhesives and dressings
Tracheostomy site trauma
Wound Care
Abrasions
Closed intact surgical wound
Donor sites
Lacerations
Neuropathic ulcers
Open surgical wounds
Skin tears
Superficial partial-thickness burns
Venous leg ulcers
Applications
Check out this medical adhesive for yourself with a FREE Sample of 3M Kind Removal Tape.
Kind Removal Tape is a 3M Silicone Tape designed for sensitive skin. It is a mild adhesive used in surgeries. It covers sensitive skin like eyelids for surgery patients and removes without traumatizing the skin or pulling out eyelashes or eyebrows. This easily removalable adhesive finds use in hospitals, surgical clinics, and home care.
Sensitive Skin Applications
Product Features and Benefits
Hypoallergenic
Breathable
Repositionable
Does not Stick to Medical Gloves
Skin Gentle Tape For Nursing
Does not Stick to Itself
Does not Tear Skin
Does not Lose Adhesion
Can be Worn in the Shower
Raised Plastic Sides for Easy Unwinding
Soft Material
Supports Skin Integrity
Skin Friendly
Provides Good Initial and Long-Term Adhesion.
Provides Reliable Securemnet
Offers Gentle Wear
Product Specifications
Product Numbers: 2770-1, 2770S-1, 2770-2, 2770S-2
Width Options: 1 or 2 Inch
Length: 1.5 or 5 Yards
Materials: Silicone Adhesive, Acrylic Polymer, Polyester
Color: Light Blue
Latex Free
HCPCS: A4452
Manufacturer: 3M
---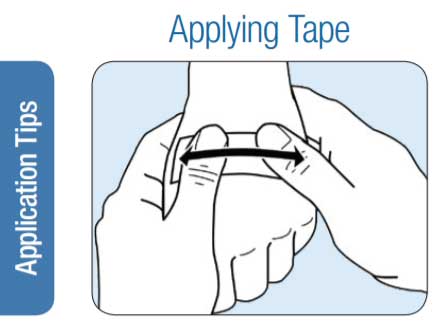 Product Application
Clean and dry skin.
Apply the adhesive without tension.
Extend the adhesive at least half-an-inch beyond dressing edge when fixing dressings.
Firmly stroke the external surface of the adhesive backing to apply the pressure sensitive adhesive and gain full contact with the skin.
Product Removal
Stablize the skin of the peel edge with one or more fingers.
Peel up a corner of the adhesive and grasp.
Pull the adhesive slowly at a near 180° back angle over the affixed portion of the strip.
What to Buy with Kind Silicone Tape
Manuals and Documents
Product Videos
Patient Friendly Tape Video (2:03 minutes)
Product Demonstration Video (1:29 minutes)
Testimonial Video (3:32 minutes)
What Nurses Think of the Product Video (2:35 minutes)
Safe Medical Tapes Removal Demonstration Video (3:01 minutes)
Footnotes
Additional Information
More Information

| | |
| --- | --- |
| Manufacturer | 3M |