Treatment & Exam Tables
Medical Exam Tables are used for the purpose of evaluating and treating patients in clinics and hospitals. They support and position the patient while a doctor or caregiver conducts a medical examination or provides therapy. Often these medical tables are referred to as treatment, physical therapy, or procedure tables. Some practitioners that make house-calls use portable units that fold for easy transport. In some instances, some medical practitioners prefer medical chairs that allow patients to sit upright or recline.
Quick Links
Treatment Tables are manufactured for basically 5 separate functions—physical therapy, massage, chiropractic, rehabilitation, or for medical procedures. Those units designed for physical therapy or rehabilitation are flatter with thin padding. Physical therapy tables often have add-on features that provide greater utility when treating certain injuries. These types usually have a thick padding and adjustable sections.
Components of an Exam Table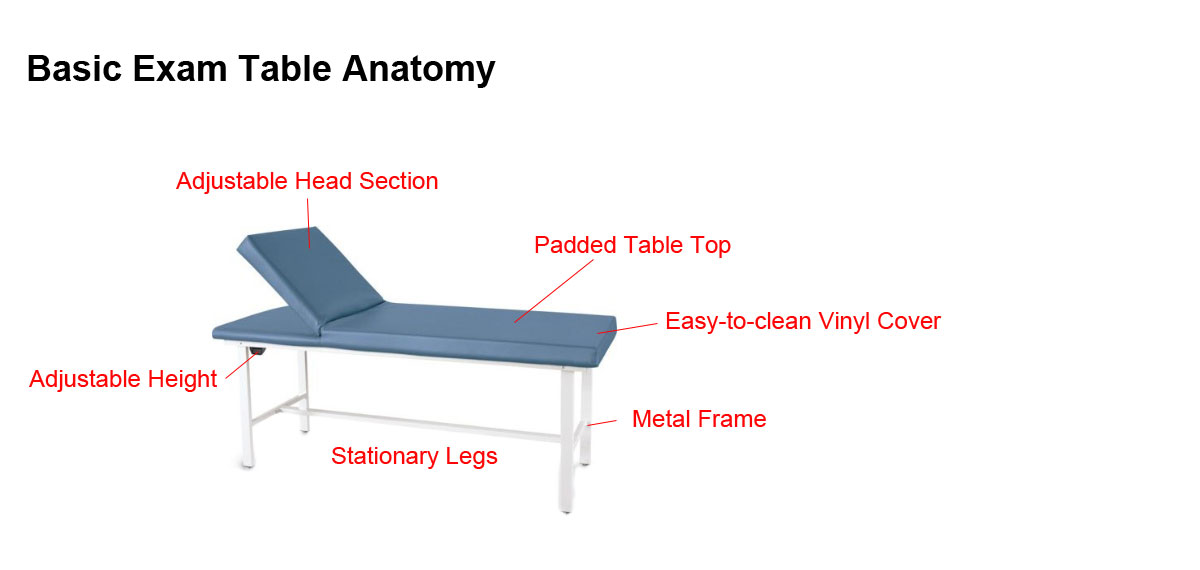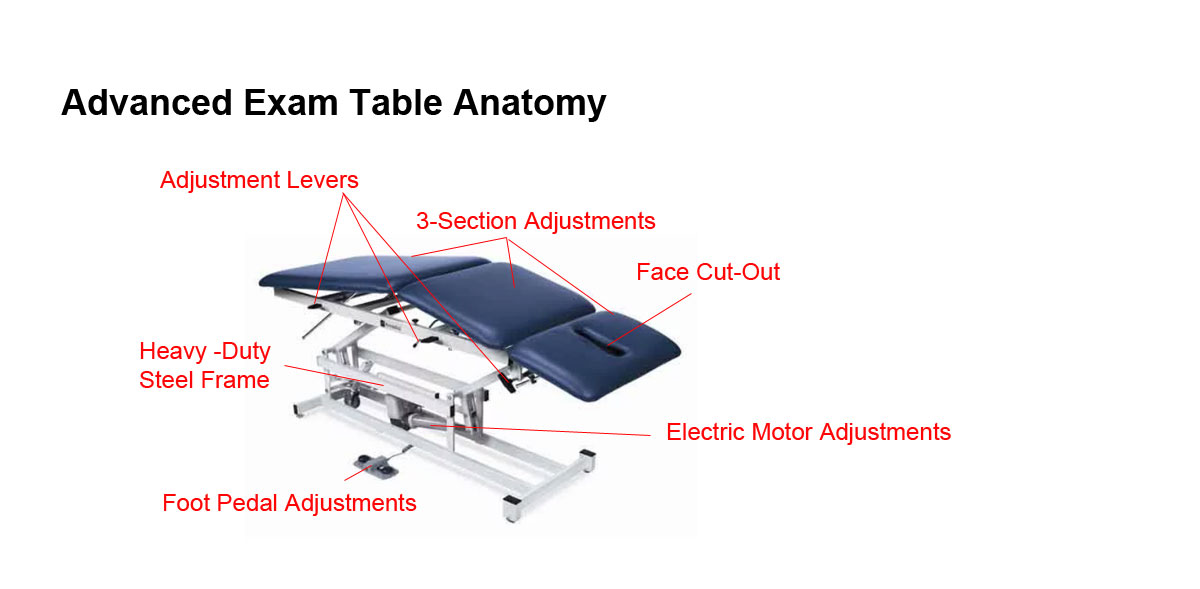 How To Select the Right Exam Table
To select the best product you should first determine what is the purpose of the unit. This can range from conducting a medical exam to physical therapy. Then determine what features the table will need to have in order to accomplish that purpose. The combination of purpose and features should support both the patient and the caregiver. Directly below is a continuum displaying a basic medical table on the far left and electric adjustable tables to the far right. In between lie many options for the buyer. Costs go up the farther you go to the right of the continuum. Below the continuum graphic is a summary of the purpose, design, features and options that are factors in the purchase decision process.
Elements for Decision Making
Purpose—What will the unit be used for? Massage, chiropractic, treatment, procedure, physical therapy, etc.
Design—focuses on the needs of the patient and the caregiver.
Features—provides the characteristics that meet the purpose and design requirements. These characteristics may include portability, adjustability, hydraulics, electric power, reclining, transferring, tilting, heavy duty, storage space, durability, long-term use, padding, cleaning/sanitation, storage, contoured pad, pad openings, etc.
Options—after you have selected the design and features needed, color and size considerations fine-tune your selection.
Design and Features

Table Designs
Mat Platforms

– steel or wood frame with a soft mat for patient comfort placed on top of the frame. This design is a favorite for basic physical therapy treatment tables. It offers lower cost and simple structure.

Box

– designed with backrests that incline to different locations to position the patient for exams or treatment. Many units include storage cabinets or drawers.

Bariatric

– heavy duty construction for additional patient support. These can support over 500 pounds.

Hi-Lo

– offer adjustable height to allow caregivers better access to the patient.

Traction tables

– segmented tables that provide decompression therapy for the spine to treat sciatica, herniated discs, pinched nerves and other back conditions.

Electric

– easily changes height and the position of the sections by activating a lever or button.

ADA tables

– are designed to meet the requirements of the Patient Protection and Affordable Care Act to care for disabled patients. It specifies such things as the minimum height of the surface to allow easier patient ingress and egress. Units with a minimum height of 30 inches or more offer considerable challenges to wheelchair patients to transfer from their chair to the table. An adjustable height model provides a solution to this problem and helps to meet one of the ADA requirements.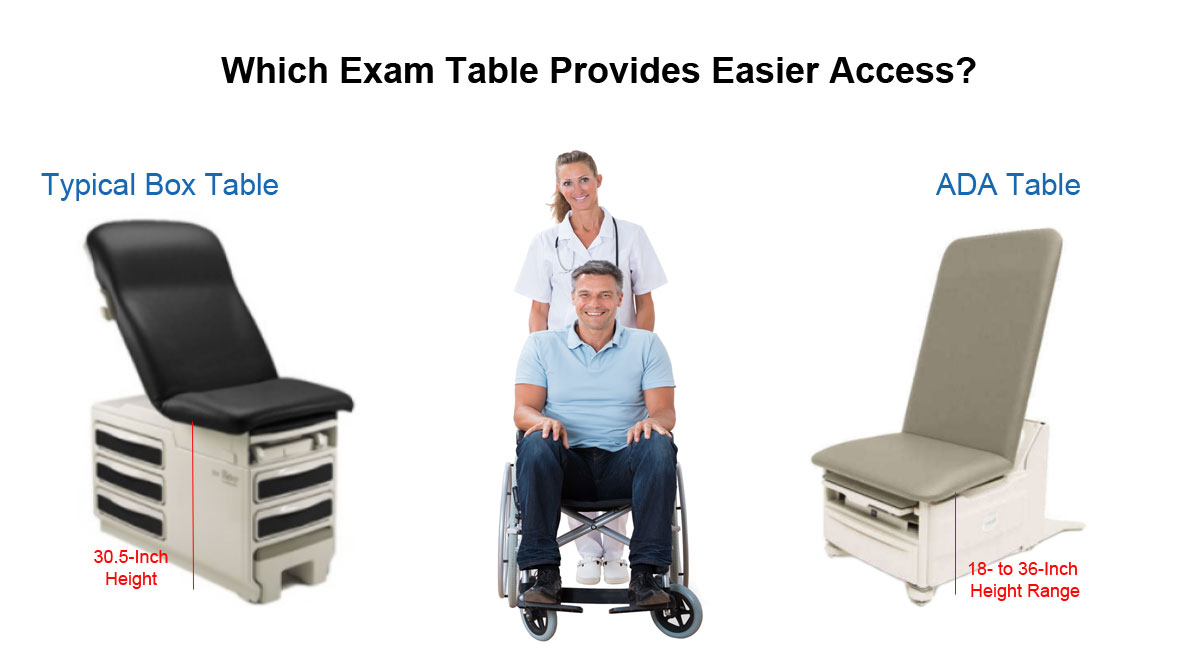 Treatment tables

– are designed for physical therapy and other medical treatments.

Procedure tables

– similar to a treatment table; however, some have preprogrammed positions that adjust the table to the medical procedure that is to be performed. In the example below, an electric procedure table is portrayed (the BrewerAssist 7000) that displays four separate preprogrammed positions.

List of Purchase Considerations
Construction
Adjustability
Storage
Size
Portability
Paper Dispenser & Cutter
Safety Straps
Side Rails
Infinite Recline
Lateral Transfers
Bariatric Support
Adjustable Armrests
Adjustable Leg Rests
Stirrups
Locking Casters
Side Rails
Heated
Tilt
Adjustable Height
Contoured Face/Nose Opening for Patient Breathing
Chair Functions
Durability
Reliability
Long-term use
Padding
Easily Cleaned
Price
Colors
ADA Compliance
OSHA Compliance
Selection Criteria
Government Regulation and Guidelines
The government is interested in protecting both patients and caregivers. Whichever product is selected, you should support the needs of both the patient and caregiver. Government regulations and guidelines impose or suggest certain criteria to provide access for disabled patients and to protect the health of physicians and clinicians. Patients with disabilities require sufficient accessibility to mount and dismount exam tables. These requirements are summarized in the ADA publication--Access To Medical Care For Individuals With Mobility Disabilities.
Likewise, OSHA guidelines specify certain criteria to protect caregivers that examine or treat patients. These stipulations attempt to limit the risk of back, wrist and other injuries due to prolonged raised arms, bending over, and assuming awkward positions that can lead to injury. Read more about these guidelines at OSHA Positioning and Adjusting the Exam Table.
Positioning
Positioning a medical table within the exam room or treatment room is important. It should be positioned in an area where there is access to all sides of the patient. Any instruments or monitors needed to serve the patient should also be within easy reach. Reaching up or over a patient should be minimized by simply elevating the table, moving to a different position around the table or re-positioning the patient.
Height
The table should be easily adjustable in height to allow for the patient to easily mount and dismount and for the caregiver to easily access the patient while minimizing the need for extended reaches, elevated arms and wrist deviations. The working height should be sufficient to prevent the caregiver from having to bend over at the waist to reduce the risk of back injury.
Sanitation
Many offices use disposable paper to protect the patient from contact surfaces that may be exposed to germs and bacteria left behind from previous. Often paper rollers are attached to the table with a cutter. This allows the caregiver to quickly rollout the protective paper before a new exam commences. Disposal of the soiled paper occurs after the exam or treatment to minimize exposure to subsequent patients.
Special Features
When appropriate, drop-down sections or cutouts help to minimize stressful patient postures and facilitate exams or procedures. The addition of stirrups and sliding footboards provide improved access when performing certain procedures.

Additional Information
You might be interested in...