Otoscopes & Ophthalmoscopes
Vitality Medical had discounted ophthalmoscopes and otoscopes for sale, including the Economy Otoscope and the Otoscope Diagnostic Set. Clinicians and parents who are on the hunt for the best deals on ophthalmoscopes and otoscopes should browse our products from top brands such as Welch Allyn, Graham-Field, American Diagnostics, and more.
Otoscope and Ophthalmoscope Descriptions and Uses
Otoscopes
An otoscope is used to examine the ears, specifically the outer ear, ear canal, and eardrum. They are used to discover any potential indications of ear issues, such as ear infections, blocked passages, and hearing loss. Indications of these may include excessive earwax, lodged debris, redness, inflammation, swelling, scarring, and perforations. They have long handles and a head that contains a light and a magnifying lens. A removable earpiece (also known as a speculum) is attached to the head to direct light and so the piece that goes into the ear can be switched out between patients to prevent the spread of infection. Some products also include very small cameras that offer a better view inside the ear. These sometimes also assist with ear cleaning. Otoscopes for ears are designed to use by professional healthcare practitioners but can also serve well in home environments to check in on child ear infections.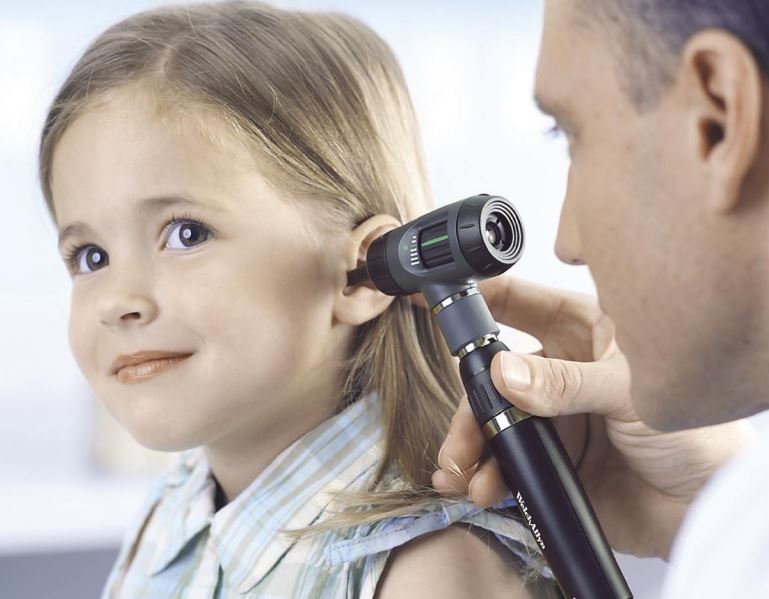 Ophthalmoscopes
Ophthalmoscopes are used for direct ophthalmoscopy exams, also known as a fundoscopy. These exams are to see the retina, blood vessels, and optic disc at the back of the eye to check for potential eye conditions and other issues that might be indicated by blood vessel abnormalities. Doctors will look for tears in the retina, retinal detachment, protein deposits, optic nerve damage, signs of infection, and more. Ophthalmoscopes can help detect structural eye damage, macular degeneration, melanoma, glaucoma, eye infection, high blood pressure, and even diabetes. Like otoscopes, these devices include a bright white light and a magnification lens. This lens allows the physician to magnify the picture up to fifteen times its actual size.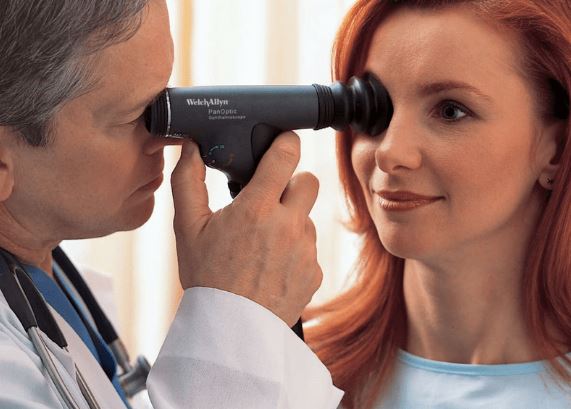 What Otoscope or Ophthalmoscope is the Best Buy?
General
Budget and Price (prices vary widely)
Patient and Doctor Comfort
Ophthalmoscopes and Otoscopes with Camera Features
Ease of Use
Weight and Dimensions
Portability
Handle Length and Grip
Solo Device or Combo Kit Options
Choosing an Otoscope
Otoscope buyers will want to keep the following features in mind as they shop:
Size of Field of View
Magnification Values
Zoom Settings
Insufflation Port Presence or Absence
Throat Illuminator Presence or Absence
Indirect Otoscope vs. Direct Otoscope
Choosing an Ophthalmoscope
Otoscope buyers will want to keep the following features in mind as they shop:
Aperture Settings
Available Filters
Resolution Values
Illumination Factors
Otoscope and Ophthalmoscope Best Sellers
Welch Allyn MacroView Otoscope Set

This otoscope is made by one of the most trusted diagnostic product manufacturers in the world. The MacroView Otoscope by Welch Allyn is a premium otoscope and is a popular choice during professional use. It is a handheld device that includes several advanced features. There are two versions, one of which is a digital otoscope that includes a camera. Images taken by this camera can be saved to patients' records, revisited, and enhanced to better see small details and to catch abnormalities. Saved images can also be sent to other providers when necessary, which makes the flow of information much more fluid and easy. This can amount to an exceptional patient care experience.
Both versions of the Welch Allyn Otoscope also have a field of view that is two times the size of the field of view of standard otoscopes and it provides enhanced magnification levels. Zoom and focus are also adjustable and the ideal focus for most ear canal lengths is indicated by a green stripe. These factors together make it much easier to see the ear canal and eardrum.
In addition to these benefits, this device has an insufflation port that allows examiners to use variable air pressure to create eardrum vibration to assess middle ear conditions. It also includes a 2-in-1 penlight throat illuminator. Tips are safely locked into place and can be easily released and disposed of by an ejection feature.

Welch Allyn Macroview Otoscope Product Overview (0:49 minutes)
ADC Proscope 5211 Standard Otoscope
The Proscope 5211 by American Diagnostic Corporation is a compact, lightweight, and cost-effective otoscope option. This item features an easy-grip silver knurled handle to prevent slips and accidents. Impressively, it has a 3X magnifying lens that can be easily removed when needed. Its earpiece can be removed for autoclave disinfection and it comes in 2.5, 3.5, and 4.5-millimeter options. It also has an insufflator fitting, which when used allows air to be blown into the ear to check for potential fluid trapped behind the eardrum.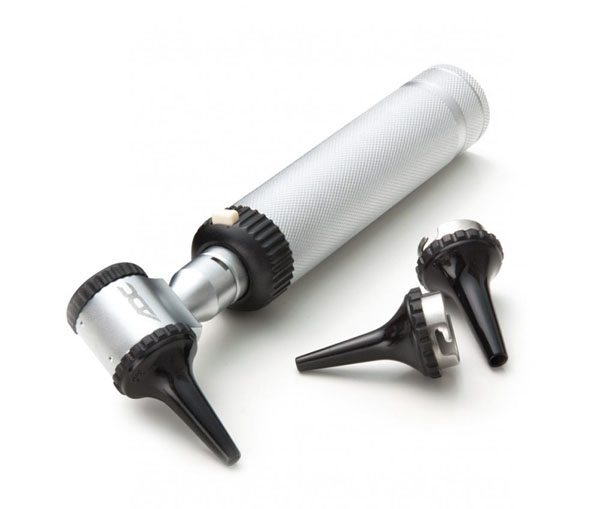 A carrying case is included to keep this item safe during travel. This item's features are somewhat pared down when compared to the Welch Allyn MacroView, yet more than sufficient for basic check-ups. For this reason and because it is inexpensive, this may be a good option for home use. This item is compact and lightweight, so it is also a great option for EMTs, paramedics, and anyone else who needs an otoscope on the go.
ADC Proscope (2:08 minutes)
ADC Diagnostix 5110N Pocket Diagnostic Set
The Diagnostix 5110N is a two-in-one package. Both of the items in this ophthalmoscope and otoscope kit are very compact and come with a carry case to increase ease of transport. The carrying case measures just 7-1/4 inches tall, 4-1/2 inches wide, and 1-1/2 inches tall and weighs just a pound.
The ophthalmoscope includes an impressive number of aperture and resolution settings. It comes with nineteen different viewing lens from -20 to +20 resolution diopters. Aperture selections include large spot, small spot, red-free filter, fixed, and semicircle filters. Conveniently, the magnified lens dial is illuminated so it is easy to see in a dark room. It also includes a soft, comfortable rubber brow rest for the comfort of the users and that is especially useful when the device is being used with glasses.
The otoscope that comes in this set is composed of a handle that holds batteries, a head that features fiber optic lights to create an unhindered pathway of white light, a disposable speculum, and a pivoting lens. It has a 2.5X lens and a wide-angle swivel that allows its user to see more of the ear more easily. Both items that come in this set are easy to set up and use.
Frequently Asked Questions
What is the difference between an otoscope and ophthalmoscope?
An Otoscope is used to examine the ears, while an ophthalmoscope is used to examine the eyes.
Who uses an otoscope?
These items can be used both by doctors and at home.
Can an otoscope damage eardrums?
If used improperly, there is a slight change an otoscope could damage the eardrum. They should be inserted into the ear canal carefully and gently and there is no reason its tip should get so close to the eardrum as to damage it. A more common issue that may arise is an infection due to improper infection control. Tips should be changed out or cleaned between every use.
Does an otoscope allow the user to see the eardrum?
Yes, these devices are used to help medical professionals see the eardrum.
Will an otoscope allow the user to see the inner ear or the Eustachian tubes?
No, the inner ear and Eustachian tubes cannot be seen with one of these devices because they lay behind the tympanic membrane (the eardrum). Otoscopes are used to see the outer ear and eardrum. However, doctors may blow a puff of air into the ear to see if the eardrum vibrates. If it does not vibrate as much as it should, this means there is likely fluid built up behind the eardrum in the Eustachian tube.
Can otoscopes cause ear pain?
Typically an otoscope will not cause pain, but there may be mild pain if the person being examined has an ear infection.
Sources
Inspired by your history...