Nature Bright Company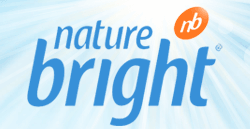 Nature Bright manufactures Light Therapy products to help people suffering from Seasonal Affective Disorder or SAD. Commonly called the "winter blues", SAD affects many individuals worldwide, particularly during winter months when less light is available. Founded in 2001, the Nature Bright Company is located in Irvine, California. Nature Bright's motto is "Bright Light, Brighter Future. This motto can be found on employee desks and conference rooms throughout their facilities. Equipped with Nature Bright Light Therapy products, their offices use what they sell.
Nature Bright is an innovative company with over a dozen patents for light therapy. The company has developed the Sky Effect™ technology that has proven to be effective for many individuals. This technology activates the Instrinsically Photosensitive Retinal Ganglion Cells that regulate circadian rhythms for the body. Sky Effect™ technology employs blue light at wave lengths of 446 to 447nm to stimulate the suprachaismatic nucleus of the body's internal clock. Nature Bright uses modern technology to bring natural light to brighten the lives of individuals suffering from disequilibrium, fatique, temporary stress, and sadness. Nature Bright seeks to turn grey days into bright days for everyone.
Nature Bright offers the NatureBright Suntouch Plus Therapy Light to enhance mood and energy. The Suntouch Plus provides 10,000 LUX mf broad spectrum light that simulates the natural light of the sun without harmful UV rays. This light therapy device can light up your office space or any space in your home. The Suntouch Plus SAD Light has been effective to enhance moods, elevate energy levels and promote better sleep. Many find that the natural spectrum light produced by the Suntouch Plus helps with fatigue, depression, pregnancy blues, aging and stress. Vitality Medical offers the Suntouch Plus at the following link: NatureBright Suntouch Plus SAD Therapy Light.
There are no products matching the selection.
You might be interested in...