Moist Heat Pads and Wet Heating Packs
Moist Heating Pads are a popular, convenient way to deliver moist heat therapy to sore, aching muscles and joints. Moist heat has the advantage of using water as a conduit, moving the heat faster to the site of discomfort1. Due to its convenience and efficacy, moist heat has been used to ease muscle and joint pain for centuries. To this day, physical therapy, massage, and chiropractic clinics routinely utilize this method of healing in their treatment regimens. Vitality Medical offers a wide range of moist heat wraps for both professional and at-home users to reap the benefits of this gentle, soothing therapy. These options include hydrocollator moist heat packs, electric heating wraps with moist heat capability, and microwavable heat wraps.
Pain Management Technologies
Choosing the Right Type of Wet Heating Pad
There are several different types of heat therapy, each with its specific qualities and advantages. Those seeking the right moist heat delivery method have several types of products from which to choose.
Electric Heating Pad
Some wet heating pack products, such as the BodyMed Digital Moist Heat Pad and the Thermotech Medical Grade Heat Pad, are electric and plug into an outlet to deliver constant, gentle moist heat.
Microwavable Heat Wraps
Moist Heating Packs, such as the Bed Buddy Back Wrap, are designed to be heated in the microwave and then applied to the specific area. Because these devices aren't plugged in, they provide the added convenience of allowing freedom of movement.
Hydrocollator Packs
Hydrocollator hot packs, such as Chattanooga HotPac Moist Heat Packs, are physical therapy moist heating packs filled with bentonite clay that come in various sizes and shapes. The pad is heated in a hot water bath until they reach a temperature of around 165° Fahrenheit, and then they're applied to the area being treated. While these packs are most often found in physical therapy or chiropractic facilities, many versions, like Fabrication Enterprises Relief Paks, can be heated in hot water on a stovetop or in a microwave for home use.
Who Can Benefit From Moist Heat Therapy?
Moist hot packs are used by individuals who experience discomfort from a wide range of conditions, including:
Muscle soreness due to exercise or overuse
Arthritis
Neck and shoulder stiffness from desk work
Chronic pain
Old injuries that occasionally flare up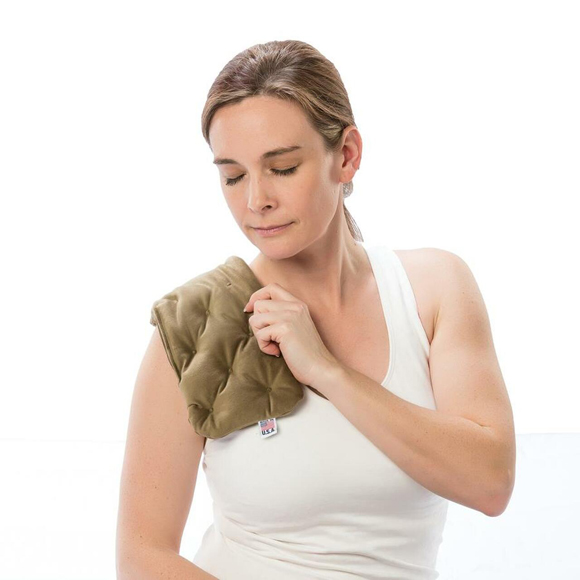 Consult a physician with any questions about the safety of using moist heating packs with specific conditions or health concerns.
Footnotes
You might be interested in...