Medical Stools for Exams, Labs and Hospitals
Medical stools or lab stools are used to provide a sitting posture for a doctor or caregiver while examining or treating a patient. They are available with numerous options to select from, including wheels for easy maneuverability, without wheels for a fixed position, with or without armrests for caregiver comfort, with or without arm supports to reduce fatigue, padded or non-padded seats for comfort, swivel or non-swivel seats for ease of use, adjustable height to meet individual needs, easy-clean, antimicrobial, low maintenance, and a host of other features that can make exams or medical procedures easier. (Click to see a detailed list of Exam Stool Features) Links to more information include Medical Chairs, Types of Medical Stools, Exam Stools vs. Chairs, What Are Exam Stools Used For?, How to Select the Best Stool?, The Top Ranking Exam Stool Manufacturers, and Medical Studies
Medical Chairs
Medical chairs are most often associated with the patient rather than the caregiver. They provide a comfortable place for the patient to sit during an exam or procedure. Modern hospital chairs are often adaptable to a host of different functions and procedures to meet a variety of hospital or clinical purposes. Many are programmable to configure automatically to the procedure scheduled. The chair is then reprogrammed and reconfigured for the next patient. Medical chairs are used for massage, physical therapy, dialysis, oncology, chemotherapy, blood collection, chiropractic care, EGK, respiratory care, minor surgery and other procedures. You can find them in nearly all hospitals and clinics. Additional patient comfort and more treatment options can be found with treatment tables. Click for more information about Medical Chairs and Exam Tables.
Stools vs. Chairs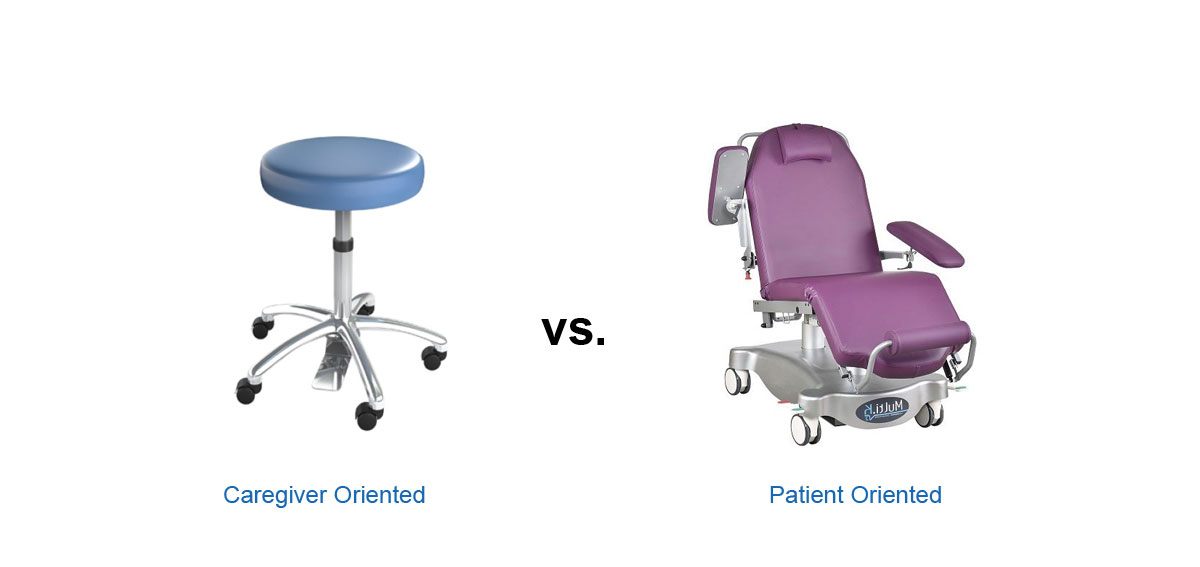 Stools offer physicians and clinicians more flexibility than exam chairs. Stools are lightweight and agile while exam chairs tend to be bulkier and heavier. Stools have less encumbrances, allowing better access to the patient. Many modern stools offer the same advantages as chairs, such as armrests, back rest, caster wheels, seat tilt, and padding, but they tend to still have fewer obstructions than chairs. Many exam stools offer advantages that are uncommon on standard medical chairs such as foot rings and foot activated adjustments. Most doctors find that stools are more flexible and easier to use with greater maneuverability. Most importantly, clinicians feel that when sitting upon a stool they can remain comfortably seated and still be in-close proximity with their patient to accomplish their tasks.
Types of Stools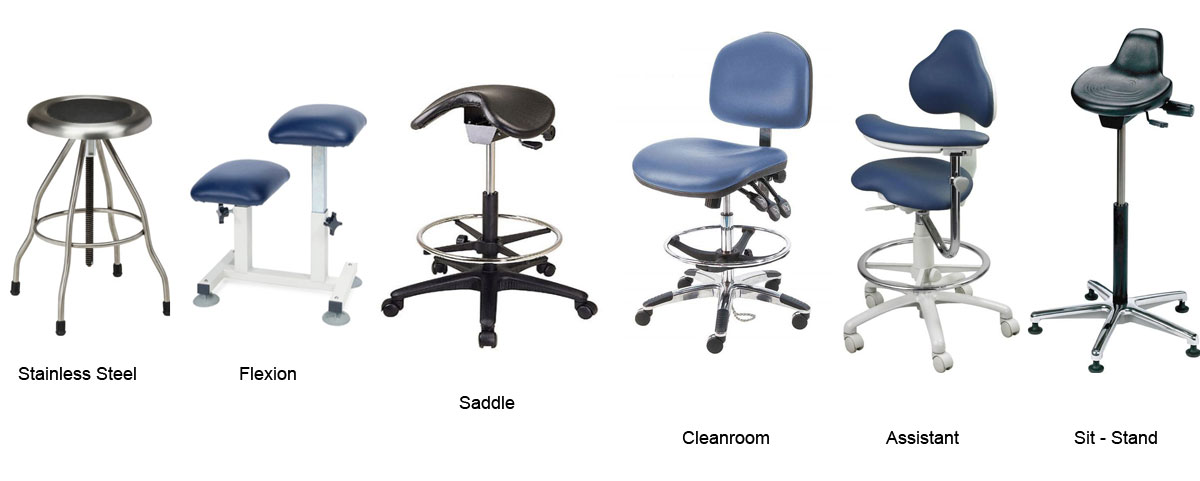 There are many different types of stools designed to support a range of functions. From Lab Stools to Swivel Lab Chairs to Rolling Medical Office Chairs, there is likely a stool developed to meet your specific needs. Below is a list of the more common types of stools available for medical and dental offices.
Air Lift
Assistant
Bariatric
Birthing
Cleanroom
Ergonomic
Exam
Flexion
Gas Lift
Hands-Free
Hydraulic Lift
Kneeling
Lab
Medical
Operator
Pedi
Physician
Pneumatic
Saddle
Screw Lift
Sit Stand
Sonography
Spin Lift
Step
Surgeons
Swivel
Task
Treatment
What Are Medical Stools Used For?
Medical professionals use exam stools and treatment stools to support a seated position while serving patients. These devices support medical professionals by providing comfort and reducing stress. They are used mostly in hospital and clinical settings.
How to Select the Best Medical Stool

Choosing the best medical stool should be based upon the needs of the user the task the user will be doing. The chart below displays the different types of stool to select from and major features you might want to consider in your purchase decision. Stools are the left are more basic in their features and lower in cost and increase in features and functionality as you move to the right of the continuum.
The Top Ranking Medical Stool Manufacturers
The manufacturers listed below design and make exam stools for use by medical practitioners. They are among the most recognized and respected in the medical industry.
Akrus
Armedica
Baxter
Beka
BioFit
Brewer
CardinalHealth
Chattanooga
Drive Medical
Earthlite
Euroclinic
Global
Graham-Field
Haag-Streit
Hidemar
HON Medical
inmoClinc
ISKU
Jorg & Sohn
Lemi
Mabis DMI
Medline
MT Massage
Namrol
Oakworks Medical
Olsen
Pedigo
Roscoe Medical
Stryker
Sunjoy
TechMed
Winco
Medical Studies and Additional Information
Inspired by your history...