Liquid Oxygen
Liquid Oxygen (LOX) is used as therapy for respiratory patients. Medical oxygen in liquid form offers several advantages over the other two oxygen therapy modes. These two modes consist of compressed oxygen and concentrated oxygen. Compressed oxygen is usually dispensed through oxygen cylinders or tanks while concentrated oxygen is offered by electrically powered concentrator machines. Liquid oxygen is stored and dispensed in the home by an oxygen reservoir. This reservoir also refills the portable unit that is carried by the oxygen patient while away from home.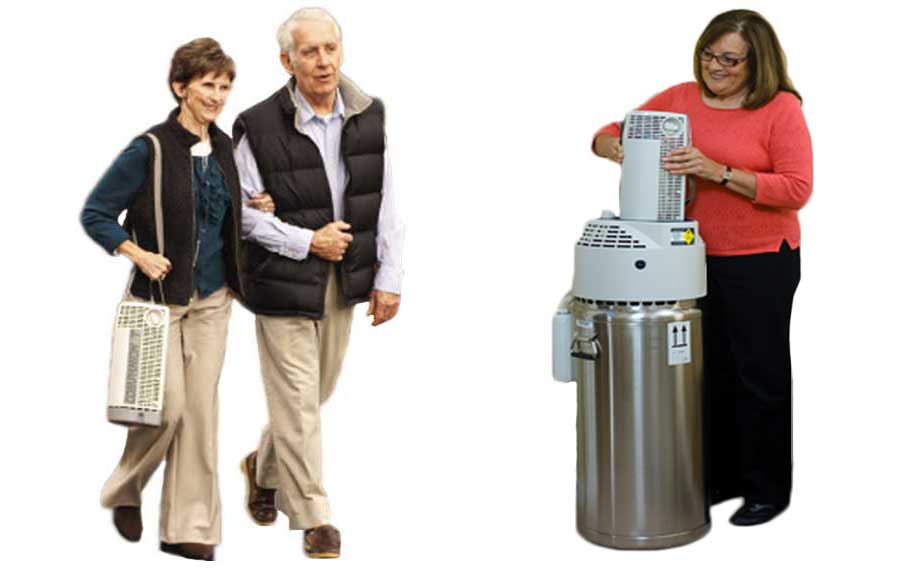 Advantages of Liquid Oxygen
Liquid oxygen is lightweight making it easier to carry than other oxygen alternatives. It lasts longer between refills, giving you more time to run errands or have fun. It provides 100% oxygen with better therapy outcomes. Both the home storage reservoir and the portable carry-a-long do not need a power source. Liquid oxygen offers both continuous flow and pulse flow oxygen. Portable units fully recharge in less than two minutes.
Summary of Advantages
Offers 100% oxygen.
Provides better therapy outcomes.
Offers higher output of up to 15 liters per minute of oxygen flow.
Provides longer supply duration of 5 to 14 hours longer.
No sound emissions during operation.
Very discreet oxygen therapy.
No power source required.
Lightweight and easy to carry.
Short refill time of less than 2 minutes.
Basic Components of Home Liquid Oxygen
There are two basic components for home liquid oxygen. First is a home storage reservoir that is usually refilled every 2 weeks. This device supplies oxygen while the patient is at home and recharges the second component--the portable LOX unit. The portable carry-a-long is lightweight and provides oxygen for an extended period of time. At a setting of 2 liters per minute, the portable unit can provide oxygen for up to 18 hours. Combined, these two components offer an unparalleled oxygen therapy service that provides more patient freedom and a better lifestyle.
Chart Industries is the premier manufacturer in the United States for liquid oxygen therapy devices. Their most popular liquid oxygen brand is the HELiOS.
Product Video
Home Liquid Oxygen Therapy Equipment Video (1:20 minutes)
LOX therapy has been studied by medical professionals around the world and compared with compressed oxygen and concentrated oxygen in numerous studies. Below is a list of resources highlighting some of these studies.
Liquid Oxygen Medical Studies
Reproduced below is a comparison chart, displaying the average characteristics for LOX vs. continuous/pulse flow portable oxygen concentrators. This chart is from a review by Burt Cancaster entitled "Liquid Oxygen Therapy" that details medical liquid oxygen and compares LOX with oxygen concentrators.
Additional LOX Resources
You might be interested in...