IV Dressings / Securement Device
What is the purpose of a catheter securement device? An IV securement device confidently holds the IV catheter in place to prevent needle movement and dislodgement. This improves patient outcomes, adding comfort, and reducing additional needlesticks. There are two options to choose from depending on whether the catheter is exposed or covered. A securement IV clear dressing covers the site but still gives visual access with an inspection window. Vitality Medical supplies a variety of securement devices as well as IV dressings to control moisture and prevent infection.

IV Securement Options
IV Stabilization Devices - clamps onto the catheter's housing unit to guide needle placement and then stick to the patient's skin holding it firmly into position. The StatLock Ultra Stabilization Device has a skin-friendly adhesive anchor pad that sticks to the patient's skin without irritating or tearing the skin. The center clamp holds the catheter housing with stabilizer options for peripherally inserted central catheters (PICC lines).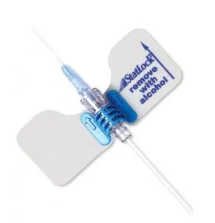 IV Securement Dressings - is a two-in-one product that holds the catheter comfortably in place with its bordered adhesive dressing. The breathable film prevents moisture buildup for infection reduction. The clear dressing window gives site visibility for medical professionals to easily identify if there are potential complications at the IV site.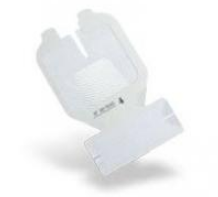 Types of IV Dressings
Drain and IV Sponges - are packaged in individual sterile packages to prevent infection. The sponge has a pre-cut T-slit to form around the IV catheter or other medical tubing. The purpose of the sponge is to cover the site, absorb moisture, and keep bacteria from the IV site. The pre-cut notch makes application fast and easy by eliminating the need for cutting while preserving sterility. The sponge's non-woven material avoids introducing thread strands at the site. IV sponges do not have an adhesive and require a secondary dressing with adhesive if desired.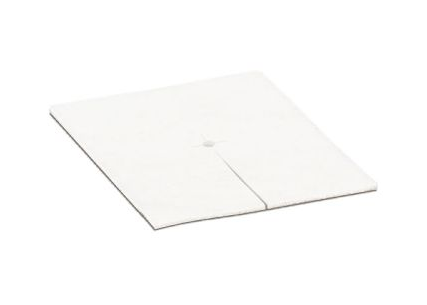 Transparent Securement Dressings - provide moisture control, cover catheter sites, and hold the IV catheter in place - as listed above. This clear dressing allows medical professions to view the catheter site while keeping the site clean and dry. Sterile securement dressings include products like Tegaderm, which is impregnated with chlorhexidine gluconate (CHG) to optimize infection control. Using a standardized non-touch technique to remove the backing is one more step in microbial contamination prevention.
Frequently Asked Questions (FAQs)
How often should an IV dressing be changed?
IV catheter site dressings can be left in place for up to seven days. Daily examinations will indicate if additional dressing changes are needed.
How often is a PICC line dressing changed?
The dressing is changed every week. If the site becomes wet or dirty or adhesive is compromised, change it sooner.
How often is an IV gauze dressing changed?A gauze sponge IV dressing must be changed every two days or sooner if saturated and soiled. Clear dressings with adhesive protect the catheter site for up to a week.
What is in a StatLock dressing kit?
This StatLock Dressing Change Kit is fully equipped for a standard PICC or CVC dressing change. It contains an IV stabilization device, mask, gloves, IV dressing, measuring tape, foam strips, alcohol swabstick, ChloraPrep applicator, and dressing change label.
You might be interested in...