IV Connector & Caps
What is an IV Connector?
Needleless Connectors dedicate a safe pathway for aspiration of fluids, medications, or blood draws via a peripheral, arterial, and central venous catheter. They are attached to the catheter hub, eliminating further needle access and reducing potential harm or needlestick injuries to medical staff. Although needleless connectors serve this valuable purpose, they also can lead to bloodstream infections if not handled properly. Vitality Medical supplies a variety of IV connectors that utilize technology to maximize priming volume while minimizing thrombotic catheter occlusions and bloodstream infections.
Additionally, disinfecting caps like Curos caps protect the IV connector valve in between uses. These small IV port caps offer big outcomes by creating an antiseptic barrier to reduce central line-associated bloodstream infections. Inside the cap is an impregnated sponge containing isopropyl alcohol to effectively kill bacteria for up to seven days.
Types of Connectors & Adapters
Needless Connectors for IV Catheters have a translucent or opaque external housing. A clear connector like the CLEARLINK Luer Activated Valve offers an advantage giving a view at-a-glance if residual blood or other matter is left behind. This design is also referred to as a Luer lock IV connector. The Luer housing slips in and rotates for a firm connection.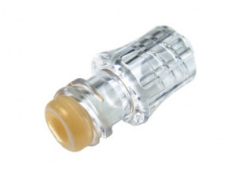 Clave Needleless Connectors use a dynamic clave design to protect the fluid pathway. The MicroClave Connector automatically closes the fluid pathway once the syringe is removed. The clave prevents the syringe's Luer end from touching the fluid pathway. The flat end also makes it easy to disinfect with an alcohol prep wipe.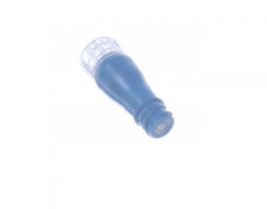 Spike Adapter fits into the IV bag connector to dispense fluids to the patient.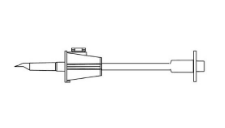 Vial Adapters provide safe access to a standard size vial and connect with a male or female Luer end syringe. The CLEARLINK Vial Adapter ensures leak-free connection when removing the solution from the vial that can be administered by needle injection or via the catheter.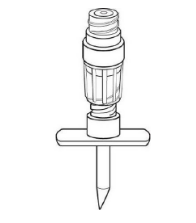 Luer Adapters such as the BD Luer Adapters, are the answer when connecting to a Winged Infusion Set or a winged blood collection set and it comes with a screw cap instead of a Luer end.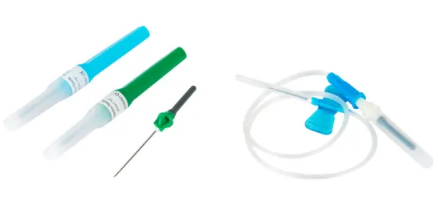 IV Caps Frequently Asked Questions FAQs
How often should IV line caps be changed?
The SwabCap and Curos brand of disinfecting caps can be left in place for up to seven days. If the cap is removed, change immediately or change when the IV catheter is replaced.
Does a PICC line need a cap?
Yes, it is recommended to use the cap to prevent infection on a PICC line or other variations of an IV catheter.
How do you use Curos Caps?
Remove the protective foil. Push and twist the cap clockwise into the needleless connector.
IV Connector Frequently Asked Questions FAQs
How often should needleless connectors be changed?
Every 72 hours or anytime the IV system is manipulated to reduce the risk of infection.
Are needleless connectors used with extension sets or administration sets?
Yes, these connectors can be secured to the Luer-fitting injection sites or use a Y-site connector.
You might be interested in...