Invacare Platinum Mobile Oxygen Concentrator (Portable)
TOP Features:
✓

3-Year Warranty

✓

Quiet Operation

✓

AC and DC Operation

✓

Carry Case Included

✓

Cannula Included

✓

Only 6 lbs. Carry Weight

✓

Up to 10 Hours of Battery Operation

✓

Water Resistant
Fast Delivery

RX Required
MPN:
Grouped product items
Item#
Description
Size
Price

POC1-100C

Concentrator with ONE Battery -

Ships Free!

Each

POC1-100CA

Concentrator with TWO Batteries - 2 - 4 Weeks Lead Time -

Ships Free!

Each
Description
What Comes in the Box?
List of Components
Invacare Platinum Mobile Oxygen Concentrator
Battery
AC Power Adapter and Cord
DC Power Adapter and Cord
Carry Case
Cannula
User Manual
3 Year Warranty on Unit
2 Year Warranty on Compressor
1 Year Warranty on Sieve Beds and Battery
90 Day Warranty on Accessories
Invacare Platinum Mobile Oxygen Concentrator POC1-100C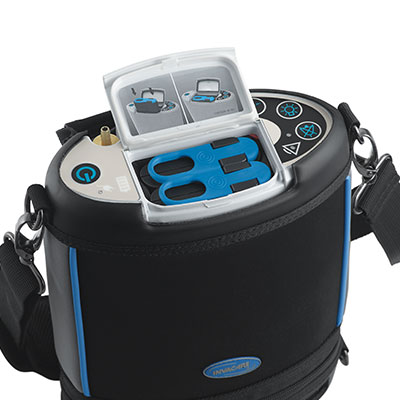 Invacare Platinum Mobile Oxygen Concentrator is a lightweight, portable for travel. The FAA approves of this medical device for airline travel. It offers pulse flow oxygen with 5-flow settings and has a flow range of 2 to 10 L per minute. The maximum outlet pressure is 9 PSI ± 0.5, and it can operate up to 10,000 feet above sea level. The typical amount of wattage for operation is 585 watts.
Power Sources
Platinum Mobile Concentrator may operate from three different power sources. Its electrical sources include AC power, lithium-ion batteries, or from a DC power outlet in your car, boat or RV. The battery is rechargeable and operates independently for up to three-and-a-half hours on setting 2. The internal battery compartment holds up to two batteries giving you a 7-hour range away from an external power source. You can exchange one battery while the other battery provides uninterrupted operation. The battery cells are top loading, so you do not have to remove the unit from its carry case to exchange batteries. The battery has a long life cycle of 500 full discharges and recharges. The AC power is auto-sensing and is capable of ranges from 100 to 240 VAC, 50 to 60 Hz. The multiple power source capability allows you to go wherever you need to go for extended periods.
Quality Construction
The controls are easily reachable on the top of the machine even when placed in the carry bag. The carry bag includes reinforced bumpers for added machine protection against accidental bumps. Encapsulated in foam, the compressor has additional protection against jolts that can damage performance. Ports and vents have fins that face downward to meet IP22 water resistance standards. Getting caught in the rain will not damage your machine.
Portability
Manufactured by Invacare, the machine weighs less than 5 pounds while carrying one battery. Its size and low weight make it ideal to go with you wherever you go. Its size accommodates narrow hallways or crowded shopping aisles. Its small size fits easily in a shoulder bag or backpack. When purchased, this machine includes a 3-way carry case that converts to a shoulder bag, backpack or handbag. This is wearable and can easily support you where ever you need to be.
Vitality Medical provides Replacement Parts and Accessories for this machine. Invacare manufactures two other top-selling home oxygen machine listed below.
Top Features
Compare Product Bundle Options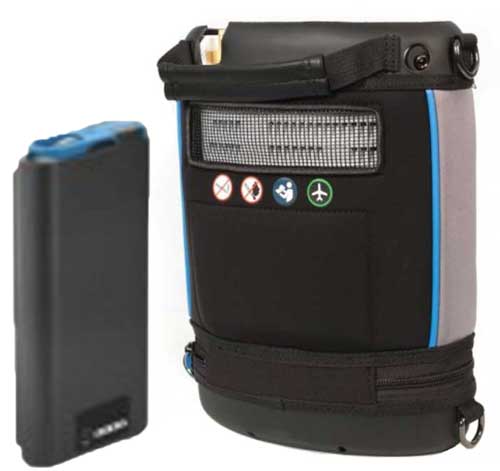 Unit with One Battery
Carry Weight: 6-pounds (with unit, one battery and carry bag with strap)
Battery Duration: up to 5-hours (setting 1)
Battery Recharge Time: 2-hours 20-minutes
Battery Type: Lithium Ion
Battery Life Cycle: 500 Charges/Discharges







Unit with Two Batteries
Carry Weight: 7-pounds (with unit, two batteries and carry bag with strap)
Battery Duration: Up to 10-hours (setting 1)
Battery Recharge Time: 4-hours, 40-minutes
Battery Type: Lithium Ion
Battery Life Cycle: 500 Charges/Discharges
Product Features and Benefits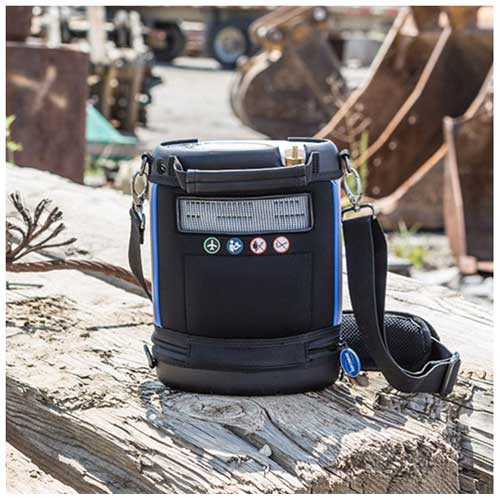 Features and Benefits
FAA approved for commercial flights
Small and compact
Lightweight and easy to carry
Five levels of pulse oxygen flow
Top loading batteries provide easy access
Top loading batteries provide easy access
Durable exterior with impact and water resistant
Simple LCD interface with large buttons
HEPA filter positioned for easy access and replacement
Switch batteries without turning off the machine
Convertible carry bag serves as messenger, handbag, or backpack
Product Specifications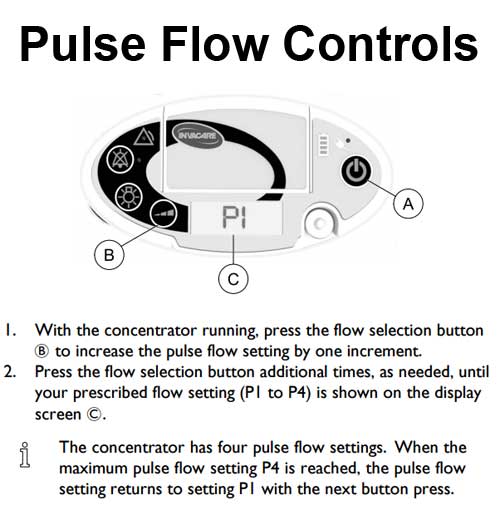 Product Size and Weight
Width: 7.5 Inch
Height: 9.45 Inch
Depth: 3.88 Inch
Weight: 6 pounds with one battery, carrycase and carry strap
Product Performance
Noise: 40 dBA
Oxygen Concentration: 87 to 95.6%
Oxygen Flow Type: Pulse
Pulse Settings: 1 to 5
Maximum Oxygen Flow: 880 mL per minute
Maximum Outlet Pressure:
Operating Temperature Range: 41 to 104 degrees Fahrenheit
Operating Altitude Range: 0 to 10,000 feet above sea level
Product Operation
Average Power Consumption at setting 2 (watts): 40 watts
AC Power: 100 to 240 VAC, 50 to 60 Hz, 1 Amp (auto sensing)
Battery Duration
Single Battery: Up to 5-hours
Double Battery: Up to 10-hours
Battery Charging Time
Single Battery: 2-hours, 20-minutes
Double Battery: 4-hours, 40-minutes
Use: Stationary, portable, and travel
FAA approved
Quality and Dependability
Product Numbers: POC1-100B, POC1-100BA
Manufacturer: Invacare
Brand: Platinum
Made in the USA
HCPCS Code: E1392
The new Platinum Mobile replaces the old Invacare XPO2
Warranty: 3-years unit, 2-years compressor, 1-year sieve beds and battery, 90-days accessories
Please note: oxygen concentrators are for supplemental use NOT as a primary source of oxygen. The user may experience periods of inactivity due to interruption in electrical power or the need to have the device repaired.
The customer is responsible to arrange a backup source of supplementary oxygen in case of device failure. Vitality Medical assumes no liability for failure to provide a backup or the failure to adhere to manufacturer recommendations.
Additional Information
Replacement Parts and Accessories
AC Power Adapter (item # POC1-130) - powers your O2 device using the electricity in your home or office
DC Power Adapter (item # POC1-140) - powers your concentrator from a car, boat, or RV. It operates on 12 volts
Replacement Battery (item #POC1-110) - lithium ion battery
Desktop Battery Charger Accessory (item # POC1-115) - charge one battery while you are away from home with your concentrator
Carry Bag (POC1-150) - three-in-one carry bag serves as a messenger, shoulder bag, or backpack
Outlet Filter (1195095) - strains incoming air to protect your machine
Medical Studies
Reasons to Buy Online at Vitality Medical?
Certified Oxygen Concentrator Specialist - Get your questions answered by a trained and tested specialist. Call toll-free to 800-397-5899.
Easy Warranty Processing - If your O2 machine stops operating while it is under warranty, call our toll free number 800-397-5899 to get your machine repaired. Vitality Medical will send you a loaner while your device during the repair.
Product Videos
Introduction Video (3:30 minutes)
Review Video (1:47 minutes)
POC1-100C Quick Start Guide Video (2:16 minutes)
Easy Maintenance and Serviceability Video (1:22 minutes)
Additional Information
More Information

| | |
| --- | --- |
| Manufacturer | Invacare |
| Oxygen Flow | Pulse Flow |