Nutrition Drinks for Kids or All Ages
Vitality Medical carries a wide variety of wholesale nutritional drinks for kids, pediatrics, and children in liquid and powder form from top manufacturers and brands like Pediasure, Nutren, Nestle, Novartis, Enfamil, Neocate, Boost, and Mead Johnson.
Questions to Ask When Choosing Supplement Drinks for Kids
What Are My Child's Dietary Requirements and Restrictions?
Of course the most important question any parent can ask is what their child's nutritional needs are. This includes protein content, fat content, calories, carbohydrates, vitamins and minerals, sugar, and fiber. Most drinks aim towards a complete balance of these ingredients and most children need a healthy balance of them. However, the inclusion of more or less of any one of the nutritients in a diet is not necessarily the best for every child. Every child's body is different and may have different needs. For instance, some children are unable to metabolize proteins properly, while others need high-caloriic intake because they are underweight. There are specialized nutritional drinks that are designed to accomodate restrictions or needs. Of course, allergies and intolerances should also be taken into account. Parents should talk to their doctor's about their child's unique needs before making decisions about dietary products.
Will My Child Enjoy this Beverage?
No one wants to purchase a product just to find out that their child refuses to drink it. The two main factors parents will want to consider for the determination of enjoyability are flavor and texture.
Flavor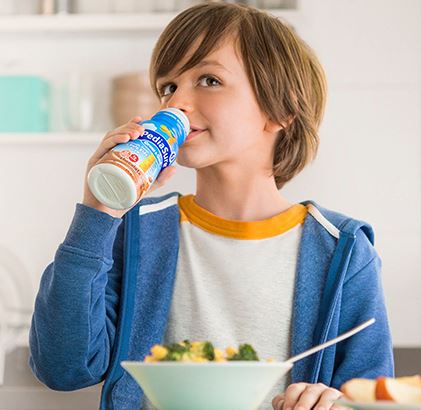 Vanilla and chocolate are the most popular flavors and they often do the trick for both kids and adults. However, some kids may still dislike the flavor of these drinks. Fortunately, there are health beverages, including protein shakes, for picky eaters. These products come in either powder or liquid form and can be mixed into beverages and soft foods. Kids won't even know they are there!
Some brands also offer less common fruity flavors such as PediaSure Grow & Gain (also available in a version with added prebiotic fiber) comes in creamy strawberry and banana flavors in addition to traditional vanilla and chocolate. For kids with PKU (phenylketonuria), there is Lophlex LQ, which comes in berry, orange, and tropical flavors.
Texture
Texture is another factor to consider when choosing a healthy drink. Pre-mixed liquid drinks tend to be less gritty than those that must be mixed from powder, however, powder versions are often more cost-effective than pre-mixed versions. Parents will want to weigh and balance these two factors when deciding on a supplement drink option for their child. In addition to these factors, some powders, such as the Super Soluble Duocal linked below, are designed to be extra-soluble to prevent grittiness.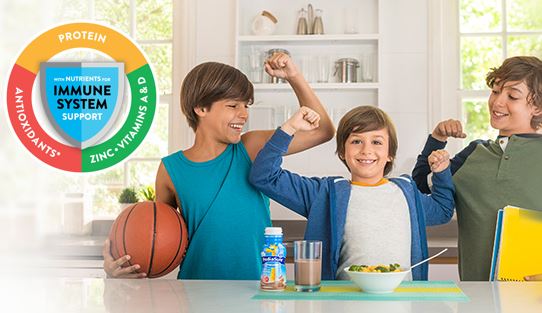 What About Price and Convenience?
Prices and convenience factors vary widely depending on the type of drink and its volume. Vitality Medical offers both pre-mixed liquid beverages and powdered beverage mix-ins, each of which has its pros and cons. Like most other products, buyers will pay more for increased convenience. Often, powders create more liquid volume when mixed than that which would be received with the purchase of pre-mixed drinks for the same price.
Buying in higher quantities or volumes will also often get the customer a better price. These drinks tend to stay good for quite a while, so many parents choose to buy in bulk to save on cost. Parents should also consider that some of the pre-mixed products come in individual bottles and some come in large volume cans. When it comes to pre-mixed drinks, buying individual bottles is more convenient, but it is also more environmentally wasteful and almost always more costly.
Best Selling Nutrition Drinks for Children
PediaSure Vanilla Complete, Balanced Nutrition (with and without Fiber)
Everyone has heard the name PediaSure, but is it any good? Our customers believe so. PediaSure Vanilla Complete, Balanced Nutrition is our top seller and it comes in several options to fit a variety of needs. This high-calorie, the milk-based formula is designed for kids ages 1 - 13 years who are at risk of malnutrition. It comes in an eight-ounce can and in liquid form, which means no mixing is necessary. The standard version has 1.5 calories per milliliter, is high in protein and omega-3s, and includes 27 vitamins and minerals to ensure your child gets the calories and nutrients needed for growth. The PediaSure ingredients in this formula are completely free of artificial growth hormones and are gluten-free, kosher, lactose intolerance, and halal diet-friendly.
In addition to the standard version, prebiotic fiber and enteral feeding versions of this product are also available. Both of these options maintain most of the same qualities as the standard version but with additional specialized benefits. The fiber option helps support digestive system health and may provide relief from constipation, while the enteral feeding formula is made especially for tube feeding and comes in both 1.5 and 1.0 calories per milliliter options. PediaSure for Kids Complete, Balanced Nutrition makes it easy for every parent to find the perfect product to fit their child's needs.
Nutricia Duocal Super Soluble
Another popular weight gain supplement for children is Nutricia Duocal. Picky children won't even notice this addition to their everyday diet. This is because this product is flavorless and comes in powder form, so it can be mixed into any drink or soft food (such as applesauce, pudding, or soup) without altering the food's texture or flavor. This product is high in carbohydrates, fats, and calories but has no protein, vitamins, or minerals. This makes it perfect for children who have protein-restricted diets due to protein metabolism and absorption disorders. This product can be used for tube feeding purposes and is artificial coloring and flavoring, sweetener, preservative, and dairy-free. It is also kosher-friendly.
Nestle Compleat Pediatric Tube Feeding Formula

Compleat Pediatric by Nestle is another crowd-pleaser. This pre-mixed tube feeding formula is unflavored, yet made with real ingredients, including peaches, cranberry juice concentrate, carrots, tomatoes, peas, green beans, and chicken. All ingredients are non-GMO and provide complete nutrition. Every daily feeding provides an entire cup of vegetables and fruits and is chock full of key vitamins and minerals. This product contains 1 calorie per milliliter (250 calories in each 250-milliliter bottle), 9.5 grams of fat, and 9.5 grams of protein. A reduced-calorie version of this product is also available through Vitality Medical. The reduced-calorie option contains 100 calories less (just 150 calories per 250 milliliters), 5 grams of fat, and 7.5 grams of protein in each bottle.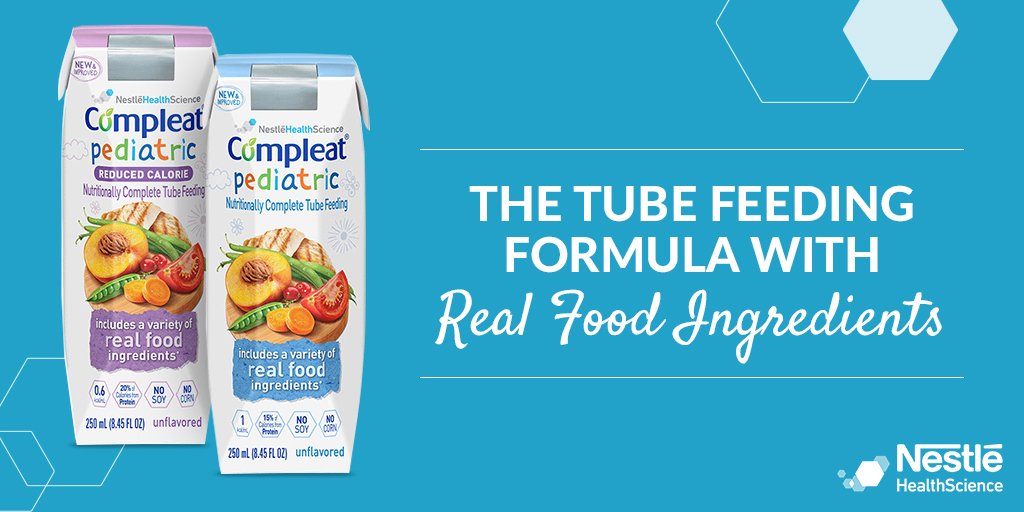 Frequently Asked Questions
Which is the best health drink for child?
This depends on your child's specific health needs. A doctor should always be consulted before a decision is made about altering a child's diet. Our most popular drink for the general use of adding supplemental nutrition to a child's diet is PediaSure Complete, Balanced Nutrition.
What drinks are good for toddlers?
Vitality Medical sells many drink options that are appropriate for toddlers, including the popular Boost Kid Essentials. Check out the nutrition data sheets and other informational documents included at the bottom of the webpages of our many drink options to find age specifications for a particular drink.
At what age can a child have protein shakes?
Most kids do not need protein added to their diets. Protein deficiency in children is rare because they usually get enough of it from the food they eat. However, in instances in which the child is underweight, has been diagnosed with a medical condition, or is on a vegetarian or vegan diet, additional protein may be needed. Protein can be taken after the age of one when necessary, but parents need to make sure they get products that are formulated specifically for their child's age group. Always consult a doctor before adding nutritional beverages to a child's diet.
Sources
Inspired by your history...