Swipe to the right
Tranquility EliteCare Briefs Review
Medically Edited and Reviewed by Dr. Erin Zinkhan MD, BSBE
Updated: 05/26/2019
Tranquility EliteCare Briefs
Tranquility EliteCare Review Video (5:00 minutes)

Transcript of Tranquility EliteCare Video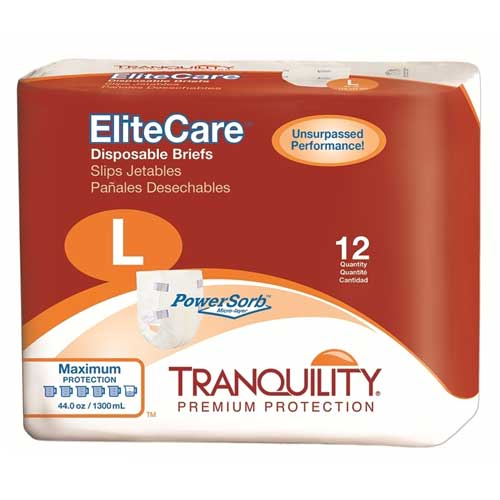 Hello, we are here today to test the outrageous claims of Tranquility about their new EliteCare briefs. These briefs are being marketed as the "All Day – All Night – All Solutions Brief!"
Tranquility claims that these highly absorbent briefs can take up to 44 ounces of liquid.
That's right, 1.375 quarts, 1.3 liters, or 5.5 cups of fluid!
That my friends is a lot of liquid! Graphically, 5.5 cups look like this in the Tranquility EliteCare brochure.
Note on this chart that regardless of the size of the brief, it will hold 5.5 cups of fluid.
These briefs have the following features and benefits:
PowerSorb Micro-layer – increases absorbent capacity without adding extra bulk to the brief.
Ultra-thin, ultra-dense, non-pulp retention layer – draws moisture in and retains it, not allowing fluid to be forced out even under pressure. This feature keeps fluid away from your skin to keep you drier and reduces odor. The urine is also pH neutralized, inhibiting harmful bacterial growth.
Cloth-like outer layer with micro-hook closure tabs - provide for closure around the body and is re-adjustable.
Kufguards - or inner leg cuffs channel fluid into the core, helping to contain high volume urge episodes and bowel incontinence.
Dual wetness indicator – that turns from yellow to blue when moisture is present, thus eliminating unnecessary changes and reducing costs.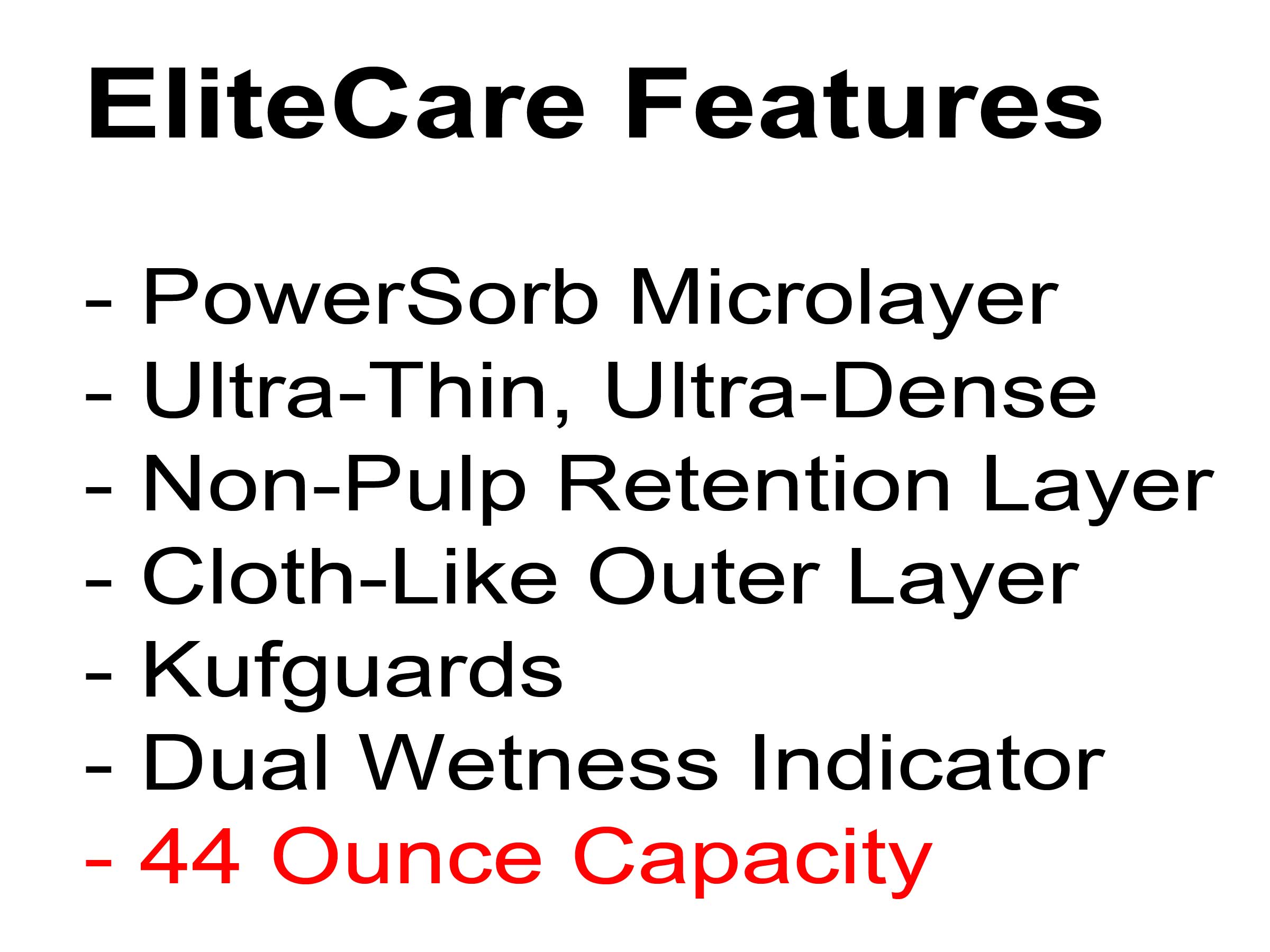 In summary – Tranquility EliteCare Briefs offers an increased level of absorbency to accommodate individuals' needs for more protection and extended wear-time. Extended wear-time also allows for uninterrupted sleep, keeping appointments and confidence to travel, all without compromising skin integrity.
We have a volunteer test subject here to demonstrate the high capacity of this incontinent brief.
Meet Reggie, everybody. Reggie has volunteered to be our "test dummy" for this project. We want to assure you right from the start that no mannequins will be harmed in the filming of this video. How do you feel about that, Reggie?
As you can see, Reggie has a fantastic poker face.
To begin, we will place the brief over the area where Reggie is prone to spring a leak.
One of the essential tests of this project is to see if leaks develop around the areas where the legs join the torso where most briefs tend to fail.
We will use this small funnel device to direct the fluid to the center of the protective brief.
Now, this funnel does have a little oil smeared on it from my last oil change on the car, but you won't mind that will you Reggie?
Great poker face!
OK, that is now five and ½ cups of water and still no leak.
As you can see from the results of this test, the outrageous claims of Tranquility about the absorbency of their incontinence products are actually factual. That is probably why Tranquility products are rated #1 by caregivers and medical professionals.
This concludes our test of the new Tranquility EliteCare--All Day – All Night – All Solutions Brief. Now its time to change Reggie's brief. Who's turn is it to change Reggie this time? Burt, Adam, common I did the last one…..
Vitality Medical
7910 South 3500 East, Suite C
Salt Lake City, UT 84121
(801) 733-4449
[email protected]
VitalityMedical
Vitality Medical
7910 South 3500 East, Suite C
Salt Lake City, UT 84121
(801) 733-4449
[email protected]
VitalityMedical