Swipe to the right
Ostomy Care Tips
Medically Edited and Reviewed by Dr. Erin Zinkhan MD, BSBE
Updated: 07/17/2019
Have you recently undergone a surgical procedure on your intestines, such as a colostomy? During some surgical procedures on the intestines, surgeons may bring part of the intestines to the surface of the abdomen in an opening called an ostomy. Some ostomies bypass the lower part of the intestines and allow for digested food to exit the body.
Are you unsure of how to take care of your ostomy? Proper ostomy care requires knowledge about your current medical condition and awareness of some basic ostomy care tips.
Here are some of these ostomy care tips:
Tips For Handling Your Pouch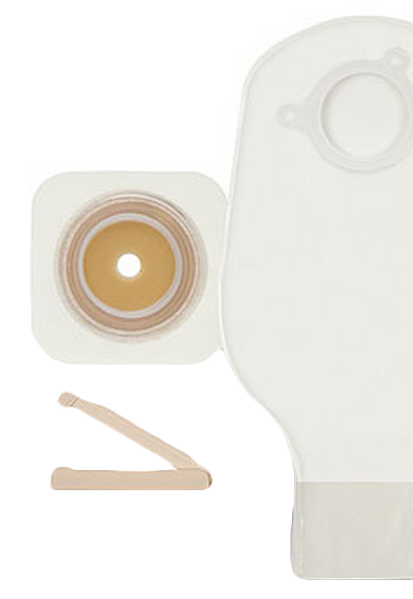 It is important that to prepare the new ostomy pouching system before you remove the old, used one.
Take care to empty your current pouch when it is between one third and half full. It is not advisable to let the pouch overfill.
It is recommended that you adopt an ostomy pouch changing routine which includes placing a new ostomy in the morning before you eat or drink anything.
When you apply a skin barrier, it is best to hold it against your skin for between 30 - 60 seconds. This will ensure better contact with the skin.
Tips For Skin Care
Make sure that you don't use soap, lotion, or other types of cream on your skin where the ostomy bag will be secured.
Do not apply powder, alcohol wipes, ointments, baby wipes, or steroidal medications unless prescribed by your doctor specifically for the skin around your ostomy.
Notify your doctor if you develop broken or irritated skin or a red rash on the skin's surface.
If you use an adhesive remover wipe, clean the skin with soap and water after using the adhesive remover. Allow your skin to dry before you stick the new skin barrier in place.
Routine Care Tips
Wash your hand wipes every time you change your ostomy bag.
Change your ostomy bag twice weekly. You should not use the same bag for more than seven days.
If you are engaged in increased activity and are perspiring more, then the pouch wear time be shorter. It is important that you plan accordingly.
If you plan to travel, it is important that you take extra ostomy supplies and make sure to keep all your ostomy products in your carry-on bag. It is recommended that you cut your skin barriers beforehand because you may not be able to travel with scissors on the plane.
A doctor's prescription is recommended if you travel with an ostomy, so that you can more easily deal with questions that the authorities may have.
You can take a bath or shower with your ostomy pouch attached.
If you experience changes in your pouch wear time, consult the expert advice of an ostomy nurse specialist.
Store all your extra ostomy supplies in a cool and dry place.
By simply following all these ostomy care tips, you can enjoy a happy and healthier life.
Vitality Medical
7910 South 3500 East, Suite C
Salt Lake City, UT 84121
(801) 733-4449
[email protected]
VitalityMedical