Swipe to the left
New Research on Lung Bacteria could mean new treatment for Some Types of COPD
Everyone's lungs have hundreds of types of bacteria living in them all the time. These colonies are both potentially good and bad depending on their effects on the body. The colonies of bacteria living in our lungs is called a microbiome and researchers are working towards better understanding it to help create new treatments for COPD and ultimately to unveil the causes of COPD.1
Is COPD Treatment Hurting or Helping Your Microbiome?
Each day your lungs are exposed to pathogens and chemicals and sometimes even drugs for COPD treatments or other conditions. Every time we are exposed to these environmental factors one side in the war ends up winning.
How do Breathing Treatments for COPD Affect it?
For many individuals with chronic obstructive pulmonary disorder a treatment plan involves using a handheld inhaler. While the benefits of bronchodilators and inhaled corticosteroids are convenience, portability and sometimes life-saving, the downsides are the many people don't use them correctly and that the treatments deal with symptoms rather than the cause. Many doctors who prescribe inhalers can't explain to patients how to properly use inhalers.2 Individuals who use inhalers have different bacteria in their lungs but researchers don't yet know why or what this means for individuals with COPD.3 Some researchers seem to think taking a corticosteroid alone could have serious effects by increasing bacterial populations.4
Nebulizer treatments for COPD are used for antibiotics, bronchodilators, corticosteroids, and several other types of medications. Some nebulizer treatments like TOBI tobramycin solution for inhalation need a special nebulizer like the DeVilbiss Pulmo Aide to even administer the medication.
Researchers have found that if they treat their patients with antibiotics alone the population of lung bacteria becomes much less diverse, eliminating many bad bacteria. The growth of these bacteria is then delayed for a time. If treatment for COPD includes a steroid the bacteria populations increase faster once again.4
What Does this Mean for Your COPD?
The treatments for COPD available at this time are mostly used to combat symptoms during exacerbation. The final effect on the cause of COPD is still unknown. Finding the best way to deal with these symptoms is the greatest concern. Nebulizer therapy can be a much better option for many individuals especially because they are usually easier to use than inhalers. Ease of use and portability don't need to be sacrificed to use a nebulizer. For instance, using nebulizer like the MABIS CompXP Deluxe Compressor Nebulizer can greatly reduce the limitations of using a standard nebulizer. Adherence to a COPD treatment program can be critical to recovery and prevention of future exacerbations.5
What Can You do Now?
Learning as much as you can about treatments is the best option for COPD exacerbation prevention. Knowing how to select the right oxygen concentrator and using it properly can help you to get the correct amount of oxygen your body needs. Getting a complete run-down on how to properly complete your nebulizer treatment can make a huge difference on your overall quality of life. Knowledge and committment are most beneficial to prevent future exacerbations.
Citations
1R., Dy; S., Sethi. The lung microbiome and exacerbations of COPD. Current Opinion in Pulmonary Medicine. May 2016, Volume 22, Issue 3 p. 196-202. Web. 6 July, 2016. .
2Alismail, A. et al. Diverse Inhaler Devices: A Big Challenge for Health-Care Professionals Respiratory Care. May 1, 2016 vol. 61 No. 5 pp.593-599. Web. 8 July, 2016.
3Pragman, A. A. et al. The Lung Microbiome in Moderate and Severe Chronic Obstructive Pulmonary Disease. PLOS one Open Access PLoS ONE 7(10): e47305. doi:10.1371/journal.pone.0047305. Web. 7 July, 2016.
4Huang, Y. J. Et al. Airway Microbiome Dynamics in Exacerbations of Chronic Obstructive Pulmonary Disease. Journal of Clinical Microbiology. 2014 Aug; 52(8): 2813-2823. Web. 7 July., 2016.
5Santos-Longhurst, A. Nebulizers for Sever COPD. Web. 8 July, 2016.
Peter Henry, Author
Vitality Medical
7910 South 3500 East, Suite C
Salt Lake City, UT 84121
(801) 733-4449
[email protected]
VitalityMedical
After a long winter, millions with physical disabilities or long-term illnesses are eager to get out of town -- or the country. With just a little planning, bringing along an oxygen therapy device, special medicine or mobility aid is a breeze. Planning will also make your trip that much more enjoyable because you will have the same wellness and mobility that you do at home.
First Things First: Know Before You Go
Beyond financially planning for contingencies like a minor mishap or gotta-have-it impulse purchases, ask your hotel the right questions ahead of time:
Will my room be wheelchair accessible?
Is there a working elevator?
Does the pool area have a lift?
How wide are halls and door entries? Will a wheelchair or mobility scooter fit?
Is there a working ice machine to keep medicine cool? Are rooms available with mini-fridges for sensitive medication?
Ask your pharmacist what medicine alternatives are available if heading overseas -- just in case. Also, budget in the costs in case insurance won't cover expenses abroad.
Make a checklist of pertinent questions and avoid the siren song of discount rooms online -- do your homework and call before booking!
Let's Get Packing
Lay out your medicines and make a daily dosing protocol list to stay on top of them -- especially if traveling through multiple time zones in one day. Do you use medication that requires multiple accessories like insulin? The right kind of pouch, such as Medicool's Dia-Pak Deluxe Diabetic Travel Bag, has thoughtful features to help you organize up to two weeks' worth of supplies. Don't forget to pack items, such as the LifeScan Logbook Diabetic, that help you maintain a proper regimen despite the rigors of travel.
Hit the Road, Jack
The oil's been changed, wiper blades have been checked and the fossilized French fries have been vacuumed out -- the car's ready to roll; right? Maybe, but a few economical items will make the most of every road trip. Stander's Automobility Solution, for instance, features a clever swivel seat that enables occupants to twist and pivot in/out of a car. The kit also includes a handle that mounts tool-free to a vehicle's door latch for additional stability during vehicle ingress/egress.
Between convenience store pizza and 64-ounce fountain drinks, sickness and gotta-go moments can strike anyone -- at any time. Keep your vehicle's interior pleasant and sanitary with conveniences such as a Car Sick Kit with a special bag that locks in odors or NuHope's Travel Urine Collector that aids ostomy and catheter users when rest stops are few and far between.
By Air
Major U.S. airlines are very sensitive to passengers traveling with a Portable Oxygen Concentrator. However, there are a few guidelines they, and we, like to remind passengers of:
Battery life -- Oxygen Therapy patients must have a battery life that is equal to 1.5 times (or 150%) of the scheduled flight time. This ensures that portable oxygen concentrators have power for unexpected delays or diversions.
Ask, ask, ask -- Before booking, call your carrier's customer service division to ask about special protocols they may have for on-board oxygen concentrator use.
If traveling internationally, Vitality Medical advises you to check with us or your machine's manufacturer about overseas usage because this may void the factory warranty. Select machines may not be compatible with European- or Asian-market power outlets and may require an additional adapter or alternative plans if overseas usage is impossible.
If taking your oxygen concentrator on the road or overseas isn't a possibility, Vitality Medical has a rental program that supports your wanderlust. Several different brands are available and dedicated Oxygen Concentrator Specialists will provide support and oversee shipping logistics.
All Roads Lead to...
Several clever mobility accessories support all travelers, provide stability and discreetly tuck away once you reach your destination.
Visiting a relative without a ramp? No sweat! A travel-ready wheelchair/scooter ramp from Drive Medical will put everyone at ease, protect your host's home and let you focus on visiting. Several innovative walking aids out there help you make the most of tours, museums and gallery strolls. These include Medline's Folding Aluminum T-Handle Cane that cane that folds into a compact, ready-to-store unit when you reach your destination. Another handy item is Mountain Properties' Elite Walking Cane that features a fold-out seat with three legs for stability, making sure you always have a place to rest.
Spring's arrival means you'll likely be off to see dads and grads, so make sure you're ready. A little planning ahead of time means a physical disability or illness won't stop you from enjoying our big, beautiful world!
To a life full of Vitality!
What is an oxygen refill system?
Oxygen Cylinder Refill Stations are also known as oxygen transfill systems or homefill oxygen devices. Oxygen refill stations are portable oxygen cylinder refill devices used at home to fill empty oxygen tanks. These oxygen refill machines utilize concentrated oxygen extracted from room air using oxygen concentrator technology. ReFill systems pressurize the concentrated oxygen to fill empty oxygen tanks. This allows you to safely refill oxygen cylinders within your own home, providing you with unlimited, refillable oxygen. Oxygen therapy patients can obtain more freedom to come and go as they please and no longer need to depend upon a local oxygen vendor to refill their empty oxygen tanks.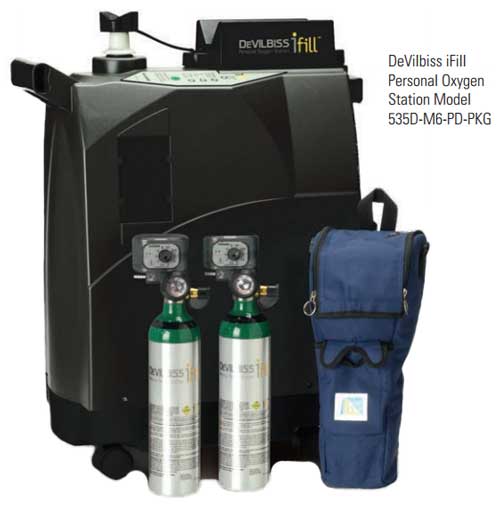 Why use an oxygen refill system?
The ability to fill oxygen cylinders at home provides greater independence and freedom for oxygen patients. Home oxygen eliminates time-consuming and costly service calls often associated with oxygen tank pickup and deliveries. By filling your own oxygen tanks, you control your own schedule and are not dependent upon a third party. Come and go as you please, knowing that another filled oxygen cylinder is always ready for use.
When can you use an oxygen refill system?
Empty oxygen cylinders may be refilled while you sleep, while you are away shopping or anytime that you have an empty cylinder that requires refilling. You can refill empty oxygen tanks day or night. Just place the cylinder in the refill machine and turn it on. When the cylinder is refilled you can start using it or place it in reserve for when you are ready. With your own oxygen refilling station, you no longer have numerous empty oxygen tanks lying around waiting for the local oxygen vendor to come by to pick them up. An oxygen refill system gives you more freedom and choices and allows you to work your own schedule independent of third parties
Where can you use an oxygen transfill system?
Oxygen refill stations can be used at home, the office, an RV or even a boat. Where ever you have access to a 110-120 volt AC electrical system, you may refill oxygen tanks. Just plug it in and turn it on!
Who makes oxygen transfill stations?
Currently three manufacturers produce home oxygen refill systems. These manufacturers are Invacare, Respironics and Drive Medical/DeVilbiss.
The Invacare HomeFill Compressor was the first oxygen transfill device for home use. The HomeFill has been around for nearly a decade and is the most well know home and most popular oxygen refill compressor. The HomeFill is a multi-stage pump that compresses oxygen from an oxygen concentrator to refill empty oxygen cylinders. Invacare also manufactures oxygen concentrators and other respiratory devices.
A few years ago, DeVilbiss developed the iFill Personal Oxygen Refill Station. The iFill offers the added advantage of having a built-in oxygen concentrator rather than depending upon a separate oxygen concentrator to supply the tank compressor with oxygen. Additionally, the iFill is equipped with a large cylinder release ring designed for individuals with limited dexterity. Combined with a low price, the iFill offers a great solution for home oxygen therapy patients who want to refill their oxygen cylinders at home.
The Purefill can operate with any oxygen concentrator that has a transfill port and produces an oxygen concentration greater than 90%, making it compatible with the Pure Oxygen Concentrator, Respironics EverFlo, the Invacare Perfecto 2 or the Platinum 10. This transfill device operates at 55 decibles of noise and comes with a 3 year warranty. Weighing 35 pounds, the PureFill can fill an empty M6 oxygen clinder in 80 minutes.
New on the scene is the Respironics UltraFill. Respironics has had some time to size-up the competition and develop an oxygen refill system that features many advantages above the current market offerings. For example, empty oxygen cylinders can be placed on the UltraFill with just one hand. Oxygen cylinders are easy to connect and disconnect for people of all ages. Its intuitive design makes it easy to use and requires less service to maintain. This refill system automatically detects whether the cylinder is a 2,000 or 3,000 psi cylinder and adjusts accordingly. Cylinders that are partially full can be topped off. The advanced performance and operating factors discussed below make the UltraFill an excellent choice.
How do the four home oxygen refill stations compare?
All four transfill systems are somewhat similar. They all come with a 3 year warranty and three can operate to at least 6,000 feet above sea level or higher. (No data from Drive Medical is available for the maximum operating altitude for the PureFill.) All can provide oxygen concentration of 90% or higher. All three can refill an M6 size oxygen cylinder in 80 minutes or less. Three of the four refill machines require proprietary cylinders to refill. The PureFill, according to Drive Medical, may be used to refill any M4, M6, M9 and D cylinders. Although similar in many ways, there are differences.
The Size Difference
The DeVilBiss iFill is the largest machine, but it also has a built-in oxygen concentrator. If you add in the size of an oxygen concentrator to the other two refill stations, the iFill will be the smallest size. The Invacare HomeFill is the most lightweight at 33 pounds. The Respironics UltraFill has the smallest size without factoring in the size of an oxygen concentrator.
Size Comparison
Invacare
HomeFill
DeVilbiss
iFill
Drive Medical
PureFill
Respironics
UltraFill
Width (inches)
20.25
12.25
23
20
Length (inches)
15
28.5
22
9
Height (inches)
16
22.5
8
25.5
Total Cubic Inches
4,860
7,855
4,048
4,590
Weight (pounds)
33
66
35
45
The Performance Difference
Both the iFill and the UltraFill provide oxygen concentration levels between 90 to 96%. Invacare only provides the specification that the HomeFill offers an oxygen concentration level of 90% and above. The UltraFill provides the highest operating altitude at 7,500 feet above sea level while the iFill comes in second at 6,562 feet.
Performance Comparison
Invacare
HomeFill
DeVilbiss
iFill
Drive Medical
PureFill
Respironics
UltraFill
Oxygen Concentration
90% or higher
90 to 96%
90% or higher
90 to 96%
Operating Altitude
6,000
6,562
N/A
7,500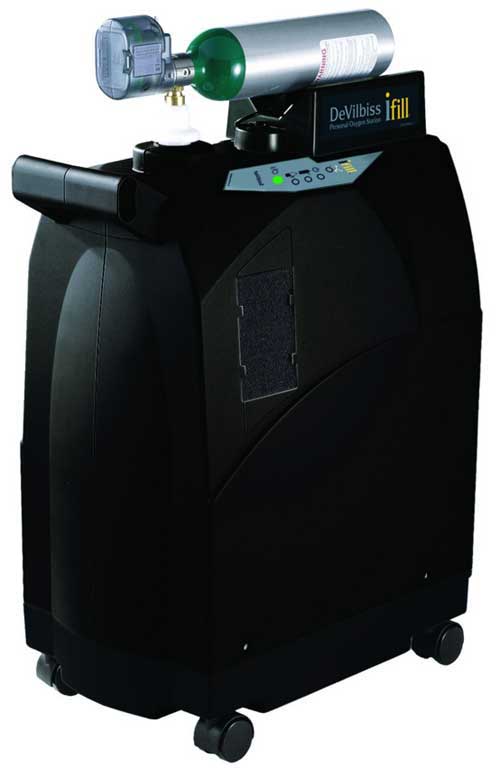 The Operating Factors Difference
In this comparative category, the Respironics Ultrafill makes a clean sweep. It emits the lowest noise level of 44 decibels, consumes the least amount of power at 110 watts while producing the highest maximum pressure of 3,000 PSI. The Ultrafill refills the M6 oxygen cylinder in 65 minutes--10 minutes less than the iFill or the HomeFill.
Operating Factors Comparison
Invacare
HomeFill
DeVilbiss
iFill
Drive Medical
PureFill
Respironics
UltraFill
Noise
NA
50
55
44
Power Consumption
200
400
110
110
Refill Time (Minutes to Fill M6 Cylinder)
75
75
80
65
Maximum Pressure (PSI)
2,000 ± 100
2,250
2,000
3,000
The Compatibility Difference
All three manufacturers recommend using only their own proprietary oxygen cylinders with their oxygen refill systems. Invacare and Respironics also recommend only using their own 5 liter and above oxygen concentrators with their refill systems. The DeVilbiss iFill does not need an additional oxygen concentrator.
The Dependability Difference
The Respironics UltraFill comes with a 3 year warranty. The DeVilbiss iFill also comes with a 3 year warranty but is limited to 3,000 hours of operation. The Invacare HomeFill comes with the shortest warranty of 1 year on the compressor and 3 years or 5,000 hours on parts and labor on internal wear components and control panel components.
Special Features Difference
The UltraFill has the capability of refilling both 2,000 PSI oxygen cylinders as well as 3,000 PSI cylinders. The iFill and HomeFill can only refill 2,000 PSI cylinders. The iFill has its own internal oxygen concentrator while the HomeFill and the UltraFill require a separate purchase of a home oxygen concentrator of 5 liters or more to supplement their oxygen refill device. The iFill comes with a user-friendly, large cylinder release ring designed for individuals with limited dexterity. The release ring requires very little pressure to depress, making it easy to install and remove oxygen cylinders.
Ranking the Home Oxygen Refill Machines
Invacare HomeFill
#1 Lowest Weight
DeVilbiss iFill
#1 Stand alone unit, requires no oxygen concentrator
#1 Tied for highest oxygen concentration levels
Drive Medical PureFill
#1 Smallest Size
#1 Tied for lowest power consumption
#2 Low weight
Compatible with any M4, M6, M9, or D cylinder
Respironics UltraFill
#1 Tied for highest oxygen concentration levels
#1 Highest operating altitude capability
#1 Lowest noise
#1 Lowest power consumption
#1 Fastest refill time
#1 Highest pressure capability, can refill 3,000 psi tanks
#1 Best warranty, 3 years with no maximum hours
#2 Small Size
#2 Low Weight
Ranking Summary
The Respironics UltraFill runs away from the competition with many number 1 rankings. The features of the UltraFill and its performance are remarkable. But, it is also the highest priced transfill system and requires a separate oxygen concentrator in order to function, making it even more expensive. While offering the best performance and best operating factors, the UltraFill is challenged by the stand alone capability of the DeVilbiss iFill. The iFill is also priced significantly lower than the UltraFill. When adding the price of an oxygen concentrator to the already high price of the UltraFill, it is likely that most consumers will choose the iFill over the UltraFill on the basis of value.
Below is a chart that shows the specifications for each transfill station and provides a side-by-side comparison. Highlighted cells depict category leaders.


Transfill Comparison Chart