Swipe to the left
Intranasal Transmucosal Drug Delivery
Intranasal medication is a procedure for administering medications through the nasal passages. Also known as transmucosal administration or nasal drug delivery, intranasal medicating employs an atomization device that fragments the medication into fine particles as it is being sprayed into the nose. This method of administration offers several advantages. This article will examine these advantages as well as what medications are commonly dispensed using this method.
Transmucosal Administration
The use of nasal administrated medications offers 6 key advantages. Nasal administration provides a direct route for medications, avoiding gastrointestinal destruction and hepatic first pass metabolism. Transmucosal medicating effectively increases bioavailability while decreasing time of onset. The process is easy to use and safe. We will explore these six advantages in more detail below.
Direct Route
Nasal administration is a nose-brain pathway for a much more rapid dispersal. The olfactory mucosa is in direct contact with the brain and cerebrospinal fluid (CSF). When medications are absorbed through the olfactory mucosa, they are directly transported to the CSF. This nose-to-brain pathway offers a rapid and direct route for medication deliver to the brain.

Gastrointestinal Destruction
Drugs administered orally are absorbed through the gastrointestinal tract. While enroute, the drug can be significantly degraded by gastric acidity, intestinal membrane enzymes, complexion with food constituents or bacterial enzymes. Oral medications sit in the stomach for 30 to 45 minutes before being sent to the intestines for absorption. After absorption into the blood, the medication is delivered to the liver for detoxification. This time consuming digestive process destroys much of the medication before it reaches the blood stream for dispersal throughout the body. While oral administration remains the most convenient delivery method, it provides very little absorption and transfer of the drug to the blood stream.
Hepatic First Pass Metabolism
Nasal medication bypasses first pass metabolism while oral medications do not. As mentioned above, all blood from the intestines is routed to the liver for detoxification. The liver metabolizes around 90% of oral medications before the medication reaches the heart. This leaves very little of the drug remaining after liver detoxification for patient use. A nasal administered drug; however, absorbs directly into the veins through the nasal mucosa; therefore, by-passing first pass metabolism. The heart then pumps the drug to the entire body without delay.
Bioavailablity
Bioavailability refers to the amount of drug transmitted into the bloodstream. For instance, IV administered medications have 100% bioavailability while most oral medications have only around 5 to 10% bioavailability. The bioavailability of nasal medications is dependent upon molecule size and pH of the medication. For instance, Nalozon, a poplular intranasal medication, has 90+% bioavailability while midazolam has 75+% Nalozone and Fentanyl has 80+%. Transmucosal administration is generally more effective than subcutaneous or intramuscular injections.
Time of Onset
Intranasal administration is rapidly effective with an onset time between only 2 to 10 minutes.
Ease of Use
Nasally administered drugs are convenient and easy. The administration is painless and does not expose the patient or caregiver to accidental needle sticks. Waste is reduced without the need for sharps containers and hazardous disposal. Intranasal administration is safe for the patient with no high peak serum levels. Nasal administered drugs are safer to use for violent individuals or for seizure victims. Various medications may be delivered to the patient in any position, whether sitting, lying down, prone, on side or upside-down. Since nasal administration takes only a second to administer the patient may not need to be restrained.
Types of Nasal Mucosa Administrations
Nasal administrations may take the form of spray bottles, nose droppers, pressurized aerosol or atomized unit dose sprays. The latter is the most effective method. Spray bottles fail to provide a consistent dosage and often results in excessive amounts of the drug draining into the throat. Large particles of the medication can also form deposits on the nasal mucosa. Nose droppers often produce the same unwanted results as spray bottles with much of the medication not being absorbed and draining into the throat. Pressurized aerosol devices tend to break the medication into smaller particles that flow down to the lungs which offer less effectiveness with absorption and may result in respiratory complications.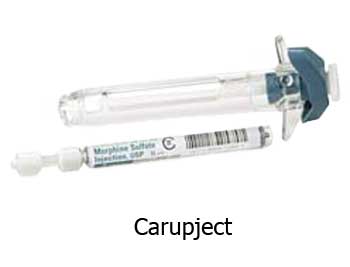 Atomization of the medication reduces the particles into 2 to 10 micrometers that provide for optimal absorption through the nasal mucosa. The mucosa offers a large surface area of more than 180 square centimeters of highly vascularized tissue. This area has more blood vessels per gram of tissue than in muscle tissue, the brain, or even the liver. Absorption through the nasal mucosa offers the best results for rapidity and efficacy. Atomization best reduces the medication particles to the optimal size for absorption. Additionally, because the medication is atomized into a mist form, it less is likely to be expelled from the nose into the external environment.
Nasal Medication Delivery Devices
There are several manufacturers that make nasal medication devices. Below is a list of the bestselling devices listed alphabetically.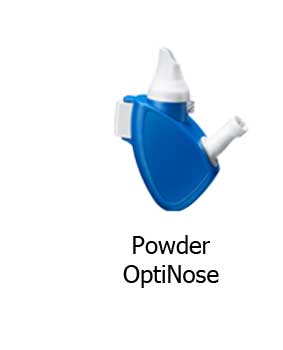 Common Medications Dispensed Using Nasal Atomization
Nasal atomization delivery is being developed for many applications, including Alzheimer's, Parkinson's, brain tumors, diabetes, multiple sclerosis, schizophrenia, pain control, and migranies. Below is a list of the most popular drugs currently dispensed by intranasal administration grouped by treatment type.
Pain Control - Opiates
Fentanyl
Sufentanyl
Ketamine
Sedation - ά-2 Agonists
Midazolam
Dexmedetomidine
Seizure Therapy – Benzodiazepines
Larazepam
Midazolam
Opiate Overdose
Naloxone (Narcan)
Motion Sickness
Scopolamine
Reversal of Conscious Sedation
Romazicon
Urination Suppression
DDAVP (Desmopressin)
Angina (Chest Pain)
Nitroglycerin
Migraines
Sumatriptan
Specific Nasal Drug Delivery Administrations
Fentanyl
Fentanyl is an opiate used for pain control and is an ideal drugs for use with intranasal administration. A prescription is required for this drugs. Fentanyl has a rapid onset and short duration and is one of the strongest opiate drugs sold on the market. Intranasal fentanyl is rapidly absorbed, reaching maximum concentration in just 4 to 11 minutes. Bioavailability is around 71% but appears to be pH dependent with increased bioavailability associated with higher pH. 1
Ketamine
Ketamine is a dissociative anesthetic opiate that is often used for treatment-resistant depression. Beside IV administration, intranasal is the second most common method of dispensing Ketamine. Intranasal administration requires less skill to use and offers less risk to the patient. However, many patients report that infusion offers more relief and lasts longer while intranasal is less expensive and more convenient. 2
Midazolam
Midazolam produces sleepiness or drowsiness and helps relieve anxiety. It also produces amnesia so that the patient will forget any discomfort or pain that may occur following surgery. In intensive care hospital situations, Midazolam is used to induce unconsciousness. This drug is also used to treat epilepsy and seizures. Midazolam requires a prescription and close doctor supervision. Intranasal midazolam was found in a study to have the same efficacy as IV administrations but that the short administration time for nasal as opposed to IV set up favored the use of nasal delivery. 3
Narcan
Narcan is an FDA-approved drug known as naloxone hydrochloride. This drug is an opioid antagonist used for the emergency treatment of individuals with respiratory or central nervous system failure due to opioid overdose. Administration of naloxone by nasal spray atomization is easy and convenient and offers increased efficacy. Narcan nasal spray is designed to provide a singe 4 mg dose. Administration of the drug using a Narcan MAD Syringe allows the medication to be atomized for quick metabolism. 4 The LMA MAD Nasal Intranasal Mucosal Atomization Device from Teleflex is specifically designed for administering this lifesaving drug.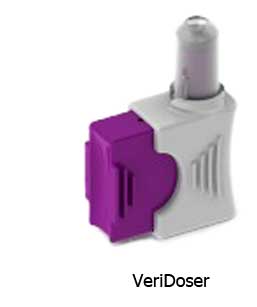 First Responders Use of Intranasal Naloxone
Emergency Medical Technicians (EMT) and ambulance crews have found the use of narcan nasal spray to restore spontaneous respiration for drug overdose patients in just a matter of seconds. Ease of use without the risk of needlestick injury are cited as primary benefits. The requirement for minimal training has also been cited as a benefit. Some have advocated extending the use of Narcan nasal sprays to community workers that often come into contact with drug abusers. 5Some police departments are now equipping officers with opioid-overdose antidote because the police are often the first on the scene.6 The U.S. Attorney General Eric Holder advocates that the police and fire departments should equip their first responders with naloxone to save drug overdose victims.7
Parental Use of Nasal Nacan
Some states are allowing Naloxone to be sold at drug stores without a prescription in an effort to curb teenage overdose deaths. 8
Nasal Narcan Studies
Citations
1Foster, David, et al. "Pharmacokinetics and pharmacodynamics of intranasal versus intravenous fentanyl in patients with pain after oral surgery." Annals of Pharmacotherapy 42.10 (2008): 1380-1387.
2"Route of Administration: Critical to Achieving Relief." Ketamine Advocacy Network. N.p., 2015. Web. 30 Aug. 2016.
3"Therapeutic Intranasal Drug Delivery." Treating Seizures with Intranasal Medications. N.p., n.d. Web. 30 Aug. 2016.
4Narcan.com
5Strang, John, et al. "Clinical provision of improvised nasal naloxone without experimental testing and without regulatory approval: imaginative shortcut or dangerous bypass of essential safety procedures?." Addiction (2016).
6Fuller, Steve. "City police make first Narcan save." The Ellsworth American. August 24, 2016.
7Sledge, Matt. "Eric Holder Calls On First Responders To Carry Naloxone, Anti-Overdose Drug." The Huffington Post. April 16, 2014.
8Fiangan, Katlin. "Narcan to Be Sold at Pharmacies Without Prescription in Vermont." NECN.com. August 25, 2016.

Other Applicable Studies of Using Intranasal Administration
Burt Cancaster, Author
It's that time of year again! Time to show Dad (or Stepdad, or Granddad, or any important father figure in your life) how much he means to you. Of course we know how hard shopping for Dad can be sometimes.
Because really, what do you get the father who already has everything? What if he's the guy who, when he wants something, just goes right out and buys it? So rather than succumbing to cliché and buying him another tie, this Fathers' Day surprise him with one of these great gifts that he probably didn't know he needed, but will be sure to add vitality to his life!
Fitness
If you want to see to it that Dad stays fit and in shape this year, check out our full range of Exercise & Fitness products. The Seated Whole Body Exerciser, for instance, is an excellent way to achieve a low-impact, whole body cardiovascular workout. It is incredibly lightweight, at only 13 pounds, making it a great choice for both home and office, and its tubular steel frame ensures that it won't lose any of its luster when being transported.
The Adjustable Hands Free Wrist and Ankle Weights by All Pro are convenient, one-size-fits-all weights that offer progressive resistive exercise either at home or on-the-go. When added to a walk around the park or various aerobic exercises, these comfortable wrist and ankle weights can increase fitness benefits with little to no added effort. According to the American Council on Exercise, adding an extra 1 to 3 pounds of weights to a workout "can increase heart rate by at least five to 10 beats per minute and elevate oxygen consumption by at least five to 15 percent."
Speaking of walking, the genuine Irish Shillelagh Walking Stick makes for a more stylish and unique alternative to the average, every-day walking cane. Each shillelagh is individually handcrafted in Ireland from blackthorn wood, just like the original shillelaghs of yore, and as such are 100% one-of-a-kind. At only one pound, they are incredibly light weight while offering the ultimate in weight-to-hardness ratio for incredibly durable support.
Comfort
If the shillelagh isn't quite the right support you want for Dad, or maybe it just isn't enough, check out the Full Body Pillow, which offers excellent comfort and support for a good night's sleep. Unlike other body pillows, this one provides complete support to the upper and lower extremities while also maintaining proper spinal alignment. Originally designed for individuals with fibromyalgia, this Full Body Pillow has become a favorite many adults and children, whether on the floor, the sofa, or curled up in bed.
While lying in bed, Dad can check out and relax with the Projection Dual Alarm Clock and Weather Monitor, trusting the time and weather are accurately projected onto the ceiling or wall just a few feet away. In addition to regular alarm clock functions, this unique alarm clock uses light detection to automatically display an LCD-lit time and temperature display whenever it detects ambient light. This is the perfect gift for someone confined to bed, as well as a simple and fun way to keep abreast of the time and temperature, making sure Dad's never late and always properly dressed for the weather.
Relief
For winding down after a long, hard day, there is nothing quite like a good foot massage. For that, we recommend the Reflexology Infrared Foot Massager. This excellent massager combines infrared heat with soothing vibrations to stimulate pressure points and penetrate deep tissue for the ultimate in relaxing pressure-relief. With its convenient remote control, its settings can be changed while sitting in place, while the rubber feet on the base keeps it stable and your floor free of damage.
The feet, of course, aren't the only thing in need of relief after a day's work. If Dad spends a lot of time in front of the computer screen, consider the Eye Massager. The Eye Massager utilizes a combination of gentle vibration, warming heat and mist to soothe and relax the eyes. By hydrating the orbital areas of the temples, the Eye Massager can not calms eye strain, but is an excellent tool for helping to calm headaches as well.
If you want to impress this Fathers' Day, look no further than Infinity's line of massage chairs, such as the Infinity IT-8500 Massage Chair. The Cadillac of massage chairs, the Infinity IT-8500 utilizes the same relaxation position that was discovered by NASA to help reduce the impact of rapid acceleration for astronauts during liftoff. While seated, the user can enjoy a veritable gamut of other luxurious options, such as being able to focus in on massaging specific areas of the body, spinal correction, lumbar heat, headphone port, and MP3 USB speaker technology. All combined, you are not likely to find a better and more relaxing massage chair.
Convenience
Looking for something a bit more fun for Fathers' Day? Check out the Stanley Cup Popcorn Maker. Designed to replicate the real Lord Stanley Cup, this hot air popcorn popper makes up to ten cups of popcorn in under five minutes, all without the use of oil!
Dad might also get a kick out of the Only Indoor Rotisserie Turkey Fryer. Just as its name implies, this fryer is the only rotisserie fryer safe enough to work inside the home, and is strong enough to take on a whole bird! You won't believe the succulent, juicy meat this fryer produces, all in less time than a conventional oven!
If that isn't enough frying, there's also the excellent, self-contained Oilless Fryer. Put anything into the Oilless Fryer and it comes out as crisp and juicy as it would with a traditional deep fryer, without all the messy oil and heavy calories. With this baby, Dad can fry up to four cups of restaurant-quality French fries at once from the comfort of his own kitchen.
Hopefully this has given you some helpful ideas on how to knock this Fathers Day out of the park. As always, if you have any further questions, our team at Vitality Medical is happy to help you out.
Jared Soper, Author
Vitality Medical
7910 South 3500 East, Suite C
Salt Lake City, UT 84121
(801) 733-4449
[email protected]
VitalityMedical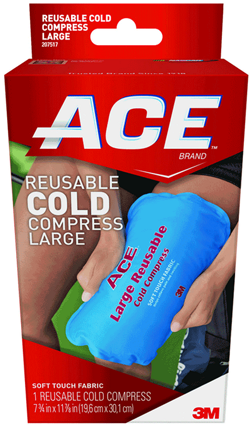 Have you ever sprained your ankle, or suffered extreme recurring pain in your joints? Have you heard of the hot and cold therapy options for all such aches and pains?
Hot and cold therapy techniques are known to be two of the most effective and non invasive methods of treating a variety of body pains. These therapy options are recognized as non addictive approaches to ensure pain relief, for both muscular and bone aches.
Pain Therapy
While hot and cold therapies are effective in relief from intense pain, the ideal technique to use is determined by assessing the intensity of the pain, and its recurring nature.
A new injury which causes pain is sure to cause swelling on the affected area. Thus, application of ice packs is a preferable solution to bring down the swelling and ease the pain. On the other hand, recurring pain is best treated with the application of heat on the painful body area that ensures better circulation of blood to promote the healing process.
Both hot and cold therapy options are used to relieve certain types of pain, and there are different products which help you apply the right degree of heat and cold to the injured or aching body part.
Hot Therapy
Also known as heat therapy, is used to improve blood circulation and thus, speed up the healing process within the body. How it works is simple. The regulated blood flow ensures amplified supply of oxygen to the affected area, which in turn, helps lessen the intensity of pain.
The heat from the therapy also decreases the chances of muscle spasms, and improves mobility of the joints and muscles. The application of heat to a painful area also enhances the overall flexibility of the ligaments and tendons of the body. Heat therapy is primarily recommended if you suffer from stiff joints, with intense muscle and joint pain.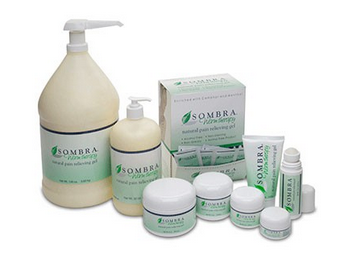 Both dry and moist heat application is used to treat pain in the body. Either microwavable or electronic heat pads can be used to apply the required amount of warmth to the affected area. Hot water bottles, hot water baths and gel packs can also be utilized to help maintain a constant temperature on the painful spot, ensuring pain relief.
The Sombra Warm Therapy, the Dura Med Reusable Heat Packs and the Thermoderm Heat Lotion are good options to ensure effective heat therapy.
Cold Therapy
This pain therapy is used to slow down the blood circulation in the affected area, which helps bring down swelling and painful inflammation. Muscle spasms can also be avoided with the application of cold packs on a swollen, bruised, or injured area.
Cold therapy is ideal for the prompt treatment of sprains, bumps, strains or bruises, resulting from a sports injury or heavy lifting.
Ice gel packs are generally used to ensure that a constant supply of cold therapy is applied to relieve the pain and bring down the swelling. The Versa Pac Reusable Cold Pack and the ACE Cold Compress are two products that help ensure effective cold therapy to treat any new injuries or bruises.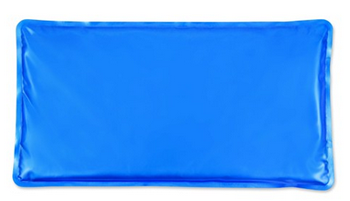 Both hot and cold therapy options are easy and effective treatment choices, which ensure quick pain relief, but the trick is to know which one to use for your particular pain relieving needs.