Swipe to the left
May 2016
What is a stroke?
Strokes occur when the brain is blocked from a sufficient supply of blood. According to the Centers of Disease Control (CDC), strokes are ranked as number 5 for the cause of deaths in the United States. Strokes are also the leading cause of adult disability. In honor of "Stroke Awareness Month," this article will examine the types of strokes, symptoms and prevention steps.
Stroke Types
1. Ischemic
An Ischemic stroke occurs when a blood clot blocks blood from reaching brain tissue. The clot prevents the brain from receiving oxygen and nutrients that the blood stream supplies. Essentially, brain tissue is starved due to the lack of blood reaching the brain. Most strokes are ischemic and account for around 87 percent. An ischemic stroke may be caused by a clot that forms somewhere in the body and migrates to a small blood vessel in the brain where it is trapped and blocks blood flow.
Ischemic strokes are divided into two types of blockages--embolic and thrombotic. Plaque or clots that form in the blood stream are often the culprit for an ischemic event. Clots of this type are referred to as an embolic. An embolic stroke is usually a result of high cholesterol or from atherosclerosis. Blood clots that form in a main artery serving the brain are known as thrombotic. High blood pressure can also precipitate or contribute to a thrombotic event.
2. Hemorrhagic
A stroke involving an aneurysm in which a blood vessel bursts or leaks into the brain tissue is hemorrhagic. While only fifteen percent of strokes are hemorrhagic, they are much more deadly, resulting in 40 percent of all stroke deaths.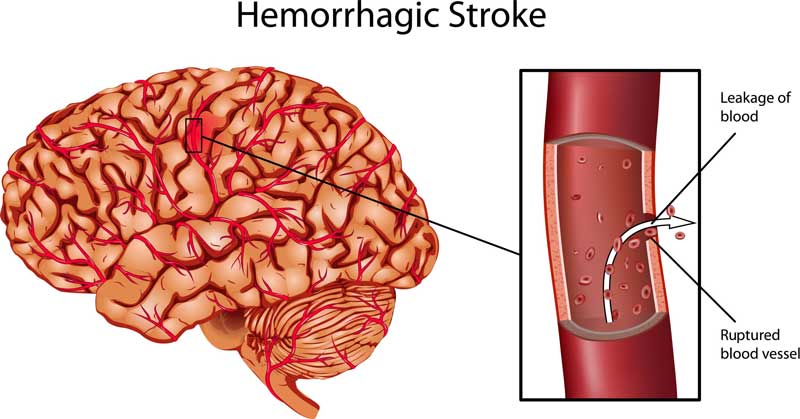 Symptoms and Risk Factors
Key symptoms for stokes include partial or total loss of consciousness, vomiting or severe nausea, speech difficulty, or numbness and/or weakness in the face or limbs. Immediate medical attention should be sought for proper diagnosis and treatment. Strokes are deadly and debilitating. Risk factors include high blood pressure, drug use, excessive alcohol use, or anti-clotting blood medications. High blood pressure is the most common risk factor. See the " Hemorrhagic Stroke Fact Sheet" from the National Stroke Association for more details.
Stroke Prevention
Prevention measures that do not require medication include diet and exercise. These two elements have a significant impact on our overall health. They are also the elements most under our control, yet are often ignored. By just adhering to these two prevention measures so much of the deaths and disabilities that occur can be tremendously reduced.
Prevention begins with what we put into our bodies. A healthy diet of vegetables, fruits and low-fat foods are essential. You should eat between 5 to 7 servings of fruits and vegetables daily. Whole grain breads and cereals offer fiber and important vitamins. You should consume 2 to 4 small servings daily of whole grains. Only 2 small servings of lean protein should be eaten daily. Instead of butter, eat light or diet margarine. Instead of 2% milk, drink 1% or nonfat milk. Your diet should also be low in salt which has a strong correlation to high blood pressure, the most common risk factor for stroke victims.
Regular exercise is the other very important prevention measure. A good program of exercise that is consistent and appropriate to your fitness level has one of the most positive effects upon your health. Not only does it help to prevent strokes, but it also significantly reduces your risk to heart disease and diabetes. Exercise also aids in preventing weight gain, which can lead to a host of other risks. Many avoid exercise because they think it will take too much of their time. A recent exercise study reported on NBC found that a 9 minute intense workout can have as much benefit as a 45 minute moderate workout. The 9 minute workout begins with a 2 minute warm up and then a 20 second all out sprint followed by a 2 minute slow recovery. The program is repeated 3 times for a 9 minute total workout. The study found that those who followed this high intensity workout for at least 30 minutes had the same results as those engaged in a moderate intensity workout for 150 minutes a week. There are many items of fitness equipment to help you get your weekly exercise sessions completed.
Stroke Awareness Resources
The videos below explore the advantages of risk prevention by diet and by exercise.
Stroke Prevention and Diet Video (13:43 minutes)

New Stroke Prevention Guidelines Video (0:49 minutes)

Patient Lift Review and Comparison with Body Up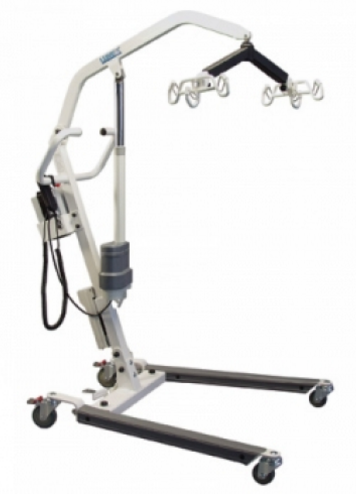 Patient lifts are designed to lift patients who require mobility assistance to transfer from a bed to the bath, commode, chair or automobile. Patient lifts are safety devices that protect mobility patients as well as caregivers from injuries. Just a few years ago, transporting a patient from one furnishing to another was significantly dangerous. Numerous medical studies have been conducted that have demonstrated that modern lifting technology provides the safest way to transfer patients from one furnishing to another. (See the list of studies below)
Patient lifts are constructed with thick, heavy steel frames and an electric or manual hoisting mechanism. Most of these medical hoists are essentially hydraulic lifts for people. Unfortunately, most of the existing patient lifts available for hospital and home use are large and heavy. Often they require several caregivers to assist the patient and to manipulate the lift through narrow doorways, hallways, and around furniture and other obstacles. The large size and heavy weight are often considered a burden by caregivers even though these lifting devices provide a safer way to transfer mobility patients. If only a smaller and more lightweight patient hoist was available that could do the same job!
Body Up Evolution Review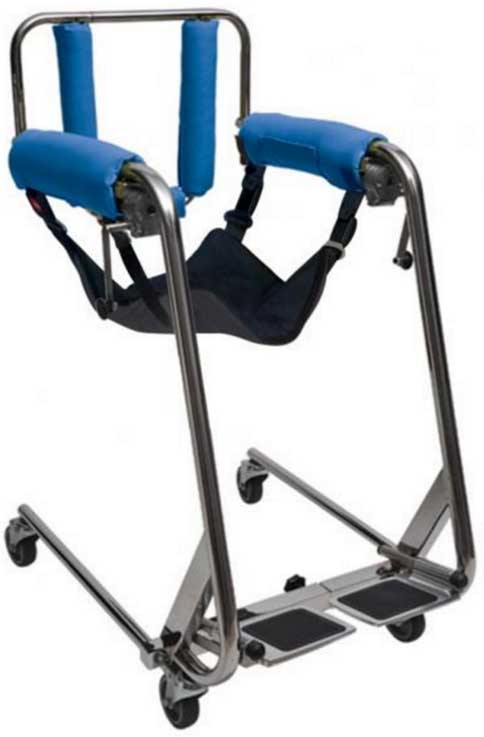 Body Up Evolution is significantly different from existing patient lifts. Instead of a heavy steel frame, the Body Up uses a lightweight stainless steel frame, a strong canvass sling and a manual crank mechanism. These three items combine to safely lift a patient from a seating position so that they can be easily transferred from the bed to the bath or to the car. Using a simplified design the Body Up Evolution Patient Lift is easier to use and operate. Most often, only one caregiver is required to assist the patient and transfer them to another furnishing. (See the video below to see the Body Up Evolution being used to transport a patient) Equipped with four caster-type wheels, this transfer chair is easy to push thru hallways and narrow doorways. Moving patients from one room to another is now much easier than ever before.
The Body Up Evolution has optional accessories that make this transfer lift chair even better. These accessories convert the Body Up to a commode chair, shower chair, bath chair, transport chair or transfer chair. These accessories include stabilization straps to secure the patient to the Body Up, a comfort cushion to make transfers and sitting more comfortable and a commode cushion to make toileting even easier. Mobility patients are easily lifted and moved by a single caregiver. Join the revolution with the Body Up Evolution!
How does the Body Up Lift compare with the top selling patients lifts? For this review of patient lifts, we will compare the Body Up with the Graham-Field Easy Lift, the Invacare Hydraulic Patient Lift, the Medline Powered Base Electric Lift and the Hoyer Advance Professional. Hoyer lifts are the most popular patient hoists on the market, but other manufactures have made significant advances in the market over the past few years. In the comparison chart below the Medline lift had the best lifting capacity at 700 pounds. The Invacare lift had the best minimum width at only 22 inches, making it the easiest to fit through narrow doorways. The Hoyer Advance Professional has the overall smallest minimum size at 14,733 cubic inches, significantly smaller than the other lifts. The Hoyer's minimum height is also the lowest at 13.8 inches. The Veziris Body Up lift has the lowest weight at 42 pounds and the shortest length at 34.7 inches. Ranking #1 for the most lightweight lift, the Body Up Evolution is the most adaptable for use by a single caregiver. Its major feature of providing a 4-in-1 patient device earns it a #1 ranking for features. This lift functions as a bath lift chair, shower lift chair, commode lift chair and a transfer lift. Its stainless steel frame and waterproof canvass make this lift chair easy to use for bathing or showering. The data below indicated in yellow highlight signifies category leadership.
Patient Lifts Comparison
Patient Lift Resources
Body Up Evolution Video (6:01 minutes)
Celebrating the Beauty Within During National Beauty Month
With cosmetic companies crowing about "National Beauty Month," Vitality Medical believes it's what we put in our bodies and what we do our bodies that unlocks true, radiant beauty. Rather than slather on age-defying creams (hey, aging itself can be beautiful), consider nourishing the body's natural beauty with wholesome beauty products.
Beauty from the Inside Out
It's no surprise that Mother Nature, herself a stunning beauty, has a myriad of naturally occurring substances that can unlock the beauty in each of us.
The nutrient-rich Sea Buckthorn Berry has been prized for centuries throughout Europe and Asia for, among many things, its ability to heal dermatological ailments. As one of nature's most potent berries, Sea Buckthorn has high levels of omega fatty acids 3, 6, 9 and the hard-to-source omega 7 fatty acid. These compounds have given Sea Buckthorn an incredible reputation for boosting skin's resilience and luminance.
However, one of nature's most potent berries is also one of the hardest to source -- it's nestled in thorns. Fortunately modern harvesting and flash-freezing have given rise to a bounty of Sea Buckthorn Berry products that nourish the beauty in skin, hair and nails. Among our favorites is Sibu International's Beauty Sea Buckthorn for Hair Skin and Nails liquid supplement. In addition to omega acids, the proprietary formula's blend of phytosterols, polyphenols, amino acids, carotenoids, flavonoids, vitamins and minerals support the natural beauty each of us.
After learning about Sea Buckthorn Berry, you may view it as a great beauty regimen supplement; however, once you learn about collagen's role as a key Beauty Product, you may make collagen mandatory! With a name derived from the "Kallos," the Greek word for "glue," collagen -- which provides skin structural support, tissue strength and flexibility -- seems like the glue that holds humans together. Collagen has earned a prominent role in several skin-repairing products, including wound dressings and joint/muscle supplements.
Given collagen's prominence in medicine, it's all too easy to overlook its efficacy as a Health and Beauty Supplement. Collagen is naturally derived and produced from our diet -- specifically from protein and Vitamin C. As we age, collagen production declines, depriving our skin of the nutritional support to remain firm and glowing. Fortunately, working this Beauty Supplement into your diet is incredibly simple and economical. One of our more popular supplements, the NeoCell Super Collagen Type 1 is available in pills or a virtually flavorless, ready-to-mix powder. It's important to note that most collagen types are derived from animal sources; if vegetarian, consider more soy protein and Vitamin C-rich foods. Alive! Soy Protein Ultra-Shake, which is rich in plant-derived Omega acids and collagen-supporting vitamins and minerals, is an ideal plant-based beauty and diet supplement.
Skin in the Game
We know how powerful the brain is, and choose brain-boosting foods. Many of us follow guidelines, such as the American Heart Association's physical activity guidelines to optimize cardio health. But these two vital organs aren't your body's largest organs. The skin is the largest and basic care should be a cornerstone of any beauty regimen. Lotion helps prevent chafing and cracks, which could lead to skin break down and even infection if left unchecked. While every major retailer peddles lotions promising youth and beauty, at Vitality Medical, we defer to the experts -- doctors. Moisturizing Lotion, by McKesson, is an economical brand that's specified by doctors and hospitals the world over. Crisp, clean, neutral scents like summer rain and cucumber melon, make it ideal for everyone in the household.
Tip: Don't let a limited reach or dexterity prevent proper skin care. The Maddak Lotion Applicator is a cost-effective way to keep the skin on keep legs, feet and your back hydrated and resistant to skin pressure sores or cracking. Easy-to-swap replacement heads are available if you switch between lotion types.
Strike a Pose
When exercising, the pulse races and nutrient-rich, oxygenated blood circulates, bringing skin the nourishment it needs. While modern science has long since validated this, it's no surprise, ancient wisdom had it right all along. Ashtanga Yoga -- one of the oldest branches of yoga -- incorporates several poses* that are reputed to boost skin health and beauty when performed after an invigorating series of sun salutations under a watchful teacher:
Uttanasana -- Standing Forward Bend: This standing inversion gently channels oxygen-and nutrient-dense blood to your face, promoting well-being.
Ardha Matsyendrasana -- Seated Twist: Think of your organs as a giant sponge. Now squeeze them to release dirty water with the controlled twisting action of this posture. This twist is reputed for detoxing the body of beauty-sapping free radicals.
Sirsasana -- Headstand: Turn your entire world upside down with this full body inversion to aid in circulation and decompression. The skin is said to reap the benefits that come with stimulating circulation. *Please consult your physician before starting these or any exercise program.
Matsyasana -- Fish Pose: The modified backbend tilts the head back, facilitating the flow of fresh blood to the face.
Read more about these skin-supporting postures at Yoga.com, grab a Yoga Mat and Yoga Block and support your skin with the activity it needs to stay beautiful.
Bold is Beautiful
Self-awareness and confidence are the ultimate beauty supplements -- the positivity of "owning who you are" allows your natural beauty to shine. For centuries, Indian medicine has designated the solar plexus -- basically your stomach and digestive system -- as the seat of confidence, autonomy and willpower. In fact, ancient Hindu texts refer to the Solar Plexus as, "Manipura" the precious gem or city of gems. While core exercises are recommended to fortify the area, there's one more confidence- and beauty-boosting supplement worth considering: Aura Cacia Aromatherapy Organic Chakra Balancing Aromatherapy.
Consisting of cheery lemon, crisp eucalyptus and aromatic sunflower oils, the Solar Plexus Chakra Essential Oil is dabbed on your pulse points and stomach area. The zesty scent will boost your sense of well-being, harmonize the Solar Plexus and trigger the confidence that unlocks the beauty.
Beauty is in the eye of the beholder, but the most important beholder is...you. These exercise tips, nutrition tips and economical Beauty Products will augment and nurture the beauty you already possess.
To a life full of vitality!